Close
UHV presents late business professor's son Presidential Medal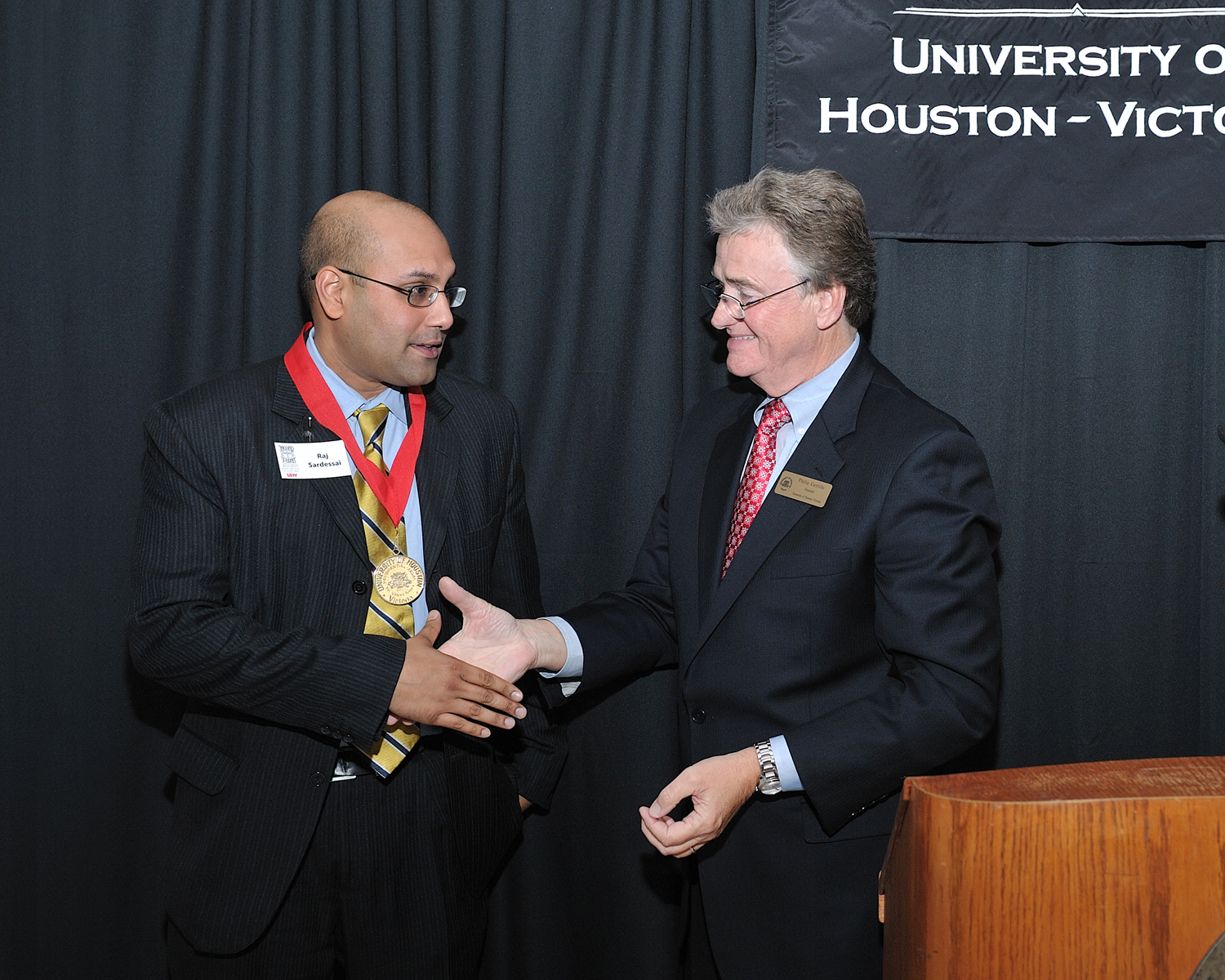 UHV President Phil Castille, right, presents the Presidential Medal to Raj Sardessai, son of the late Vassudeo "Ron" Sardessai, a 25-year UHV School of Business Administration professor. The Sardessai family donated $50,000 toward the establishment of the Ron Sardessai Endowed Professorship.
The son of a late University of Houston-Victoria business professor, a UHV alumna who owns a successful local business and an outstanding student were recipients of awards from the university on Thursday night.
The special recognition awards were given as part of the 2010-2011 UHV Annual Report & Excellence Awards event, which attracted more than 165 area leaders to the university. The theme of the annual report was "Jaguar Journey."
"It truly was a transformational year at UHV because, for the first time, we had freshmen and sophomores who journeyed to Victoria to take classes," UHV President Phil Castille said. "We opened Jaguar Hall to serve as our first residence hall for students, added faculty and staff, implemented new academic programs, and added men's and women's golf and soccer teams."
Castille, who joined UHV in August, credited then-Interim President Don Smith with ushering in many of the successes.
Videos highlighted 2010-2011 accomplishments from each of UHV's four schools, including an internship agreement with TimeGate Studios for School of Arts & Sciences digital gaming students to work with motion-capture software; more than 14 percent growth in the School of Business Administration; a new master's in Adult and Higher Education that already has 50 students enrolled in the School of Education & Human Development; and articulation agreements with area community colleges to ease the transition for students into the UHV School of Nursing.
The Presidential Medal was presented to Raj Sardessai, son of late UHV business management professor Ron Sardessai, who worked at UHV for 25 years before his death in April. It was announced at the event that Sardessai and his family donated $50,000 to the Ron Sardessai Memorial Endowed Professorship. The professorship will be the first such position in the School of Business Administration and will be held by a faculty member who displays the highest standards of teaching, research and service to the school and community.
"We moved here in 1985 and lived in apartments across the street, and the school was in that one-building annex," Sardessai said. "Now, there is a full campus, complete with a residential hall, sports programs, as well as business, nursing and arts programs on par with larger universities. This fulfills my dad's aspirations for UHV."
Sardessai, an energy broker based in Houston, said the family wanted to support the endowment to continue the late professor's legacy.
"Education was my father's lifelong passion, and this endowment will further his legacy," he said.
Castille also gave the Distinguished Alumni Award to Victoria resident Cathy Aber Whitley, a 1982 UHV graduate with a BSBA in accountancy. Whitley and her husband, Joe, own and operate J.G. Stone Oil Co., which she purchased from her grandfather in 1989.
Whitley serves on the board of directors for Perpetual Help Home, is part of a community development ministry at Northside Baptist Church, and has given generously to UHV and other area organizations.
"I am honored and humbled to be chosen for this award," Whitley said. "It is exciting to see the things happening at UHV since I graduated in 1982, and it is more exciting to see what will happen in the future. It is so important that UHV continues to develop higher education in Victoria."
UHV's Student Leadership Award was presented to El Campo native Emily Bergstrom, a double major in biology and psychology. She is a pitcher on the UHV Jaguar softball team, where she was an All American Honorable Mention last season. She also was named the 2010-2011 UHV Female Athlete of the Year.
Bergstrom serves on the UHV Student Senate as its president, representing the interests of the student body by promoting communication between students and administration. She led a delegation of UHV Student Senate leaders to a Washington, D.C., conference in September.
Bergstrom, who traveled to China last summer to study Eastern medicine techniques, plans to pursue pre-med studies after graduation.
"I want to thank my parents, who pushed me to do my best in the classroom and on the field," Bergstrom said. "I also am thankful to have been given the opportunity to lead the student government. It's a lot to take in, but it is fun and rewarding."
Elizabeth Corte, senior administrative secretary in the Information Technology Department, was recognized with the Employee of the Year Award.
Castille also announced at the event that UHV had once again produced an online annual report.
"Not only is this a sign of our commitment to the environment, it also allows us to provide an expanded annual report to the community," he said. "Photos and videos from tonight's events will be added to the site in the next several days."
Area residents can now view the annual report and an event photo gallery at www.uhvAnnualReport.com. The site currently features video presentations shown during the event; faculty, staff, student and alumni highlights; UHV's enrollment and financial figures; a list of donors; and much more.
The University of Houston-Victoria, located in the heart of the Coastal Bend region since 1973 in Victoria, Texas, offers courses leading to more than 80 academic programs in the schools of Arts & Sciences; Business Administration; and Education, Health Professions & Human Development. UHV provides face-to-face classes at its Victoria campus, as well as an instructional site in Katy, Texas, and online classes that students can take from anywhere. UHV supports the American Association of State Colleges and Universities Opportunities for All initiative to increase awareness about state colleges and universities and the important role they have in providing a high-quality and accessible education to an increasingly diverse student population, as well as contributing to regional and state economic development.