Close
Patient Simulation Center opens for UHV School of Nursing students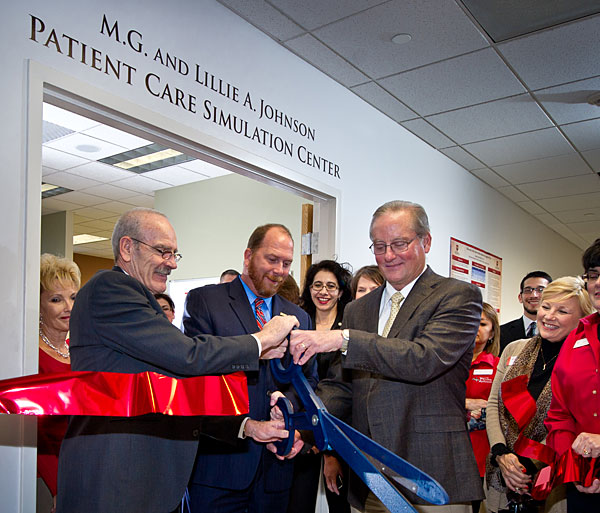 Don Smith, University of Houston-Victoria interim provost; Randy Vivian, Victoria Chamber of Commerce president and CEO; and Robert Halepeska, M.G. & Lillie A. Johnson Foundation executive vice president, cut a ribbon at the grand opening of the M.G. & Lillie A. Johnson Patient Care Simulation Center on the UHV campus.
Nurses seeking an advanced degree now have the opportunity to study in a new simulation center using some of the most technologically advanced training equipment in the region.
The University of Houston-Victoria School of Nursing held a grand opening ceremony Thursday for the M.G. & Lillie A. Johnson Patient Care Simulation Center. The facility, which measures more than 1,600 square feet, was constructed in the southwest corner of the UHV University Center, 3007 N. Ben Wilson St.
Kathryn Tart, founding dean of the UHV School of Nursing, said the new facility is an important part of the continued growth of the program.
"This new simulation center is state of the art, and the work being done by our students is mind-boggling," Tart said. "We give students hands-on experience dealing with many nursing situations, and they are learning to deliver superior care for patients."
The center features five rooms, including classroom space, plus storage and a control room for advanced audio-visual equipment. A SimMan 3G human simulator that can mimic responses such as pulse, perspiration and respiration is used by students. The simulator and center allow students to improve their nursing skills and work through real-life scenarios of patient care without risk to actual patients.
Nursing instructors can observe via 10 cameras throughout the lab and can control the SimMan through a wireless, portable control panel with touch panels. Noise and visuals simulating a chaotic emergency room can be pumped in via speakers and monitors.
"We made every room with dual functionality," said Denise Neill, coordinator of the Registered Nurse to Bachelor of Science in Nursing and Master of Science in Nursing programs. "For instance, one room can simulate a health care provider's office or be transformed into an emergency room setting."
Future plans include adding a pregnant female simulator and a baby simulator. Additionally, the center will be used for research by faculty members.
The center was made possible through a $218,000 grant from the Victoria-based M.G. and Lillie A. Johnson Foundation, which supports a variety of nonprofit organizations throughout the Coastal Bend region. The foundation also has given generously to provide scholarships for nursing students.
The Victoria Chamber of Commerce also held a ribbon cutting ceremony during Thursday's grand opening. Randy Vivian, a UHV alumnus who is the chamber's president and CEO, said the addition of facilities at the university is good news for the community.
"Expansion shows vitality in the community, and this is another draw that helps put Victoria on the map," Vivian said.   Don Smith, UHV interim provost and vice president for academic affairs, expressed his appreciation to the Johnson Foundation.
"The foundation's support of UHV goes way back," Smith said. "They have been steadfast and stalwart friends of the university, and we appreciate their support."
Tart thanked the foundation, as well as her faculty, staff and numerous students who were present for the ribbon-cutting ceremony.
"This is a wonderful investment in quality of life that will pay dividends for the region for many years," she said. "I am appreciative of our friends at the Johnson Foundation and of our phenomenal faculty and staff who assisted with this project."
For more information about the UHV School of Nursing programs, contact Tammy Neeley Whatley at 361-570-4297 or whatleyt@uhv.edu.
The University of Houston-Victoria, located in the heart of the Coastal Bend region since 1973 in Victoria, Texas, offers courses leading to more than 80 academic programs in the schools of Arts & Sciences; Business Administration; and Education, Health Professions & Human Development. UHV provides face-to-face classes at its Victoria campus, as well as an instructional site in Katy, Texas, and online classes that students can take from anywhere. UHV supports the American Association of State Colleges and Universities Opportunities for All initiative to increase awareness about state colleges and universities and the important role they have in providing a high-quality and accessible education to an increasingly diverse student population, as well as contributing to regional and state economic development.