Close
UHV to build apartment-style sophomore housing
A new $11.3-million University of Houston-Victoria residence hall will open by fall 2013 as the university continues to attract freshmen and sophomores from outside the region. The project is a major part of the enrollment-driven master plan for the campus.
Jaguar Suites, a 252-bed, apartment-style dormitory for sophomores, has been approved by the University of Houston Board of Regents and the Texas Higher Education Coordinating Board. Construction for the facility, to be located just west of Jaguar Hall, 2705 Houston Highway, is scheduled to begin in the middle of the spring semester.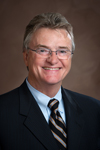 Phil Castille
"This new multimillion-dollar sophomore housing project will offer our students an attractive opportunity for residential living in suite-type facilities," UHV President Phil Castille said. "Combined with our Jaguar Hall and Jaguar Court, Jaguar Suites will take us up to a total of 670 beds."
Preliminary plans show a facility made up of four-bedroom, two-bath apartments that each include a living area and kitchen. Group study rooms, student lounges and computer labs also will be incorporated into the design.
"Students will move up from freshman housing with two students to a room into this sophomore housing unit where they will have their own bedroom," said Wayne Beran, UHV vice president for administration and finance.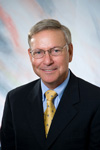 Wayne Beran
Students will have to complete 30 credit hours toward their degree to qualify to live in sophomore housing.
The project will be paid for through student housing leases. Revenue bonds will be used to finance construction, Beran said.
Jaguar Court, which will be available for student housing by fall 2012, could be used for spillover from the freshman and sophomore facilities in future years.
Vaughn Construction of Houston will be the contractor. Smith & Company Architects and Elkus Manfredi Architects, both of Houston, are designing the residence hall. Beran said they have been instructed to use as many local subcontractors as possible to further benefit the local economy.
An additional five-acre plot has been purchased to provide parking behind UHV's developing residential complex on the Houston Highway.
Castille said the university experienced a 18-percent growth rate this fall for its on-campus student population in Victoria, mainly as a result of downward expansion that began in fall 2010. This fall's Victoria students who take only face-to-face or face-to-face and online courses numbered 897, while those students totaled 759 in 2010.
"This is a vital step toward building a destination campus in Victoria, ensuring that we can provide appealing, safe and cost-effective facilities for UHV students in Victoria," Castille said. "In addition to serving our students in Victoria, this construction project will be a major addition to the economic growth of our community."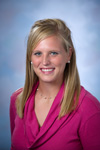 Emily Bergstrom
Castille said the university will continue to work with Victoria College and Citizens Medical Center to develop a higher education and medical complex serving Victoria and the surrounding region.
Emily Bergstrom, president of the UHV Student Senate, said the close location of the new Jaguar Suites will benefit campus life.
"The location close to Jaguar Hall is great, and it will allow for more student activities, which is just what students want," Bergstrom said. "This will bring more students to the campus and build residential life while helping UHV move toward its goal of becoming a destination university."
Also part of the university's master plan, UHV's next capital project will be a new academic building on the UHV campus. The plan projects that UHV will be out of academic space in Victoria by the end of 2014.
The University of Houston-Victoria, located in the heart of the Coastal Bend region since 1973 in Victoria, Texas, offers courses leading to more than 80 academic programs in the schools of Arts & Sciences; Business Administration; and Education, Health Professions & Human Development. UHV provides face-to-face classes at its Victoria campus, as well as an instructional site in Katy, Texas, and online classes that students can take from anywhere. UHV supports the American Association of State Colleges and Universities Opportunities for All initiative to increase awareness about state colleges and universities and the important role they have in providing a high-quality and accessible education to an increasingly diverse student population, as well as contributing to regional and state economic development.