Close
American Book Review speaker sees greatness in Beat Generation writers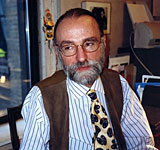 John Tytell
Writer and instructor John Tytell caught flack when he first championed the Beat Generation writers, a free-spirited, post-World War II group whose work rejected materialism, challenged the establishment and advocated nonconformity and spontaneous creativity.
"I understood that what the Beats needed was credibility," the New York-based writer said. "I see them on par with other greats. They are canonical writers."
Tytell will talk during the University of Houston-Victoria/American Book Review Fall Reading Series at noon Dec. 1 in the Alcorn Auditorium of UHV University West, 3007 N. Ben Wilson St. The event is free to the public, and light refreshments will be served.
Tytell has written a piece specifically for his Victoria visit titled "Hemlock for Ambrosia: Writing and the Editorial Process." The piece will cover what he has learned in more than a half century of writing and working as an editor.
In the 1950s, Allen Ginsburg's "Howl," William S. Burroughs "Naked Lunch" and Jack Kerouac's "On the Road" became the best-known examples of Beat writing. Sometimes dismissed as mere "typing" and otherwise attacked for content, Tytell's chronicling of the genre has been its own tale of persistence. "Howl" and "Naked Lunch" were the focus of obscenity trials that ultimately led to a loosening of general mores surrounding the publishing industry, but public approval developed slowly.
Tytell wrote that the academic and public acceptance of these writers has been a long road, as literary criticism tends to "idealize the dead; the living can be querulous."
Persistence also is a key to Tytell's lifelong absorption of literature, far beyond the Beat poets he has championed. Afflicted with an eye condition until the age of 12, doctors confined him to low-light rooms and forbade him to read to avoid eye strain. Tytell rebelled by reading anyway, poring over Herman Melville and Edgar Allan Poe at an early age.
His attraction to the Beats came as an undergraduate after reading reviews in The New York Times. Later, as a doctoral candidate, he was mentored by Leon Edel, biographer of Henry James.
"The reputation of the Beats was terrible for the first 20 years after they published," Tytell said. "I wanted to teach a course on them at Queens College but met some resistance. After they saw the success of these courses at Rutgers and NYU, they relented."
A positive response to a talk on Beat poets in the Queens College Last Lecture Series led him to see the value in chronicling the Beats. The talk seeded the idea for his 1976 book "Naked Angels," which was the first scholarly examination of the genre.
The book became popular around the globe, and Tytell said about 10 years after its publishing, signs were evident that these writers were being taken seriously. Major museums began holding exhibitions on the authors and their creative works.
Tytell followed "Naked Angels" in 1982 with a biography on Ezra Pound, an American expatriate poet whose influence shaped the literary world in the early 20th century. He then delved into some of America's literary romantics with "Passionate Lives: D.H. Lawrence, F. Scott Fitzgerald, Henry Miller, Dylan Thomas, Sylvia Plath – In Love."
A 1999 work, "Paradise Outlaws: Remembering the Beats," combined his prose with 50 photographs by his wife, the photographer Mellon Tytell, who documented the Beats through her camera lens. "After 'Naked Angels' came out, I was allowed a more intimate opportunity to be around these writers," he said. "They saw me as someone who was bringing them to the public. As a result, 'Paradise Outlaws' is a hybrid of memoir, literary criticism and my own memories."
Tytell said all the Beat writers shared one commonality.
"They were all very different people, but the one thing they all had in common was that they were very psychically wounded in some way," he said. "That happens often with a lot of great artists, but of course I would never tell my students today that they need some big wound to be a good writer."
Tytell's career has not been that of a typical academic. He has written six books, articles for Vanity Fair, The New York Times and other magazines and newspapers, a documentary screenplay, and even wrote copy for an advertising agency. But he still draws joy out of teaching a course called, appropriately, "The Beat Tradition."
"I''m in my 49th year at Queens College and I still love teaching," he said. "I also teach in the graduate program at New York University. I lead my students to learn from what the Beat writers were drawing when they were young writers, like Walt Whitman, Henry Miller and William Carlos Williams."
Jeffrey Di Leo, dean of the UHV School of Arts & Sciences and ABR editor/publisher, said Tytell's visit will be special for anyone who has been enthralled with Kerouac's "On the Road" or Ginsberg's "Howl."
"Professor Tytell is the foremost authority on the Beat Generation writers, and his books about them take us inside the minds of these creative American fiction and poetry artists," he said. "He was the first to write that a place of honor is deserved for Kerouac, Burroughs, Ginsberg and others whose writing has moved a generation of readers."
The ABR Spring Reading Series lineup will be announced soon.
ABR is a nonprofit, internationally distributed literary journal that is published six times a year. It began in 1977, moved to UHV in 2007 and has a circulation of about 8,000. The journal specializes in reviews of works published by small presses. Tytell is an ABR associate editor.
For more information about the UHV/ABR Reading Series, call ABR Managing Editor David Felts at 361-570-4194 or go to www.americanbookreview.org.
The University of Houston-Victoria, located in the heart of the Coastal Bend region since 1973 in Victoria, Texas, offers courses leading to more than 80 academic programs in the schools of Arts & Sciences; Business Administration; and Education, Health Professions & Human Development. UHV provides face-to-face classes at its Victoria campus, as well as an instructional site in Katy, Texas, and online classes that students can take from anywhere. UHV supports the American Association of State Colleges and Universities Opportunities for All initiative to increase awareness about state colleges and universities and the important role they have in providing a high-quality and accessible education to an increasingly diverse student population, as well as contributing to regional and state economic development.