Close
Pros and cons of zombie rights focus of debate Tuesday at UHV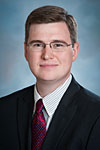 Justin Bell
Should human rights be extended to zombies?
That will be the topic of a mock debate between a zombie rights advocate and a UHV instructor who is a zombie adversary at 5 p.m. Tuesday in the Alcorn Auditorium of University West, 3007 N. Ben Wilson St. The debate is free and open to the public.
"This will be the greatest and, to my knowledge, first public forum debate on the civil rights and liberties of the differently animated," said John Sears of Madison, Wis., president of the Zombie Rights Campaign. "This allows us to extend our campaign further south than ever before, and the righteousness of our arguments shall see us through the day."
Taking the position against zombie rights will be Justin Bell, a UHV assistant professor of philosophy.
"Some of the positions I voice might sound familiar as we discuss extending rights to those who might not be living," Bell said. "Our intention for this exercise is to illustrate how rights have been restricted from certain groups. We hope to help the audience think about who deserves rights and what the consequences of restricting rights might be."
The event, which is free and open to the public, is part of the UHV Community of Readers Program, which encourages a shared experience through students, faculty and staff and the public through reading the same book. This year's book is "World War Z" by Max Brooks, a best-selling science fictional story where humans battle for their lives during a post-apocalyptic zombie invasion.
Other events this fall have featured Jeb Lacey, Victoria Emergency Management Coordinator, discussing preparation for a zombie apocalypse; Amanda Rochelle Warren of the University of South Carolina Aiken talking about how nature, technology and feminism would affect a zombie apocalypse; Keith Akins, UHV assistant professor of criminal justice, presenting "World War Z through the Eyes of a Soldier"; and an event featuring dramatic readings from "World War Z."
The idea for a debate came about after Sears criticized UHV for choosing "World War Z" on his Zombie Rights Campaign blog. He wrote that the book uses "prejudicial, inflammatory and offensive stereotypes of the Differently Animated" and the Community of Readers program would only bring students together "as an angry mob."
Sears and other zombie rights advocate host a Web site at www.zombierightscampaign.org, which publicizes zombies in the news, shares links to publications such as "Baby's First Book of Zombies," and contributes to a cancer-research charity through its "Lurch for the Cure."
For more information about the debate, contact Samantha Bell, Community of Readers committee member, at 361-570-4202.
The University of Houston-Victoria, located in the heart of the Coastal Bend region since 1973 in Victoria, Texas, offers courses leading to more than 80 academic programs in the schools of Arts & Sciences; Business Administration; and Education, Health Professions & Human Development. UHV provides face-to-face classes at its Victoria campus, as well as an instructional site in Katy, Texas, and online classes that students can take from anywhere. UHV supports the American Association of State Colleges and Universities Opportunities for All initiative to increase awareness about state colleges and universities and the important role they have in providing a high-quality and accessible education to an increasingly diverse student population, as well as contributing to regional and state economic development.