Close
Backgrounds draw UHV school's top graduates into education
While children sometimes seek a path different from that of their parents, two top School of Education & Human Development graduates at the University of Houston-Victoria eventually felt called into their family's chosen career.
Teresa Bush of Katy is the top undergraduate student in the UHV School of Education & Human Development and will receive a bachelor's degree in interdisciplinary studies with an early childhood education concentration. Crystal Rice of Victoria is the school's top graduate student and will be awarded a Master of Education in administration and supervision with a concentration in educational leadership.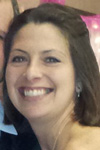 Crystal Rice
Bush and Rice will receive their degrees during the university's fall commencement ceremony at 11 a.m. Dec. 10 at the Leonard E. Merrell Center, 6301 S. Stadium Lane in Katy.
Each semester, professors from the four UHV schools select at least one outstanding student from both their graduate and undergraduate programs to be honored during commencement.
For Rice, it has been a rapid pace in achieving her higher education goals. The assistant principal at Rodolfo Torres Elementary School in Victoria is completing her second master's degree at UHV, the first being in curriculum and instruction.
When she graduated from high school, Rice thought she wanted to pursue other avenues and studied for a career in orthodontics.
"I came from a family of educators and thought I wanted to do something different, but my first semester of chemistry cured me of that," she said with a laugh. "But ultimately, I realized being an educator was what I wanted to do, so I changed my major."
Rice's road to three degrees has been intense and focused, and made more of a struggle by the fact that she refused to use student loans to finance her education.
"Having to pay everything in cash can be a struggle," she said, adding that she and her husband persevered and sacrificed to achieve her goals.
Rice also dealt with a light-sensitivity disorder called Irlen Syndrome, which can cause headaches and makes it difficult to focus on reading material in certain types of light. Because of that, she preferred face-to-face courses over online offerings.
"Class discussions are always helpful for assignments," Rice said. "Face-to-face classes also offer the opportunity to establish relationships with colleagues. Going into administration, that is always important because some of your classmates could end up being your boss."
Rice worked in daycare centers in Corpus Christi while pursuing her bachelor's degree, then spent years in the classroom while pursuing her master's degree. She soon became a curriculum specialist and worked as a math and science facilitator for Victoria Independent School District.
"Now I have moved up to assistant principal," she said. "It's been a busy time of life."
Rice and her husband now plan to begin a family, and she will take time away from studies instead of immediately pursuing a doctoral degree.
"I'm still debating whether to pursue a doctorate, and I am thinking about becoming a curriculum director, or math consultant, or possibly a professor who can teach others how to teach math," she said. "But for now, I have promised my husband I won't go back to school for five years, and we are going to start a family."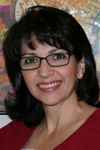 Teresa Bush
The pace for Bush, the top undergraduate, has been slower as she dealt with family obligations earlier in her life.
A nontraditional student at age 49, Bush returned to school after getting married, raising three children and spending time in the workforce. As with Rice, both her parents were educators, but she said higher education didn't seem the right fit for her straight out of high school.
"I went into the workforce after high school. College just wasn't the fit for me at the time," she said. "When we had our children, I became a stay-at-home mother while they were young. But once they got into high school, I became determined to get my teaching degree."
Bush was raised in the Austin area – her mother a bilingual education kindergarten instructor and her father a teacher, administrator and, later, Texas Education Agency official.
"I went back to what I wanted to do when I was a little girl," she said. "Since both my parents were teachers, that was what I knew, and I decided to go that route. It was my first love."
Even though her children were teens, returning to school was a challenge.
"There were nights I had to stay home and do papers or research instead of attending their ballgames or band recitals," she said. "I still did lots of that, but it's hard to fit it all in. Once you commit to getting a degree, you have a different set of obligations."
Bush took classes at the UH System at Cinco Ranch, where UHV offers courses, and found offerings very convenient.
"My house is only 10 minutes from the campus, and I found it very convenient to study there," she said. She preferred online courses as they fit well into her schedule.
Bush now wants to be a substitute teacher at Katy ISD in the spring and look for a full-time teaching job in the fall. She eventually wants to pursue additional certifications at UHV in either English as a Second Language or special education.
She said her husband, a T-Mobile employee, was her biggest inspiration during her return to being a student, even while he dealt with struggles of his own.
"He was diagnosed with prostate cancer when I started back to school, but he was adamant that I go to class and not miss this opportunity," she said. "He is fine now and will be excited that I will graduate on his birthday. He said that will be the best present ever."
Diane Prince, interim dean of the UHV School of Education & Human Development, said these graduates will be excellent additions to school district staffs in the area.
"Ms. Rice and Ms. Bush are excellent examples of educators who will be as devoted to their students as they were to their studies," Prince said. "People see education as a calling, and at UHV, we strive to instill the most current knowledge and skills available that these students can take into the classroom and benefit future generations."
The University of Houston-Victoria, located in the heart of the Coastal Bend region since 1973 in Victoria, Texas, offers courses leading to more than 80 academic programs in the schools of Arts & Sciences; Business Administration; and Education, Health Professions & Human Development. UHV provides face-to-face classes at its Victoria campus, as well as an instructional site in Katy, Texas, and online classes that students can take from anywhere. UHV supports the American Association of State Colleges and Universities Opportunities for All initiative to increase awareness about state colleges and universities and the important role they have in providing a high-quality and accessible education to an increasingly diverse student population, as well as contributing to regional and state economic development.