Close
Films, working with college students move UHV education major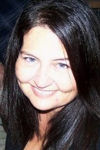 Kelly Dodson
Heading to the movies with a tub of popcorn and a soda is fine, but there's more to the film than what plays on-screen.
That's the idea that spurs University of Houston-Victoria junior and self-proclaimed film buff Kelly Dodson to study the art.
"I enjoy the whole back story to how the film was made and its technical value," she said. "I think it adds to it."
Dodson is president of UHV's Rosebud Film Society, where she and other students study films, often classics, watching them together and discussing what they've seen afterward. The goal isn't just to watch the story, but to learn the techniques and what makes the film unique or innovative.
Dodson equated her love of film to a person who enjoys books. Those who take in enough literature, classics and so on, are considered well read.
"I feel the same applies to watching films," she said. "You need to have a background in earlier films so you can appreciate what you're learning today."
Film study isn't the only thing that fills the Midland native's time.
Dodson, 41, works as a resident assistant for UHV. At the university's Jaguar Hall, she works with students, plans events, publishes newsletters for other dorm residents and more.
The position means she's never really off the clock, and some days she's busy from 8 a.m. to midnight.
"It's a lot of commitment, but it's also a lot of fun," Dodson said. "You have to be very good at time management, for sure."
That resident assistant position has done more than keep Dodson busy. It also led her to consider a new career path. Although she is majoring in early childhood education, she hopes to work with college students down the road.
"I like the idea of working with people kind of starting out their journey in life," said Dodson, who plans to continue on toward a master's degree after graduation. "I want to help make a difference."
The UHV Outstanding Student is an online feature highlighting the exceptional students who attend the University of Houston-Victoria. To nominate a student, contact Paula Cobler, UHV interim director of marketing and communications, or call 361-570-4350.
The University of Houston-Victoria, located in the heart of the Coastal Bend region since 1973 in Victoria, Texas, offers courses leading to more than 80 academic programs in the schools of Arts & Sciences; Business Administration; and Education, Health Professions & Human Development. UHV provides face-to-face classes at its Victoria campus, as well as an instructional site in Katy, Texas, and online classes that students can take from anywhere. UHV supports the American Association of State Colleges and Universities Opportunities for All initiative to increase awareness about state colleges and universities and the important role they have in providing a high-quality and accessible education to an increasingly diverse student population, as well as contributing to regional and state economic development.