Close
UHV nursing graduates find calling through experience, interaction
The top fall graduates in the University of Houston-Victoria School of Nursing used their own experiences to discover their education and career path.
Danya Garner of Houston is the top graduate student and will receive a Master of Science in Nursing with a nursing education concentration during UHV's fall commencement. Cindy Wang of Sugar Land is the top undergraduate and will be awarded a Second Degree Bachelor of Science in Nursing.
Garner and Wang will receive degrees during the UHV spring commencement ceremony at 11 a.m. Dec. 10 at the Leonard E. Merrell Center, 6301 S. Stadium Lane in Katy.
Each semester, professors from the four UHV schools select one outstanding student from both their graduate and undergraduate programs to be honored during commencement.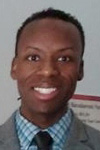 Danya Garner
Garner's road to his MSN began with a family trial. At age 10, he helped take care of an aunt with chronic illnesses by massaging her feet, reading to her and sitting with her.
"I just had an inclination to take care of my aunt," he said. "I thought then that this could be my life's work."
Garner, who already has a BSN, has worked in the field for much of his life. At age 16, he became certified as a nursing assistant, working at a local nursing home in his hometown of Nacogdoches. He has continued to work in the field ever since.
He was challenged during his studies to maintain full-time work obligations as a clinical nurse in the intensive care unit at the MD Anderson Cancer Center in Houston, where he has worked for the past five years, and balancing school work.
"It was rigorous enough to keep me on my toes, and I had to maintain focus and set aside time to complete the program," he said. "But having my work experience helps me to integrate the new learning on the job."
Garner will be the first in his family to obtain a master's degree.
"My parents stressed the importance of education, and trying to do better and achieve more than they did," he said. "They always said that opportunities are endless as long as you get a good education."
Garner will now be in charge of educating fellow nurses at the Texas Medical Center in Houston where he just accepted the position of education resource specialist.
"I'll be responsible for all of the education of the unit, implementing educational programs and using what I've learned the last two years," he said. "I have always enjoyed teaching others on the job, even while I worked during high school, so this will be a natural extension. I'm honored to be chosen as the top graduate student."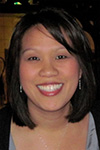 Cindy Wang
Wang had her eye on many jobs in the broad health care field after receiving her bachelor's degree in biomedical science in 2004. Coming from a supportive but nonmedical family – her father is an engineer and mother a homemaker – meant she relied on her own experiences to narrow down her field of interests. She worked most recently as human resources director for a private ambulance service.
"I always knew I wanted to go into the health care field, but I really found my focus with nursing," she said. "I love the patient interaction and the feeling you get from helping someone."
While she plans to continue her education, she said nursing has opened the door to many possibilities.
"Nursing also provides a wide array of opportunities to go into different fields or specialties," she said. "Speaking with experienced nurses lets me know that there are still a lot of areas I can explore. Perhaps I will become a nurse practitioner or go into nursing administration."
Wang wants to continue nursing studies at UHV and get a master's degree.
Her enrollment in the Second Degree BSN program meant a year away from work for concentrated study, one of the program's requirements, but the skills she learned already have led to a job as a nurse in the neurological intensive care unit at Ben Taub General Hospital in Houston.
"I really liked that I could get my second degree in one year at UHV, as opposed to a longer period at other schools," she said. "It's definitely fast-paced, and I enjoyed it. The people in our cohort became close friends, and we all stuck together. I know my knowledge from UHV will serve me well."
Kathryn Tart, founding dean of the UHV School of Nursing, said these graduates showed perseverance and determination in their pursuit of degrees.
"Mr. Garner and Ms. Wang learned to love this profession by being an active part of it," Tart said. "It is a calling, and it is one we take very seriously from the educational standpoint. Our nursing graduates at UHV are highly trained and sought after when they leave here."
The University of Houston-Victoria, located in the heart of the Coastal Bend region since 1973 in Victoria, Texas, offers courses leading to more than 80 academic programs in the schools of Arts & Sciences; Business Administration; and Education, Health Professions & Human Development. UHV provides face-to-face classes at its Victoria campus, as well as an instructional site in Katy, Texas, and online classes that students can take from anywhere. UHV supports the American Association of State Colleges and Universities Opportunities for All initiative to increase awareness about state colleges and universities and the important role they have in providing a high-quality and accessible education to an increasingly diverse student population, as well as contributing to regional and state economic development.