Close
Top UHV business graduates eye advancement in workforce
The top graduate student and undergraduate in the UHV School of Business Administration are the first in their family to receive their respective degrees. Now the two want to use their degrees to advance their careers.
John Olivas of Schertz is the top graduate student in the UHV School of Business Administration and will receive a Global Master of Business Administration. Veronica Ramos of Houston is the top undergraduate and will be awarded a Bachelor of Business Administration in management.
Olivas and Ramos will receive their degrees during the university's fall commencement ceremony at 11 a.m. Saturday at the Leonard E. Merrell Center, 6301 S. Stadium Lane in Katy.
Each semester, professors from the four UHV schools select one outstanding student from both their graduate and undergraduate programs to be honored during commencement.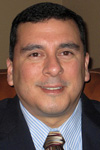 John Olivas
Olivas, who received his BBA in general business from UHV in 2009, is a branch director for a home health care provider in New Braunfels and San Antonio. His frequent travel can mean a hectic schedule, especially when paired with his commitment to school.
"I went to community college in 1996 and subsequently worked as a respiratory therapist with the degree I earned," he said. "However, I didn't concentrate on my education for years after that. But I am an avid reader, and a friend said as long as I was reading, it might as well be something that is dedicated toward my getting an MBA."
Olivas is a U.S. Army veteran who worked as a combat medic in the 101st Airborne Division. When he was deployed to Egypt, he met physicians and nurses who drove his desire to work in the medical profession once he completed active duty.
As a working professional, however, Olivas took a leisurely pace with education until 2002, when the birth of his twins inspired him to go back to school and achieve a higher standard of living for his growing family. Online courses at UHV allowed him to continue a 40-plus-hour work week and achieve his higher education goals. He also praised the university for being a veteran-friendly institution.
"I like online courses because with my schedule, it is difficult to put everything down and attend face-to-face classes," he said. "UHV was high on the list of accredited universities in the area."
Olivas said his primary goal is to use his new pedigree to obtain an area vice president or regional vice president position. The 39-year-old, who speaks fluent Spanish, said the global component to his MBA also could open doors.
"As global boundaries start to converge, my business and language skills also may allow me to get into some medical-related professions," he said.
Olivas comes from a family of hard workers who will beam when he becomes the first to earn a graduate degree.
"My parents have some education, but they always stressed its importance," he said. "I am pushing my 14-year-old to do the same."
Ramos transferred to UHV from the UH main campus and, while always focused on business, decided to study management when she entered UHV.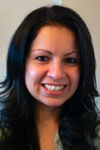 Veronica Ramos
"I've been told I have the leadership qualities to be a good manager, however, work experience is not sufficient enough to get there because, in this day and age, a degree is required," she said.
She and her husband, who have two children and both work full time, will celebrate a dual accomplishment when he also gets a bachelor's degree in business from University of Houston-Clear Lake.
"I couldn't have done it without him, and we've been supportive of each other during this process," Ramos said. "It's been hectic juggling a busy schedule with children and work. However, obtaining a degree has always been my goal regardless of the challenges faced. It is a necessary accomplishment in order to achieve ultimate success in the business world."
Ramos and her husband both are employed in the oil and gas industry. She has observed good and bad managers, and she hopes to become a good leader.
"In the work environment, you have to be a people person and work on coaching employees and providing tools for them to succeed," she said. "I pursued a concentration in management as I wanted to learn more about what I could do to be a good manager in my future endeavors. I don't just want the title."
She said the curriculum at UHV was good, and the professors offered real-world examples and application of current business practices. 
The emphasis that Ramos' parents placed on academic excellence and not merely getting by with satisfactory grades led to her graduating near the top of her high school class. She will be the first college graduate in her immediate family.
"My parents married young and started a family, and working became a priority, so they were unable to finish college," Ramos said. "But they are very smart, and they have been so supportive."
Ramos and her husband also are glad they serve as role models for their children.
"They tell me they are proud of me and my accomplishments, and that makes all the hard work and dedication worth it," she said.
Farhang Niroomand, dean of the UHV School of Business Administration, said the university has many students seeking to be the first in their family to receive degrees.
 "The School of Business Administration is dedicated to making a top-notch business education accessible to students with many competing priorities, and we're proud to have played such a role in the education of these two promising first-generation graduates," he said.
The University of Houston-Victoria, located in the heart of the Coastal Bend region since 1973 in Victoria, Texas, offers courses leading to more than 80 academic programs in the schools of Arts & Sciences; Business Administration; and Education, Health Professions & Human Development. UHV provides face-to-face classes at its Victoria campus, as well as an instructional site in Katy, Texas, and online classes that students can take from anywhere. UHV supports the American Association of State Colleges and Universities Opportunities for All initiative to increase awareness about state colleges and universities and the important role they have in providing a high-quality and accessible education to an increasingly diverse student population, as well as contributing to regional and state economic development.