Close
University of Louisiana dean named UHV provost
Jeffrey Cass, dean of the University of Louisiana at Monroe College of Arts and Sciences, will become the next provost and vice president for academic affairs at the University of Houston-Victoria.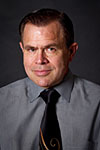 Jeffrey Cass
Cass was chosen after a search committee reviewed the credentials of qualified applicants and conducted campus interviews. From a group of three finalists, UHV President Phil Castille picked Cass as the university's next top academic officer.
"Dr. Cass is an accomplished scholar and experienced administrator, and his skills will serve this institution well," Castille said. "His support of students, faculty and staff will help UHV continue its journey toward becoming a destination university."
Cass has served as the dean of ULM's College of Arts and Sciences since 2007. He earned a bachelor's degree in English and German from the University of Dallas, and his master's and doctorate in comparative literature from the University of California at San Diego.
Before ULM, he served from 1991 to 2007 at Texas A&M International University in Laredo as an English professor, assistant to the provost, Advanced Placement Faculty Fellows director and associate provost. Prior to joining Texas A&M International, he taught at Laredo Community College.
Cass was honored with a ULM CenturyLink "Accent on Excellence" Award for Course Redesign. He is a former TAMIU University Scholar of the Year. He also has directed two Quality Enhancement Plans, one of the principles of accreditation for the Southern Association of Colleges and Schools. UHV is preparing for SACS accreditation in 2014.
He serves on the board of directors for the College English Association and recently completed an advisory board term for the International Conference on Romanticism. Cass has co-edited two book collections and has contributed to numerous publications, including essays on British romanticism and orientalism and book reviews on popular culture.
"I'm delighted to be chosen for this job because I think I can contribute to this growing, vibrant institution," Cass said. "The UHV School of Business Administration is booming. The School of Education & Human Development continues to supply well-trained teachers into the region. The School of Nursing has the potential for even more growth, and the School of Arts & Sciences houses innovative programs like its online publishing degree."
Cass said he also is impressed by UHV's nationally ranked online course offerings, which are numerous for a school of its size. He will replace Don Smith, who has been interim provost and special assistant to the president during the search after serving a year as the university's interim president.
"I was very impressed by Dr. Cass' extensive background in program assessment and accreditation," Castille said. "I believe the entire UHV campus has deep confidence in his ability to lead us through these essential processes."
The provost is the president's primary adviser for planning, development and oversight of academic programs. The provost also oversees the deans of UHV's four schools, sits on the President's Cabinet and university budget committee, and represents UHV on the UH System Council of Provosts.
"I note with great approval that Dr. Cass has years of experience teaching at both the community college and university levels in Laredo," Castille said. "This experience has prepared him very well to be chief academic officer at UHV."
The search committee was composed of UHV administrators, faculty, staff and students. The committee was chaired by Jane Devick Fry, associate professor of education and former president of the UHV Faculty Senate.
Cass begins his new position on Feb. 1. To view his complete curriculum vitae, visit www.uhv.edu/president/Candidates/Provost/Cass Vitae-11022011.pdf.
The University of Houston-Victoria, located in the heart of the Coastal Bend region since 1973 in Victoria, Texas, offers courses leading to more than 80 academic programs in the schools of Arts & Sciences; Business Administration; and Education, Health Professions & Human Development. UHV provides face-to-face classes at its Victoria campus, as well as an instructional site in Katy, Texas, and online classes that students can take from anywhere. UHV supports the American Association of State Colleges and Universities Opportunities for All initiative to increase awareness about state colleges and universities and the important role they have in providing a high-quality and accessible education to an increasingly diverse student population, as well as contributing to regional and state economic development.