Close
UHV, Victoria College sign agreement to ease nursing student transition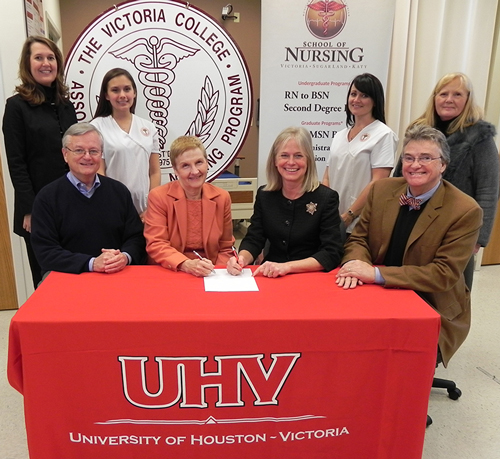 Representatives from the University of Houston-Victoria and Victoria College sign an articulation agreement between the institutions. Present at the signing were, seated from left, Tom Butler, VC president; LeAnn Wagner, dean of VC Allied Health; Kathryn Tart, founding dean of the UHV School of Nursing; and Phil Castille, UHV president. Those standing were, from left, Alison Hewig, VC Associate Nursing Degree program chair; VC nursing students Heather Duncan and Melissa Lynch; and Patricia Vandervoort, VC vice president for instruction.
The University of Houston-Victoria and neighboring Victoria College recently signed an articulation agreement to smooth the path for nursing students seeking a bachelor's degree.
The articulation agreement creates a plan that will encourage VC students aiming for an associate degree in nursing to continue on and pursue a Bachelor of Science in Nursing at UHV. Nursing students who meet eligibility requirements will have a clear pathway for obtaining their BSN. They will automatically be admitted into the UHV Registered Nurse to BSN program, which is offered in Victoria, Sugar Land and Katy.
"We have partnered with Victoria College on many initiatives, so we are pleased to achieve this agreement," said Kathryn Tart, founding dean of the UHV School of Nursing. "This is a positive step that will help students attain their personal educational goals, and it will help both institutions provide the best-educated nurses for area health care facilities."
The UHV School of Nursing now has articulation agreements with three area community colleges, including the Lone Star College System and Wharton County Junior College. These agreements have been a priority for UHV since an October 2010 report from the Institute of Medicine made recommendations that 80 percent of RNs attain BSNs by 2020. The community college articulation agreements are located at the UHV School of Nursing website at www.uhv.edu/nursing.
LeAnn Wagner, dean of VC Allied Health, said the agreement encourages nurses who have achieved their associate degree to continue to study, taking advantage of advanced educational opportunities in their chosen profession. Nursing advisers at VC and UHV are able to help students from the beginning of their educational journey.
"This agreement will provide Victoria College students with a mechanism to continue their education in a seamless way," Wagner said. "Many of our applicants are very interested in getting their bachelor's or master's degrees, and this provides a venue for that."
Wagner said VC students will know which courses they need to take to make an easy transition to UHV. Students also will have fewer repeat courses or barriers to enter the university, and more access to scholarship money provided through the UHV School of Nursing.
Both UHV and VC are important suppliers of nurse professionals throughout the Coastal Bend region. Wagner said the agreement also strengthens opportunities for more education to the area's rural students, as well as nurses at rural facilities.
"About 50 percent of our program's applicants are from Victoria, and 50 percent are from our seven-county service area," Wagner said. "It can be difficult for people in the rural areas to go on with their education, so this is an advantage for them."
UHV President Phil Castille said the university will continue to pursue these agreements to help community college students make the transition to a four-year program.
"The UHV School of Nursing is answering a national call for more education in the nursing profession, and all of our schools promote a more highly educated workforce for the region," Castille said. "We are especially gratified to partner with VC in increasing the number of BSNs for the Coastal Bend area."
The UHV School of Nursing offers its programs in Victoria and Fort Bend County at the UH System at Sugar Land and the UH System at Cinco Ranch in Katy. Fort Bend County is one of the fastest-growing counties in the nation. For more information, contact Tammy Whatley, senior recruiting coordinator, at 361-570-4297 or 877-970-4848, ext. 4297, email nursing@uhv.edu, or visit www.uhv.edu/nursing.
Victoria College serves Victoria and the surrounding counties and offers programs in associate-degree nursing, medical laboratory technology, physical therapist assistant, respiratory care and vocational nursing. For more information, visit www.victoriacollege.edu/alliedhealth or contact the Allied Health Division at 361-572-6497.
The University of Houston-Victoria, located in the heart of the Coastal Bend region since 1973 in Victoria, Texas, offers courses leading to more than 80 academic programs in the schools of Arts & Sciences; Business Administration; and Education, Health Professions & Human Development. UHV provides face-to-face classes at its Victoria campus, as well as an instructional site in Katy, Texas, and online classes that students can take from anywhere. UHV supports the American Association of State Colleges and Universities Opportunities for All initiative to increase awareness about state colleges and universities and the important role they have in providing a high-quality and accessible education to an increasingly diverse student population, as well as contributing to regional and state economic development.