Close
2010 National Book Award finalist to kick off Spring Reading Series
An author described as a "big talent" by the Los Angeles Times and praised by Newsday for
"wrestling with profound philosophical and social issues" while delivering an entertaining story will be the first speaker in the University of Houston-Victoria/American Book Review Spring Reading Series. 
Karen Tei Yamashita, a finalist for the 2010 National Book Award for her novel "I Hotel," will give a free talk beginning at noon on Jan. 26 in the Alcorn Auditorium of UHV University West, 3007 N. Ben Wilson St.  The talk is open to the public, and light refreshments will be served.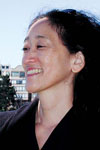 Karen Tei Yamashita
She will be reading from "I Hotel," which starts in 1968 and is divided into 10 novellas, one for each year. She also plans on showing audience members a series of photographs from San Francisco in the 1960s and 1970s so that they can get a sense of the time period and people. The novel centers on the lives of the residents of the International Hotel in San Francisco.
"This time period was pivotal," Yamashita said. "There were the assassinations of Bobby Kennedy and Martin Luther King, and the Vietnam War was going on. It was the beginning of conversations and protests for the inclusion of people of color. This was a historical moment when out of the upheaval of civil right movements came great change."
Yamashita also is the author of four other books and is a professor of literature and creative writing at the University of California in Santa Cruz.
She was the recipient of the American Book Award in 1990 and the Janet Heidinger Kafka Award in 1992 for "Through the Arc of the Rain Forest." Her short stories have been included in several anthologies including "Charlie Chan is Dead 2," "At Home in the World: An Anthology of Contemporary Asian American Fiction" and "Multitude: Cross-Cultural Readings for Writers."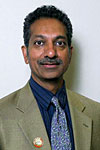 Uppinder Mehan
Her story "Asaka-no-Miya" placed first in the James Clavell American-Japanese Short Story Contest in 1977-1978. She was awarded a Rockefeller Playwright-in-Residence Fellowship in 1977 and a City of Los Angeles Cultural Grant in 1992.
"Ms. Yamashita is an innovative writer of the first order," said Uppinder Mehan, chair of the UHV School of Arts & Sciences Humanities Division. "She combines careful and thorough research with an inventive yet disciplined imagination. Her latest novel, 'I Hotel,' brings together San Francisco, Vietnam and civil rights, in a vibrant and often darkly humorous way."
Jeffrey Di Leo
Jeffrey Di Leo, editor and publisher of the American Book Review and dean of the UHV School of Arts & Sciences, said UHV and the larger Victoria community are in for a treat during Yamashita's talk.
"Yamashita is one of the finest writers in America," he said. "We are fortunate to have her take part in our reading series."
Other writers coming for the UHV/ABR Spring Reading Series are:
Tim O'Brien, Feb. 16 – Best known for his Vietnam-era war novel, "The Things They Carried," O'Brien is an American novelist who writes about his experiences in the war and the impact the war had on American servicemen who fought there. He is the winner of the 1979 National Book Award for "Going After Cacciato." After his military service, O'Brien entered graduate school at Harvard and later worked at The Washington Post and other newspapers. Now a professor in the creative writing program at Texas State University, O'Brien's other works include "In the Lake of the Woods," "Tomcat in Love," "If I Die in a Combat Zone" and "July, July."
Percival Everett, March 8 – The author of nearly 20 novels, three collections of short fiction and two volumes of poetry, Everett is a prolific scribe whose themes have touched on everything from sports and westerns, to Greek mythology. The Los Angeles-based writer's books include "Assumption," "I Am Not Sidney Poitier," "The Water Cure," "Wounded" and "Her Dark Skin," to name a few. "Swimming Swimmers Swimming" is his newest collection of poems out on Red Hen Press. Everett's diverse interests also have seen him work as a musician, horse trainer and teacher. He has won the PEN Center USA Award for Fiction, the Hurston/Wright Legacy Award for Fiction and the New American Writing Award. His stories have been published in the "Pushcart Prize Anthology" and "Best American Short Stories."
Wayne Miller, April 26 – Kansas City-based Miller is the author of three collections of poems, "The City, Our City," "The Book of Props" and "Only the Senses Sleep." He also works as an editor and translator of poetry, and he teaches at the University of Central Missouri in Warrensburg, where he edits Pleiades: A Journal of New Writing. Miller is the recipient of the George Bogin Award, the Lucille Medwick Award and the Lyric Poetry Award from the Poetry Society of America, as well as a Ruth Lilly Fellowship and the Bess Hokin Prize from the Poetry Foundation.
Authors who are part of the sixth year of the Spring Reading Series will attend roundtable discussions with UHV faculty and students, make classroom visits to area schools, give lectures open to the community, and go to receptions hosted by Friends of ABR patrons while they are in Victoria.
ABR, which started in 1977, is a nonprofit, internationally distributed literary journal that is published six times a year. The journal specializes in reviews of works published by small presses.
For more information about the UHV/ABR Reading Series, call Mehan at 361-570-4178 or go to www.americanbookreview.org.
The University of Houston-Victoria, located in the heart of the Coastal Bend region since 1973 in Victoria, Texas, offers courses leading to more than 80 academic programs in the schools of Arts & Sciences; Business Administration; and Education, Health Professions & Human Development. UHV provides face-to-face classes at its Victoria campus, as well as an instructional site in Katy, Texas, and online classes that students can take from anywhere. UHV supports the American Association of State Colleges and Universities Opportunities for All initiative to increase awareness about state colleges and universities and the important role they have in providing a high-quality and accessible education to an increasingly diverse student population, as well as contributing to regional and state economic development.