Close
Scholars convening at UHV to consider criticism of criticism
Should the study and critique of a piece of writing focus only on the text itself?
That question will be among those explored at the Third Annual Winter Theory Institute Feb. 9 to 12 at the University of Houston-Victoria, where 12 distinguished scholars from around the country will be making presentations.
Scholars from various colleges and universities come to UHV each year for the event, hosted by the Society for Critical Exchange, the oldest scholarly organization in North America dedicated exclusively to theory. The organization is based at UHV and collaborates each year with the UHV School of Arts & Sciences to host the event.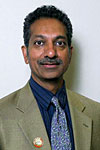 Uppinder Mehan
The theme of this year's institute is "Criticism after Critique." The theme relates to a growing sense that critical analysis seems to be more interested in pursuing a particular perspective rather than making a disinterested examination, said Uppinder Mehan, associate director of the Society for Critical Exchange and chair of the UHV School of Arts & Sciences Humanities Division.
"The institute is partly to address this feeling in the country that academics in general have been focusing on aspects of life and thought that some consider to be outside the canon," Mehan said.
On the other side are thematic criticism proponents, who generally are in favor of theory and inclusion of social and historical aspects when evaluating writing, Mehan said.
A broad overview of the issues will be presented by David Shumway, an English professor at Carnegie Mellon University who has written about theory, cultural studies and film.
Another distinguished speaker will be Charles Altieri, an English professor at the University of California, Berkeley who has been a Guggenheim Fellow, co-director of the National Endowment for the Humanities' Summer Institute on Ethics and Aesthetics, and elected to the American Academy of Arts and Sciences. In his presentation, Altieri will explain how examining any kind of cultural production forces people to slow down and pay attention to every aspect of it, Mehan said.
Jeffrey Di Leo
"One of the ways you slow down is to become aware of all the ways that the text reaches out beyond itself to the world at large, to other texts," Mehan said. "And criticism that restricts itself to what's on the page does the text a disservice."
This event is part of the shared journey of critical thought across disciplines, said Jeffrey Di Leo, dean of the UHV School of Arts & Sciences and executive director of the Society for Critical Exchange.
"The institute puts UHV at the forefront of interdisciplinary dialogue on critical thinking," he said.
Presentations during the Winter Theory Institute will take place from 9 a.m. to 5 p.m. on Feb. 10 and 11 in the UHV Publishing Center, Room 301 of the University Center, 3007 N. Ben Wilson St. Because of limited seating, community members who would like to attend the free event are asked to contact Mehan in advance at 361-570-4178 or sce@uhv.edu. For more information about the society, visit societyforcriticalexchange.org.
The University of Houston-Victoria, located in the heart of the Coastal Bend region since 1973 in Victoria, Texas, offers courses leading to more than 80 academic programs in the schools of Arts & Sciences; Business Administration; and Education, Health Professions & Human Development. UHV provides face-to-face classes at its Victoria campus, as well as an instructional site in Katy, Texas, and online classes that students can take from anywhere. UHV supports the American Association of State Colleges and Universities Opportunities for All initiative to increase awareness about state colleges and universities and the important role they have in providing a high-quality and accessible education to an increasingly diverse student population, as well as contributing to regional and state economic development.