Close
UHV professor authors book on stress, health and well-being
Two years of intensive writing and research on the mind-body connection culminated in January for a University of Houston-Victoria professor with the release of his book "Stress, Health, & Well-Being: Thriving in the 21st Century."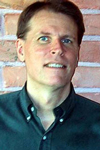 Rick Harrington
Health psychologist Rick Harrington, a professor of psychology and chair of the Social and Behavioral Sciences Division in the UHV School of Arts & Sciences, authored the college textbook published by Cengage Learning. It is the most up-to-date textbook published on the subject of stress and health in more than 12 years, according to the author and publisher.
The book approaches the subject from both a health psychology and positive psychology perspective.
"That's really where psychology is today," said Jon-David Hague, publisher of the Psychology & Helping Professions Division at Cengage Learning.
Harrington, who has been studying stress for more than 30 years, teaches two related courses at UHV: "Stress and Health" and "The Psychology of Happiness."
"That's how I got the idea for the book," he said. "I saw how these two areas of study complemented each other."
Throughout the book's 560 pages, Harrington weaves together the current scientific understanding of stress with the latest findings from the growing field of positive psychology, and grounds the subject matter with research data analysis and practical applications for stress management.
The book is truly unique, Hague said.
"The research that Dr. Harrington studied and his own research that he does are all incorporated in his book in a way that you just won't find in another book."
Given how pervasive stress is, Harrington's book, which distinguishes between positive and negative stress, is likely to be of interest not only to students of psychology but also to the general public, Hague said. Examples of chapters include: "Stress, Illness and the Immune System," "Job Stress" and "Mediation, Yoga and Biofeedback."
Harrington joked about the stress he experienced during the intensive writing process to complete his book about stress.
"But it's a positive stress," he said. "It's a good kind of challenge - the kind that you want to have and embrace. It really is quite a positive experience to see a dream come true from the idea in your head to the physical book produced."
UHV lent support to Harrington's endeavors by granting him a semester of sabbatical to write his initial chapters.
Jeffrey Di Leo
"When Dr. Harrington first came to me with his book idea several years ago, I knew right away that it was an endeavor worth supporting, and he proved that to be true," said Jeffrey Di Leo, dean of the School of Arts & Sciences. "His ability to produce such a significant work while carrying on his teaching duties demonstrates the ambition and intellect for which our school's faculty members are known."
Harrington has been teaching psychology at UHV for 25 years and is a past recipient of the university's Teaching Excellence Award. He specializes in health psychology/behavioral medicine and social psychology. His past research projects have included studies relating to biofeedback, smoking cessation, personality and life satisfaction.
A licensed psychologist, Harrington received his licensing supervision at the Institute for Preventive Medicine at Houston's Methodist Hospital. He previously was in private practice, worked as a research associate for the Baylor College of Medicine, and served as president of the Victoria Area Psychological Association.
His book is available for purchase in local college bookstores and online at Amazon.com and Cengage.com.
The University of Houston-Victoria, located in the heart of the Coastal Bend region since 1973 in Victoria, Texas, offers courses leading to more than 80 academic programs in the schools of Arts & Sciences; Business Administration; and Education, Health Professions & Human Development. UHV provides face-to-face classes at its Victoria campus, as well as an instructional site in Katy, Texas, and online classes that students can take from anywhere. UHV supports the American Association of State Colleges and Universities Opportunities for All initiative to increase awareness about state colleges and universities and the important role they have in providing a high-quality and accessible education to an increasingly diverse student population, as well as contributing to regional and state economic development.