Close
UHV softball pitcher uses psychology to help her game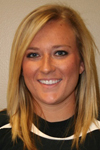 Megan Carter
In the world of athletics, the mental game can be just as important as the physical. Just ask University of Houston-Victoria junior Megan Carter.
As pitcher for the Jaguars softball team, the Woodsboro native stays a step ahead of the other team, anticipating the plays and making sure she's in the right place at the right time.
"You just want to be ready for anything. It helps," said Carter, who has played the sport since about age 10.
Athletic experience helps in that regard, but her coursework might help just as much. As a psychology major, the 20-year-old said she loves learning the inner workings of the human mind.
"It's just interesting being able to understand why we do the things we do," she said. "I love getting a glimpse into that. It really is amazing."
Carter graduated from Woodsboro High School in 2010 and moved on to UHV shortly after. She called the school a good fit because it is just an hour from her hometown and also offers the smaller class sizes she wanted.
"There's a lot of one-on-one attention," she said. "The professors know your name, and I think that makes a difference."
She advised other college students to stay on top of their work from the semester's start. It makes life simpler in the long run.
"It can be really easy to fall behind," Carter said. "It isn't like high school. No one's making you do your work and go to class. You have to take that initiative upon yourself."
Class time and softball practice take up much of Carter's time, but when she does find a free minute, she enjoys spending time with friends and family.
Once a week she also mentors an elementary school student as part of HOSTS, a program aimed at helping Victoria students succeed in school.
The volunteer work benefits the community, but she gets just as much back.
"It's good for the kids to have someone going in and helping them where they might be having trouble, but we get something out of it, too," she said. "It's so much fun to be around them and knowing you're making a difference."
Looking ahead, Carter isn't exactly sure what her future holds. She might move forward with psychology after graduation, but she might also find another passion to follow.
Regardless, she isn't worried.
"I still have some time to figure it out," she said. "Right now, I'm just enjoying school."
The UHV Outstanding Student is an online feature highlighting the exceptional students who attend the University of Houston-Victoria. To nominate a student, contact Paula Cobler, UHV interim director of marketing and communications, or call 361-570-4350.
The University of Houston-Victoria, located in the heart of the Coastal Bend region since 1973 in Victoria, Texas, offers courses leading to more than 80 academic programs in the schools of Arts & Sciences; Business Administration; and Education, Health Professions & Human Development. UHV provides face-to-face classes at its Victoria campus, as well as an instructional site in Katy, Texas, and online classes that students can take from anywhere. UHV supports the American Association of State Colleges and Universities Opportunities for All initiative to increase awareness about state colleges and universities and the important role they have in providing a high-quality and accessible education to an increasingly diverse student population, as well as contributing to regional and state economic development.