Close
UHV school psychology students selected for national presentation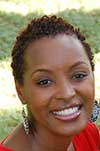 Thelissa Edwards
Who has better multicultural competency – graduate students entering the school psychology field or people already practicing in it?
That question piqued the curiosity of two graduate students at the University of Houston-Victoria and inspired them to conduct research that resulted in being selected to present at the National Association of School Psychologists convention Feb. 21-24 in Philadelphia.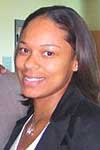 Janae Walker
Those students – Thelissa Edwards of Fresno and Janae Walker of Kemah – are nearing completion of their master's degrees in school psychology.
"There are faculty members and professionals who do not get accepted, so it's a great honor for our students to be accepted to present on a national platform," said Anitra Shelton-Quinn, UHV assistant professor and school psychology program director.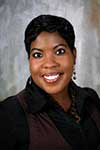 Anitra Shelton-Quinn
The two students submitted their idea for the paper to the organization last summer and began writing when they received word in November that their peer-reviewed proposal was accepted for national presentation.
They have more research to do, Edwards said, but so far, their findings indicate that the majority of people entering the field have significantly more – and more recent – multicultural training than people already practicing in the field. While practicing professionals have a desire to participate in multicultural training, they lack sufficient time to do so, and the training is not mandated for licensure maintenance, she said.
Walker and Edwards became interested in the topic through material covered in a course at UHV more than two years ago, Edwards said.
"This is something we're very passionate about and believe is very important to the field of school psychology," Walker said. "We look forward to contributing more to this area of study in the future."
The students have made four previous presentations related to their research at local and state conferences, most recently at the Texas Association of School Psychologists convention in October. At the state event, Walker was awarded the TASP Scholarship – a $500 award to help graduate students accomplish a professional goal and/or reduce the financial burden of obtaining a graduate degree.
"The school psychology program faculty members are instrumental in encouraging and working with our graduate students to participate in such scholarly activities in order to enhance their professional development and job marketability through contributions to the field," Shelton-Quinn said.
Walker was pleased with the support since she has worked her way through school.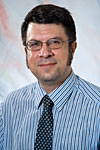 Jeffrey Di Leo
"I sincerely appreciated the organization's recognition of the financial challenges that many graduate students face," she said. "Many have the desire to further their education but are met with financial obstacles. The TASP board acknowledged this reality and offered a helping hand. The unwavering support at the university level and beyond has made this journey very special for me."
Although Edwards and Walker will be unable to attend the upcoming national conference, they feel encouraged by the honor of selection, Edwards said.
"It's nice to be recognized among experts in the field who possess more experience in this profession," she said. "It's kind of a nudge to continue in this research."
Their work gets to the heart of an important subject in school psychology today, said Jeffrey Di Leo, dean of the UHV School of Arts and Sciences.
"We are very proud to have our students receive acceptance for such a prestigious endeavor that brings national recognition to our school psychology graduate program," he said.
The University of Houston-Victoria, located in the heart of the Coastal Bend region since 1973 in Victoria, Texas, offers courses leading to more than 80 academic programs in the schools of Arts & Sciences; Business Administration; and Education, Health Professions & Human Development. UHV provides face-to-face classes at its Victoria campus, as well as an instructional site in Katy, Texas, and online classes that students can take from anywhere. UHV supports the American Association of State Colleges and Universities Opportunities for All initiative to increase awareness about state colleges and universities and the important role they have in providing a high-quality and accessible education to an increasingly diverse student population, as well as contributing to regional and state economic development.