Close
Graduate student uses own experiences to counsel people with disabilities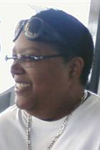 Kefflynne Harrington
A person can make a difference with just an urge to help and a bit of determination. But add some perspective and real-life experience to the mix, and that takes things to another level.
That's exactly what University of Houston-Victoria graduate student Kefflynne Harrington brings to the table.
Harrington, 41, is involved in an internship where she counsels people with disabilities. She relates well with her clients since she has multiple disabilities – chronic rheumatoid and osteoarthritis, which led her to become legally blind.
"It's a blessing and a curse because I don't really look disabled," the aspiring professional counselor said. "But, once I share it with them, they realize we have something in common. We build that rapport, and it's rewarding knowing I'm helping empower them."
The Houston resident graduated from Jack Yates High School in 1988 and earned an associate degree. In 2008, she graduated from the University of Houston-Downtown with a bachelor's degree in psychology before moving on to UHV to get her master's in counselor education.
Medical issues meant the academic road wasn't always an easy one.
At times, Harrington found herself relying on canes or wheelchairs to get around, and she had to put off classes for an entire year due to complications from glaucoma surgery.
"But God is good, and I've come a long way," she said as she laughed. "I'm so very grateful for where I am."
Harrington attributed that success to the strong support system she has in her mother and younger sister, who stood with her through the difficult times and still help with day-to-day needs. The power of prayer also helped, she said.
She advised other students to look for strength in something bigger.
"Prayer works. Meditation works," she said. "You have to have a higher power, someone or something there for you to talk to. It makes a real difference."
With only three credit hours left until completing her degree, Harrington's time in school is nearing its end. And while it's bittersweet to close that chapter in life, she looks forward to whatever comes next.
And she isn't the only one.
Her mother and father were both college graduates who began master's programs but didn't finish. Harrington's mother found it difficult to balance both course work and a then 2-year-old daughter, and her father passed away just six credit hours short of completion.
"I'm kind of doing this for them," she said. "I know my mom is proud of what I've done, and my dad would be, too. I'm excited."
The UHV Outstanding Student is an online feature highlighting the exceptional students who attend the University of Houston-Victoria. To nominate a student, contact Paula Cobler, UHV interim director of marketing and communications, or call 361-570-4350.
The University of Houston-Victoria, located in the heart of the Coastal Bend region since 1973 in Victoria, Texas, offers courses leading to more than 80 academic programs in the schools of Arts & Sciences; Business Administration; and Education, Health Professions & Human Development. UHV provides face-to-face classes at its Victoria campus, as well as an instructional site in Katy, Texas, and online classes that students can take from anywhere. UHV supports the American Association of State Colleges and Universities Opportunities for All initiative to increase awareness about state colleges and universities and the important role they have in providing a high-quality and accessible education to an increasingly diverse student population, as well as contributing to regional and state economic development.