Close
University of Southern California distinguished professor, author to read at UHV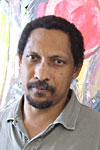 Percival Everett
A prolific author of almost 20 novels, three collections of short fiction and three volumes of poetry will read from his work and answer questions on March 8 as part of the University of Houston-Victoria/American Book Review Spring Reading Series.
Award-winning author Percival Everett, the Distinguished Professor of English at the University of Southern California in Los Angeles, will give a free talk beginning at noon in the Alcorn Auditorium of UHV University West, 3007 N. Ben Wilson St.The talk is open to the public, and light refreshments will be served.
He is the recipient of numerous writing awards, including the PEN Center USA Award for Fiction, the Academy Award in Literature from the American Academy of Arts and Letters, and the Hurston/Wright Legacy Award for Fiction for his novels "Erasure" and "I am not Sidney Poitier."
Everett has not yet decided which of his works to read at UHV, but he does hope to inspire those who attend.
"I'd like to demystify the making of all art, including writing," he said.
Although Everett has always loved literature, he didn't know he wanted to be a writer until he was a graduate student in philosophy. He wrote his first novel, "Suder," in 1983 while completing his Master of Fine Arts at Brown University in Providence, R.I.
"It just turned out that writing was a better way for me to explore philosophy," he said.
Everett's writing always starts with an idea and then a story flows out of it, he said. His last two works were the 2011 murder mystery "Assumption" and "Swimming Swimmers Swimming," a book of poetry released the same year.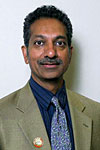 Uppinder Mehan
"Percival Everett's brilliance shines forth whether he is writing fiction, poetry, essays or working in multimedia," said Uppinder Mehan, chair of the UHV School of Arts & Sciences Humanities Division. "He can tug at your heartstrings one moment and be mercilessly satirical the next."
Jeffrey Di Leo
Jeffrey Di Leo, editor and publisher of the American Book Review and dean of the UHV School of Arts & Sciences, said it is no surprise that Everett has garnered prizes and accolades for his work.
"His work is always interesting and always unpredictable," he said.
The last writer in the UHV/ABR Spring Reading Series will be Wayne Miller, who will speak April 26 at the university. Kansas City-based Miller is the author of three collections of poems, "The City, Our City," "The Book of Props" and "Only the Senses Sleep." He also works as an editor and translator of poetry, and he teaches at the University of Central Missouri in Warrensburg, where he edits Pleiades: A Journal of New Writing.
Miller is the recipient of the George Bogin Award, the Lucille Medwick Award and the Lyric Poetry Award from the Poetry Society of America, as well as a Ruth Lilly Fellowship and the Bess Hokin Prize from the Poetry Foundation.
Authors who are part of the UHV/ABR Reading Series attend roundtable discussions with university faculty and students, make classroom visits to area schools, give lectures open to the community, and go to receptions hosted by Friends of ABR patrons while they are in Victoria.
ABR, which started in 1977, is a nonprofit, internationally distributed literary journal that is published six times a year. The journal specializes in reviews of works published by small presses.
For more information about the UHV/ABR Reading Series, call Mehan at 361-570-4178 or go to www.americanbookreview.org.
The University of Houston-Victoria, located in the heart of the Coastal Bend region since 1973 in Victoria, Texas, offers courses leading to more than 80 academic programs in the schools of Arts & Sciences; Business Administration; and Education, Health Professions & Human Development. UHV provides face-to-face classes at its Victoria campus, as well as an instructional site in Katy, Texas, and online classes that students can take from anywhere. UHV supports the American Association of State Colleges and Universities Opportunities for All initiative to increase awareness about state colleges and universities and the important role they have in providing a high-quality and accessible education to an increasingly diverse student population, as well as contributing to regional and state economic development.