Close
UHV alumnus to lead strategic program for OpenText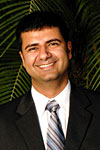 Ankur Laroia
Canada's largest software company has chosen a University of Houston-Victoria graduate to oversee its new program for building strategic relationships with customers in North America.
OpenText is the world's largest independent provider of enterprise content-management software used for long-term storage of electronic files. The company provided the first search engine used on the Internet by Yahoo. This month, OpenText promoted UHV alumnus Ankur Laroia – an employee of more than six years – to the role of senior director of its new strategic program, Premium Account Strategy and Enterprise Architecture.
The company designed the program to develop more meaningful relationships with its premium customers and ensure they have all the resources and support they need to be competitive and successful in a volatile economic landscape, Laroia said.
"My purpose will be to create those more meaningful, deeper relationships between the company and our customers," he said. "We also intend on getting the executives of the respective companies talking with each other, so we have synergy between them."
He will report to the vice president overseeing enterprise sales in North America – one of three executive vice presidents overseeing sales efforts in the company worldwide. He previously held various positions at OpenText in sales, pre-sales and services.
Richmond resident Laroia graduated in December 2011 from the UHV School of Business Administration with a master's degree in economic development and entrepreneurship, and in 1999 from UH with an undergraduate degree in technology.
"It's because I had the support of my company and the support of my family that I was able to achieve what I did," he said.
Until recently, Laroia was enrolled on a full-time basis in the online graduate business program with UHV while working full-time at OpenText and traveling extensively on company business. It was challenging to manage the demands of work and school while also being a parent of young children, he said.
"OpenText provided financial support in the form of a generous tuition reimbursement program for the graduate degree and was very encouraging of my going back to school, where a lot of employers would be concerned about the impact of that from a work-performance perspective," Laroia said.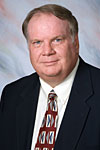 David Summers
Laroia's graduate program professors were David Summers, associate professor of economic development and entrepreneurship, and John Kagochi, assistant professor of economic development.
"The training I received from both of them has been key in understanding how higher-order concepts relate at an empirical level to my day-to-day work," Laroia said. "I'm excited about applying what I've learned in school to this program, which will be so relevant to our company's balance sheet. From a career perspective, this is a great opportunity."
Laroia's professors are likewise pleased.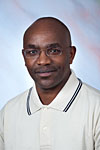 John Kagochi
"We are always proud when we see one of our graduates sail their careers to new heights," Kagochi said.
Students in the online program have to be self-disciplined, as are Laroia and others admitted to the program, Summers said.
"Many of them are not only involved in work, but family and outside interests, such as volunteer work, and they're able to incorporate school into their busy schedules," Summers said. "Laroia is one such student who was able to balance his work life, his family life and his academics, all while turning out quality work."
The master's program for the degree in economic development and entrepreneurship is tailored to fit those who need an advanced degree for career advancement, or those who want to venture into new enterprises.
The University of Houston-Victoria, located in the heart of the Coastal Bend region since 1973 in Victoria, Texas, offers courses leading to more than 80 academic programs in the schools of Arts & Sciences; Business Administration; and Education, Health Professions & Human Development. UHV provides face-to-face classes at its Victoria campus, as well as an instructional site in Katy, Texas, and online classes that students can take from anywhere. UHV supports the American Association of State Colleges and Universities Opportunities for All initiative to increase awareness about state colleges and universities and the important role they have in providing a high-quality and accessible education to an increasingly diverse student population, as well as contributing to regional and state economic development.