Close
UHV students win British Council's Islam blogging contest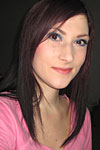 Olivia Grace Newman
Three University of Houston-Victoria students recently won the British Council's "100 Questions About Islam" blogging contest.
The council invited university students from around the world to share their reflections on Muslim/non-Muslim relations.
"We were extremely impressed by the quality of the winning entries in our blogging contest from three students enrolled at the University of Houston-Victoria," said Emmanuel Kattan, project manager of the Our Shared Future initiative at the British Council – a registered charity and the United Kingdom's international organization for educational opportunities and cultural relations.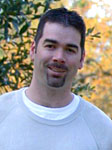 Adam Mills
"The 100 Questions About Islam video series aims to improve the public conversation about Muslims and non-Muslims in the U.S. and Europe, and the students' thoughtful voices make a wonderful contribution," he said.
The UHV students are Chelcie Oliver of Rockport, Olivia Grace Newman of Katy and Adam Mills of Cypress. They learned about the contest in UHV's "Intercultural Communications" course taught by Victoria Advocate Endowed Professor of the Humanities Macarena Hernández, who requires students to blog as part of the course.
The contest was part of a larger British Council video-based study on what scholars and opinion leaders think about issues relating to Muslim/non-Muslim relations.
The winning entries of the three UHV students are featured on the Council's website:
In her blog entry "Is Islam so Different After All?," Oliver raises the question of why some people continue to view Islam as a foreign and radical culture. "Rather than donning blinders of hatred and stereotypes, there are never reasons to fear something that you know nothing about," Oliver wrote. "It's not a difficult thing in this modern age to fire up the virtual world at your fingertips and vanquish the darkness of ignorance."
Newman's blog, "An Intercultural Perspective," also emphasized the importance of education while cautioning about misinformation: "Muslim to non-Muslim communication taking place across today's society occurs in a technologically advanced arena, in which many sources exist unchecked for validity. …With this in mind, mending relations between Muslims and non-Muslims appears to depend on people from both sides not only educating themselves on the issues at hand, but also making a point to be aware of the fact that not all the information available to the public is reliable."
In his blog, "Understanding Islam," Mills likewise commented on the problem of misinformation: "In a perfect world, it would be fantastic if media would report on the positive aspects of the world as much as it does on the negative aspects. Unfortunately, news media sources tend to select the most extremist stories to report, because these hyped-up stories will get more attention than a quaint story about the everyday life of a regular Muslim family going about their lives like most people from other cultures."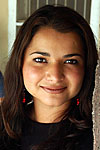 Macarena Hernández
"These three students have represented UHV well in the larger global community, and we are proud of their excellence in writing about this cross-cultural issue," said Jeffrey Di Leo, dean of the UHV School of Arts and Sciences.
Several students from Hernández's class competed in the contest.
"I'm so proud of all of the students who took me up on the challenge," she said. "And as a teacher, I'm grateful for these kinds of opportunities because they allow me to help my students connect our class discussion and, in this case, their blog work, to conversations taking place all over the world. I hope it will encourage all of them to join in on those conversations even after this course is over."
For more information about the contest and to read the UHV student's complete winning entries, visit http://www.britishcouncil.org/new/society/belief-in-dialogue/our-shared-future/Our-Network/100-Questions-About-Islam/Blogging-Contest-100-Questions-About-Islam/.
The University of Houston-Victoria, located in the heart of the Coastal Bend region since 1973 in Victoria, Texas, offers courses leading to more than 80 academic programs in the schools of Arts & Sciences; Business Administration; and Education, Health Professions & Human Development. UHV provides face-to-face classes at its Victoria campus, as well as an instructional site in Katy, Texas, and online classes that students can take from anywhere. UHV supports the American Association of State Colleges and Universities Opportunities for All initiative to increase awareness about state colleges and universities and the important role they have in providing a high-quality and accessible education to an increasingly diverse student population, as well as contributing to regional and state economic development.