Close
Reading series celebrates 50th speaker with literary giant Robert Coover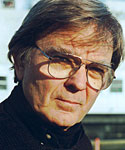 Robert Coover
A celebrated author known for nearly a half-century of literary innovation will be the 50th author in the University of Houston-Victoria/American Book Review Reading Series.
Literary giant Robert Coover will present a special reading at 7:30 p.m. April 5 in the Publishing Center of UHV University Center, 3007 N. Ben Wilson St. Doors will open at 7 p.m. Admission is free, but seating is limited. Light refreshments will be served, and books by the author will be available.
Jeffrey Di Leo
"It's wonderful that Robert Coover will join us in Victoria to celebrate our 50th speaker," said Jeffrey Di Leo, American Book Review publisher and dean of UHV School of Arts & Sciences. "His legacy of innovation and exploration of contemporary life in literature truly embodies the spirit of the UHV/ABR Reading Series."
Since 1966, Coover has written a dozen novels, a dozen collections of short stories, nine plays and numerous other works. Beginning with his debut novel, "The Origin of the Brunists," about the formation of a cult in the wake of a coal-mining disaster, Coover has forged a path of literary innovation and advancement, Di Leo said.
Coover is unique for his ability to see the human concerns in complex, dynamic, large-scale interactions, he said. His work, often about social structures and larger institutions, traces the inhuman forces of order and chaos as they interact with individuals living their daily lives.
His novels have focused on subjects as wide ranging as Cold War politics ("The Public Burning," 1977), statistics and games ("The Universal Baseball Association, Inc., J. Henry Waugh, Prop.," 1968) and fairy tales ("Pinocchio in Venice," 1991).
In the New York Times, American author William Gass compared Coover's collection of updated fables, "Pricksongs & Descants," to diamonds, calling the stories "sparkling" and "many-faceted." Coover's acclaimed 1987 collection, "A Night at the Movies; or, You Must Remember This," incorporated techniques from popular films to structure its stories, offering a new perspective on the collisions of literature and media.
Coover has won numerous awards for his storytelling, including the 1966 William Faulkner Award for Best First Novel for "Origin of the Brunists," a Rockefeller Foundation Grant in 1969, Guggenheim Fellowships in 1971 and 1974, an Academy of Arts and Letters Award in 1975, a nomination for the National Book Award in 1977 for "The Public Burning," and a National Endowment for the Humanities Award in 1985.
Despite the sheer amount of work produced during his remarkable career, Coover shows no sign of slowing down. His most recent works are the 2010 novel "Noir" and the 2011 short story "Romance of the Thin Man and the Fat Lady," published as a part of Penguin's Mini Modern Classics series. His long career has situated him as one of the most important experimental fiction writers in English.
Coover recently helped found the Electronic Literature Organization, which promotes the reading and study of new forms of literature created by new technologies. He currently teaches in the prestigious Literary Arts Program at Brown University.
Now at the end of its sixth year, the American Book Review Reading Series has helped welcome many of the best authors in the country to Victoria to share their art, literature and experiences with students and community members.
ABR is an 8,000-circulation, internationally distributed literary journal that is published six times a year. The journal specializes in reviews of works published by small presses.
For more information about the UHV/ABR Reading Series, call (361) 570-4178 or go online to www.americanbookreview.org.
The University of Houston-Victoria, located in the heart of the Coastal Bend region since 1973 in Victoria, Texas, offers courses leading to more than 80 academic programs in the schools of Arts & Sciences; Business Administration; and Education, Health Professions & Human Development. UHV provides face-to-face classes at its Victoria campus, as well as an instructional site in Katy, Texas, and online classes that students can take from anywhere. UHV supports the American Association of State Colleges and Universities Opportunities for All initiative to increase awareness about state colleges and universities and the important role they have in providing a high-quality and accessible education to an increasingly diverse student population, as well as contributing to regional and state economic development.