Close
UHV business alumni share success stories with students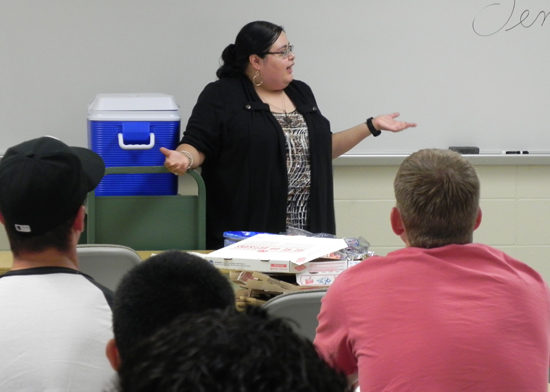 Elisa Garcia, a University of Houston-Victoria alumnus and supervisor for Stage Inc., talks to students March 22 in lecturer Robin Cadle's "Principals of Management" class about her experiences managing a clothing store in El Campo. Garcia was one of a dozen alumni who spoke during the UHV School of Business Administration Alumni Week.
When Taj Clark took a gamble and opened his own business seven years ago, he relied heavily on what he learned during economic development courses at the University of Houston-Victoria.
Clark said while it sounds cliché, performing a SWOT analysis was critical. Identifying the strengths, weaknesses, opportunities and threats helped him launch Diverse Recovery, a substance abuse services business Clark operates in the Houston area. The idea for the company was developed in a UHV class.
"When I started the company in 2005, it was a bit of a hasty decision," he said. "I found the SWOT really applied to my business and led me to look at it in the future. Then I was able to look at developing long-term goals and placing them in order."
Clark and a dozen other UHV alumni talked with university classes March 19-22 during the UHV School of Business Administration Alumni Week. The week marked the first time there was a collective effort to bring back business graduates at the same time to share their stories and give advice.
"The week was a successful venture and served as an eye-opener for students," said Farhang Niroomand, dean of the school. "Alumni provided students with firsthand testimony about how classroom lessons and ideas have helped past graduates flourish in the real world. I want to thank the alumni for coming back to campus to share their experiences."
The speakers addressed undergraduate and graduate management, accounting and economics classes at the UH System at Cinco Ranch, UH Sugar Land and in Victoria.
Melissa Jersild, a recruitment coordinator for the business school in Cinco Ranch, said the week provided several benefits to students.
"They can see how the degrees they are earning are going to help them in the future, how their coursework is applicable to real life and that their studies are not just theoretical," Jersild said.
The alumni were thrilled to be give back to the school that helped them achieve their goals.
"It was a good experience," said Valerie Walden, UHV's comptroller, who earned a Bachelor of Business Administration with a concentration in accounting in 2000 from the university. "They had a lot of questions about resumes and the working world. It was a really talkative class with a lot of discussion."
Steven Kaufman, principal in Zeus Mortgage, the 37th fastest-growing financial service firm in the U.S., according to Inc. Magazine, said he enjoyed giving a presentation and would like to do so again in the future.
Kaufman earned a Master of Science in Economic Development and Entrepreneurship from UHV in 2011. He has coordinated $1 billion in real estate financing for American Express, Hewlett Packard and Exxon Mobil. He also is the co-author of the nationally acclaimed bestselling book "Off the Coast of Zanzibar" and has been interviewed about the financial markets by Fox, ABC, CBS, CNN and Bloomberg BusinessWeek.
During his presentation in an economics class taught by associate professor Chien-Ping Chen, Kaufman talked about raising money.
"There were a lot of young professionals in the class with dreams of owning their own company," he said. "Part of the picture is having to raise money."
Elisa Garcia, supervisor for Stage Inc., a retail clothing store in El Campo, eagerly returned to UHV to give a talk for the same reason she gets involved in the community.
"I'm always interested in giving back and helping others," Garcia said. "That's something I got from my parents. They have been involved in education, so I became highly involved in education as well."
In her March 22 speech to lecturer Robin Cadle's "Principals of Management" class, Garcia explained what the work world is like after college. She also touted the benefits of the management principals she learned in classes.
"My education has helped me with my current management team," Garcia said. "Because of what I learned at UHV, I know how to work with the employees and get the best out of them, and how to work within the community so that we're a role model for everyone."
Garcia, who earned a BBA from UHV in 2011, told the class that the managers may not agree on certain things, but it's critical to communicate and work out differences.
"Every Monday morning, we have a conference call with 12 other stores in our district," Garcia said. "Getting managers to agree is not that easy. You will have one or two who think something is not a good idea, so we shouldn't do it. Then we have one who wants to tweak a little. And then we have a couple who want to stick with the plan. We have to hash it out, discuss it and attempt to get everyone on the same page."
Part of Clark's presentation focused on the social side of economic development. He said anyone can earn an MBA, but it takes drive and people skills to achieve running a business.
"I'm in the helping field, so the social part comes into play," Clark said. "It begins with us."
Clark earned a MSEDE from UHV. He considers himself a late bloomer. Nonetheless, Clark found his passion, and he suggests others attempt to do the same.
"Breathing is not enough," he said. "Existing is not enough. You need to be passionate about something to make a difference."
Other alumni speakers during UHV School of Business Alumni Week were:
John P. Olivas, director II with Gentiva Health Services in the San Antonio and New Braunfels markets, earned his BBA in 2009 and MBA in 2011. He was the recipient of the school's Fall 2011 Outstanding Graduate Student Award.
James McCoy, deputy assistant director of public utilities for the City of Houston, provides a variety of budgeting, accounting and administrative services for the city. McCoy graduated in 2007 with a strategic MBA. He has also worked for Exxon performing transportation, sales and marketing.
Laquitta DeMerchant, an information technology expert, earned an MBA in 1999. She has worked in IT for 16 years, combining industry-leading software solutions with solid business leadership.
Chris Pemberton, interim director of global information technology at The Situs Cos., earned an MBA with a concentration in marketing in 2008. He was part of a team that won the University of Houston-Victoria MBA Case Competition in spring 2008.
Donald Jirkovsky, an equipment supervisor for the Texas Department of Transportation, graduated from UHV in 2010 with an MBA. He supervises the south region of TxDOT, covering fleet operations in the Austin, San Antonio and Yoakum districts.
Felicia Clement is an accounting and finance manager at the Wood Group, a leading independent services provider for the oil and gas and power generation markets. Clement earned a MBA with a concentration in accounting in 2004.
John White, a financial analyst at DeTar Healthcare Systems, formerly served as chief financial officer of the Victoria Women's Clinic. White earned a BBA in health care administration from UHV in 2009. He earned a global MBA with a concentration in finance from the university in 2010.
Ayowale Ogunye works for Valero. He earned a strategic MBA from UHV in 2005.
Kar Chong is a small business owner in Sugar Land. He earned a BBA in marketing in 1997 and a strategic MBA in 2004.
The University of Houston-Victoria, located in the heart of the Coastal Bend region since 1973 in Victoria, Texas, offers courses leading to more than 80 academic programs in the schools of Arts & Sciences; Business Administration; and Education, Health Professions & Human Development. UHV provides face-to-face classes at its Victoria campus, as well as an instructional site in Katy, Texas, and online classes that students can take from anywhere. UHV supports the American Association of State Colleges and Universities Opportunities for All initiative to increase awareness about state colleges and universities and the important role they have in providing a high-quality and accessible education to an increasingly diverse student population, as well as contributing to regional and state economic development.