Close
New UHV robotics course sparks more interest in science, engineering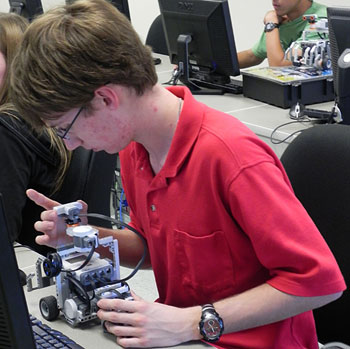 Harrison Garrett, a Victoria West High School senior, makes adjustments to his robot during a recent robotics research class at the University of Houston-Victoria. The six students in the class will demonstrate their robots during Tuesday's Math & Computer Science Awareness Day.
Six high school students selected to take a new semester-long robotics research course at the University of Houston-Victoria are finding the course informative, challenging and rewarding.
Emily Sestak, a Victoria West High School senior, said learning how to assemble, program and modify robots will help her when she starts her university studies in civil engineering in the fall.
"Computer science and robotics are important because of the way technology is going," she said. "What we learn here could be big in pretty much every field."
Sestak and five other high school students were selected to take the course in December from about 30 applicants across the region. The students attend class every Tuesday night during the spring semester and participate in hands-on activities using state-of the-art robotics and senor kits.
The class is designed to motivate students to pursue careers in science, technology, engineering and mathematics, sometimes referred to as STEM careers, said Alireza Tavakkoli, a UHV assistant professor of computer science who is teaching the course. It also gives students the academic research experience they need to get into a college academic research program more quickly than their peers.
"The high schools are a great place to challenge the students academically," he said "But UHV is providing them with additional opportunities to be involved in higher education in areas such as problem-solving and research. I'd like to continue the course for the foreseeable future."
The research course was made possible thanks to a $20,000 grant from Alcoa Foundation. The money also is funding Math & Computer Science Awareness Day Tuesday at UHV and Victoria College.
As part of the day, students in the robotics course will demonstrate what their robots can do. The demonstration will take place at 5 p.m. in the Multi-Purpose Room of the UHV University Center, 3007 N. Ben Wilson St.
"It will be a cumulative effort on our part to show everyone else what we've learned," said David Du, a sophomore at St. Joseph High School who is involved in the course. "It will be fun to show the robots."
Du said that during the class, the students have applied lessons in geometry, trigonometry and physics to robotics.
"It's not excess where all you are doing is mathematical problems, but you have to apply some basic geometry and trigonometry," Faith Academy junior Jeremiah Kunchandy said.
Though he did not have prior programming experience, Kunchandy has learned the programming concepts needed for the course. His end goal is to be an anesthesiologist.
"I probably won't go into programming, but it's good background, and now I know what it's like," he said. Sestak said while the course hasn't been easy, it has been worthwhile.
"When you learn programming, it's kind of like learning to write in a different language," she said. "You have to figure out how things work. Getting used to that is difficult at first."
Victoria West senior Harrison Garrett said he likes the problem-solving elements of the class.
"We're presented with an objective," he said. "With some assistance on basic elements, we figure out the best way to go about accomplishing it."
One thing Garrett has found interesting is how the robot can take in information and apply it to developing other information. It's like teaching it to learn in a way, he said.
Melissa Clark, a junior at Victoria East, said the robot doesn't usually respond the way she wants it to at first. The challenge is to figure out why and fix it.
"I took a computer science class my freshman year and was really interested in that, so this course was perfect for me," she said. "I like to apply the programming. We don't just write the program. We write it, and then we adjust it with the robots. If it doesn't work quite right, we try a different technique."
The basic programming for the robots should be completed by the end of the school year, and students will be encouraged to publish their findings in peer-reviewed publications. Tavakkoli hopes the student will participate as mentors this summer to teach their friends.
Jeffrey Di Leo, dean of the UHV School of Arts & Sciences, said the course and other initiatives show that the university is at the forefront of robotics and artificial intelligence.
"Dr. Tavakkoli's dedication to balancing cutting-edge research with a commitment to the needs of the next generation of STEM students is admirable," he said. "The work he is doing with these high school students has the potential to shape the academic future of this very talented group of students."
The University of Houston-Victoria, located in the heart of the Coastal Bend region since 1973 in Victoria, Texas, offers courses leading to more than 80 academic programs in the schools of Arts & Sciences; Business Administration; and Education, Health Professions & Human Development. UHV provides face-to-face classes at its Victoria campus, as well as an instructional site in Katy, Texas, and online classes that students can take from anywhere. UHV supports the American Association of State Colleges and Universities Opportunities for All initiative to increase awareness about state colleges and universities and the important role they have in providing a high-quality and accessible education to an increasingly diverse student population, as well as contributing to regional and state economic development.