Close
Student from Czech Republic uses bowling to get through Texas summers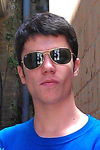 Marek Aubrecht
Different people acclimate to the scorching Texas heat in different ways. Some take up swimming, others avoid the outdoors completely in the summer.
For University of Houston-Victoria junior Marek Aubrecht, that adjustment came through bowling.
"I always played tennis, but when it gets too hot outside here, I can't really take it," he said with a laugh. "That's how I got started."
A community college kinesiology course gave him his first taste of league bowling, and from there, Aubrecht was hooked.
"My best game was a 235. That was last season," he said. "I don't get to go out there as much as I want to, but I bowl once a week."
Aubrecht was born and raised in the Czech Republic, but made his way to Victoria in the 11th grade through a study abroad program. He graduated from Memorial High School in 2009 and decided to remain in Texas to continue his education.
Southern hospitality meant the transition to life in the Lone Star State wasn't as difficult as people might think.
"People are different, but I adapted," he said, noting he found people to be welcoming. "They want to talk to you, even if they don't know you. It makes it easy to get along with them."
And it isn't just bowling that fills the 21-year-old's time.
For the past two years, Aubrecht has worked as a supplemental instructor, sitting in on various classes and tutoring students who need help. It's a job he calls "one of the best a student can have on campus."
"I like working with people, interacting with them," he said. "And this is a very interesting program. I think it really helps people."
Aubrecht also keeps busy with his business administration courses, especially now that he's made it past the basics. The business world has always interested him, and he enjoys his studies.
"I'm one of those weird people who like reading The Wall Street Journal and reading about politics," he said. "International business is one reason I chose to go to college in the U.S. It's amazing how companies are able to expand and change."
Down the road, Aubrecht said he looks forward to graduating and moving on toward a master's degree. He said he hopes to land an internship, so he can continue his time in Texas.
In the meantime, however, he plans to continue enjoying life as it is now.
"I'm having fun," Aubrecht said. "I want to keep learning, keep going forward."
The UHV Outstanding Student is an online feature highlighting the exceptional students who attend the University of Houston-Victoria. To nominate a student, contact Paula Cobler, UHV interim director of marketing and communications, or call 361-570-4350.
The University of Houston-Victoria, located in the heart of the Coastal Bend region since 1973 in Victoria, Texas, offers courses leading to more than 80 academic programs in the schools of Arts & Sciences; Business Administration; and Education, Health Professions & Human Development. UHV provides face-to-face classes at its Victoria campus, as well as an instructional site in Katy, Texas, and online classes that students can take from anywhere. UHV supports the American Association of State Colleges and Universities Opportunities for All initiative to increase awareness about state colleges and universities and the important role they have in providing a high-quality and accessible education to an increasingly diverse student population, as well as contributing to regional and state economic development.