Close
St. Joseph, Calhoun high schools produce top winners at Math & Computer Science Awareness Day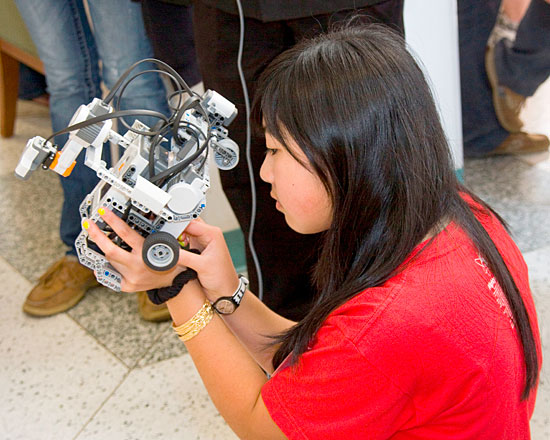 St. Joseph High School student Johanna Hoang adjusts a robot before placing it in a maze during a demonstration Tuesday at Math & Computer Science Awareness Day. More than 110 students from 10 high schools participated in the event at the University of Houston-Victoria and Victoria College.
Even under a time crunch, Calhoun High School junior John Gee said he felt confident about his test performance Tuesday during the 17th annual University of Houston-Victoria/Victoria College Math & Computer Science Awareness Day.
"The timing was pretty intense," he said. "I had 20 minutes on the computer science test and 25 minutes on the math test. I barely finished."
Gee achieved a perfect score on the computer science test and took first place in both computer science and math in the individual competitions. He earned a $2,000 scholarship from VC and a $2,400 robotics kit from UHV.
"I thought that Math & Computer Science Awareness Day was a great idea," Gee said. "Doing other state and national competitions isn't as fun as local events like this because you never get to see your competitors and local sponsors, and interact with them. It's just an invisible test. But Tuesday was a real treat for me since I was in the presence of more than 100 of the brightest science students in the local area and had a chance to intermingle with them for an afternoon."
More than 110 students from 10 high schools took written math and computer science tests that were scored in teams and individually.
The theme this year was "Mathematics, Statistics and the Data Deluge." Students learned how mathematics and statistics are tools for understanding and dealing with issues relating to the massive collection of data for marketing, scientific and other uses.
Gee wasn't the only student from Calhoun to walk away with a trophy. Calhoun students took first and third place in the team math competition, and Daniel Liaou was second in computer science.
St. Joseph High School students also earned plenty of honors. David Du finished second in math and third in computer science, while Christian Wenske was third in math. St. Joseph also won three team awards.
Prize winners this year could select either a scholarship to UHV or a robotics kit, and a scholarship from VC.
A $20,000 grant from Alcoa Foundation funded the event and a semester-long UHV robotics research course. Students in the course demonstrated their robots during the event by programming them to go through a maze. The maze was designed by Sultan Sheikh, an engineer from Formosa. Materials for the maze also were donated by Formosa.
Students also listened to an engineer discussion panel from Alcoa and competed in a math and computer science-themed "Jeopardy" game show. A pizza party and awards ceremony wrapped up the festivities.
Alireza Tavakkoli, a UHV assistant professor of computer science, said the event was a success.
"It was fantastic to see so many high school students interested in what was being presented," Tavakkoli said. "Hopefully, the event sparks an additional interest in math and computer science.I can't thank our volunteers and organizers enough for making the day a great event for our guest students, their teachers and school representatives, and their parents.
For those who want to take the test from the event, the questions and answers to the math and computer science tests can be found here.
The prize winners were:
MATH
Team Awards
First – Calhoun High School "A": Zhen Liu, Samantha Lin, Daniel Liaou and John Gee
Second – St. Joseph High School "Team Du": David Du, Luke Wenske, Christian Wenske and Ian Mead
Third – Calhoun "B": Kevin Chang, James Hsu, Brianna White and Jennifer Den
Individual Awards
First – John Gee, Calhoun
Second – David Du, St. Joseph
Third – Christian Wenske, St. Joseph
COMPUTER SCIENCE
Team Awards
First – Calhoun "Riceball": Daniel Liaou, James Hsu, Jason Wang and John Gee
Second – Victoria West High School "Harrison's Warriors": Harrison Garrett and Patrick Aupperle
Third – St. Joseph "Team Du": David Du, Luke Wenske, Christian Wenske and Ian Mead
Individual Awards
First – John Gee, Calhoun
Second – Daniel Liaou, Calhoun
Third – David Du, St. Joseph
Game Show Winners: Woodsboro High School "Eagles": Matt Steele, Josh Martinez, Dan Han and Nick Salyers.
The University of Houston-Victoria, located in the heart of the Coastal Bend region since 1973 in Victoria, Texas, offers courses leading to more than 80 academic programs in the schools of Arts & Sciences; Business Administration; and Education, Health Professions & Human Development. UHV provides face-to-face classes at its Victoria campus, as well as an instructional site in Katy, Texas, and online classes that students can take from anywhere. UHV supports the American Association of State Colleges and Universities Opportunities for All initiative to increase awareness about state colleges and universities and the important role they have in providing a high-quality and accessible education to an increasingly diverse student population, as well as contributing to regional and state economic development.