Close
UHV expands RN to BSN program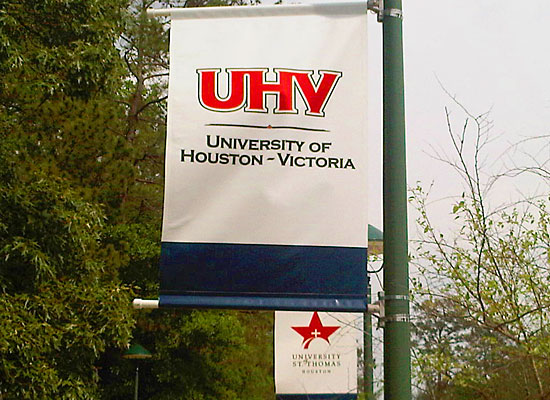 University of Houston-Victoria flags now hang at the Lone Star College University Center at Montgomery in The Woodlands. Starting in June, the UHV School of Nursing's Registered Nurse to Bachelor of Science in Nursing program will be offered at the community college campus.
The University of Houston-Victoria School of Nursing will offer its Registered Nurse to Bachelor of Science in Nursing program for the first time in The Woodlands this summer.
Students can apply now for the year-long RN to BSN program offered at the Lone Star College University Center at Montgomery, 3232 College Park Drive in The Woodlands.
UHV and the Lone Star College System signed an agreement in January 2011 that allows any Lone Star student achieving an Associate Degree in Nursing to automatically be admitted to UHV's RN to BSN program. A nursing student who satisfies the Lone Star general education core also will satisfy all UHV core requirements.
The program in The Woodlands starts June 5 and is limited to 50 students. Classes will be held once a week from 8 a.m. to 7 p.m. on Tuesdays until May 2013. UHV is partnering with the Lone Star College for lab space, an office and an Interactive Television classroom.
Denise Neill, assistant professor and RN-BSN/Master of Science in Nursing coordinator for the UHV School of Nursing, said that before the school added The Woodlands, the closest place for Lone Star students to take the UHV program was at the UH System at Cinco Ranch in Katy.
"The Cypress-Fairbanks campus is close to Cinco Ranch, but everything else is at least a good hour away," Neill said. "With this addition, we're not that far from any of the campuses."
Neill said the closer proximity to the Lone Star campuses makes the articulation agreement more than just a piece of paper.
"It now shows a commitment on our part that we are really dedicated to making the educational opportunity available," she said.
Kathryn Tart, founding dean of the UHV School of Nursing, said she hopes many Lone Star students with ADNs, as well as RNs working in the area, will take advantage of the RN to BSN program.
"We are thrilled to begin offering the program at The Woodlands," Tart said. "The geographic proximity will make it much easier for students who live and work in the area to attend classes without a long commute every week. With the face-to-face learning environment and hands-on experiences, this will be a terrific opportunity for students to advance their professional skills."
Neill said that during a recent recruiting event, she heard positive feedback from Lone Star College Montgomery students.
"They liked how accessible the program was and how we were willing to work with them on their individual needs, and the fact it was one day a week," she said. "Most of them recognized that online programs are available, but many want face-to-face time."
Neill said the RN to BSN program provides better outcomes for patients because nurses who go through the program will have more education.
"The associate degree is often the most economical way to start as a nurse," she said. "However, today's health care environment demands higher education. The Institute of Medicine came out with a report in October 2010 that called for Registered Nurses to be bachelor's prepared by 2020."
Tuition and fees are $6,954 for the RN to BSN program, which also will be offered in Victoria this summer. The next admission to the program at the UH System at Cinco Ranch and UH Sugar Land will be in spring 2013.
For more information or to apply, call an adviser toll free at 877-970-4848, ext. 4370. A complete list of program requirements and degree plans can be found at http://www.uhv.edu/nursing/bsn/.
The University of Houston-Victoria, located in the heart of the Coastal Bend region since 1973 in Victoria, Texas, offers courses leading to more than 80 academic programs in the schools of Arts & Sciences; Business Administration; and Education, Health Professions & Human Development. UHV provides face-to-face classes at its Victoria campus, as well as an instructional site in Katy, Texas, and online classes that students can take from anywhere. UHV supports the American Association of State Colleges and Universities Opportunities for All initiative to increase awareness about state colleges and universities and the important role they have in providing a high-quality and accessible education to an increasingly diverse student population, as well as contributing to regional and state economic development.