Close
Professor's new book provides ways to make online classes less costly
In his latest book, a longtime UHV professor delves into how a computer operating system can help people overcome difficulties with mobile learning.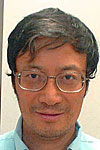 Li Chao
Li Chao, a professor of computer science and chairman of the UHV School of Arts & Sciences Science, Technology and Mathematics Division, said the book takes a close look at how the Linux-based mobile operating system relates to research in mobile learning.
"The book takes readers through the research and how it relates to education," Chao said. "It attempts to find ways to use open-source technologies to support teaching."
"Open Source Mobile Learning: Mobile Linux Application" is the sixth book written by Chao, who has been a UHV faculty member since 1995.
Chao said he collected information about how to implement the technology to make online classes less costly and more effective for the students.
"Europe and Third World countries are facing problems because of technology spending cuts," Chao said, adding that it's also the case in some places in the U.S. "Utilizing less expensive technology is important to keeping online classes going."
Chao said some subjects, such as English or history, can effectively be taught online.
"However, lab-based classes, such as computer science or biology, are bigger challenges," he said. "Those are hand-on courses and can cost a lot of money to try to provide online. Nevertheless, there is a high demand in Asian counties for those courses. This book shows how to implement strategic technology to make those courses available."
The book is published by IGI Global, an international publishing company specializing in scholarly research publications and databases covering all aspects of information science technology utilization and management.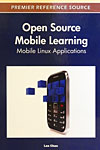 Open Source Mobile Learning: Mobile Linux Application
The book includes chapters by professionals or faculty members of universities in Italy, Japan, Hong Kong, Spain, Portugal, New Zealand, Finland and Canada. Chao said the publisher keeps track of academics and experts in the field. Several of them were invited to participate in the project. It took nearly three years to pull everything together.
"With Dr. Chao leading the charge, a number of dedicated faculty members and other experts have put together an informative and useful book," said Jeffrey Di Leo, dean of the UHV School of Arts & Science. "This could be of interest to people in a number of fields and could help shape the future of online education."
The new book contained one mistake, which Chao laughed off. The publisher inadvertently spelled his first name "Lee" instead of "Li."
"They got my name from an older work that was spelled 'Lee,' so they went with that," Chao said. "By the time I saw it on the book, it was probably too late to go back and change it."
The University of Houston-Victoria, located in the heart of the Coastal Bend region since 1973 in Victoria, Texas, offers courses leading to more than 80 academic programs in the schools of Arts & Sciences; Business Administration; and Education, Health Professions & Human Development. UHV provides face-to-face classes at its Victoria campus, as well as an instructional site in Katy, Texas, and online classes that students can take from anywhere. UHV supports the American Association of State Colleges and Universities Opportunities for All initiative to increase awareness about state colleges and universities and the important role they have in providing a high-quality and accessible education to an increasingly diverse student population, as well as contributing to regional and state economic development.