Close
UHV launches new Spanish bachelor's degree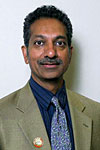 Uppinder Mehan
A new Spanish program starting this fall at the University of Houston-Victoria will cater to students who are new to the language as well as those who are already familiar with it.
The Bachelor of Arts in Spanish will teach far more than how to converse in Spanish. The program will explore ways of life in Spanish-speaking communities around the globe. Classes in literature, cinema and culture are part of the curriculum designed to prepare students for future business and social exchanges.
"Our aim is to provide students with a much fuller sense of Spanish language and culture," said Uppinder Mehan, chair of the UHV School of Arts & Sciences Humanities Division.
Mehan said UHV is filling a gap in the region by offering the new program. With the Spanish-speaking population in the U.S. continuing to rise, learning Spanish and about Hispanic culture will become more critical in the business and professional world.
"Nothing like this program exists currently in the area," Mehan said. "Demographics are changing. The need for us to offer it has become more apparent."
At the time of the 2010 Census, 50.5 million people, or 16 percent, in the U.S. were of Hispanic or Latino origin. The Hispanic population increased from 35.3 million in 2000 when the group made up 13 percent of the total population. According to the 2010 census, there were more than 9.46 million people of Hispanic or Latino origin in Texas, which accounted for 38 percent of the state's population. In Victoria County, 44 percent of the population is of Hispanic or Latino origin.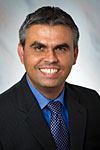 Armando Chávez-Rivera
Armando Chávez-Rivera, a UHV assistant professor of Spanish, said there are about 40 students enrolled in elementary and intermediate Spanish classes this semester. Students who have, or will have, completed language courses can apply those toward the bachelor's degree.
The new language classes will include phonetics, linguistics, language for professional application, conversation and comparative grammar. The new cultural classes will be Hispanic-American literature, Spanish literature, Latin American cinema and Latin American culture.
"We want students to learn about all aspects of Spanish-speaking countries," Chávez-Rivera said. "We're not going to only focus on the U.S. and Mexico."
Mehan said the university designed the program for both students who don't know Spanish and those already fluent. A major and a minor will be offered.
"For the students who are new to Spanish, it's a chance to learn the language and the culture," he said. "For those who already know Spanish, they can take courses about literature, cinema and culture to learn more about people, traditions and countries."
Chávez-Rivera and Salomé Chavarria will teach the classes. Chávez-Rivera has written four books and a number of academic and journalistic articles. He has won book, short story and journalism awards. Chavarria is a Spanish instructor from Mexico who has worked for the university the past four years.
Jeffrey Di Leo
Jeffrey Di Leo, dean of the UHV School of Arts & Sciences, said the intention of the new Bachelor of Arts in Spanish is to open doors.
"Our objective for this program is to provide the abilities and skills necessary for a professional career and a better life," Di Leo said. "We think there will be tremendous interest in this degree and that the students will find the courses captivating and rewarding."
For more information about the new degree, call Chávez-Rivera at 361-570-4383 or email him at ChavezRiveraA@uhv.edu.
The University of Houston-Victoria, located in the heart of the Coastal Bend region since 1973 in Victoria, Texas, offers courses leading to more than 80 academic programs in the schools of Arts & Sciences; Business Administration; and Education, Health Professions & Human Development. UHV provides face-to-face classes at its Victoria campus, as well as an instructional site in Katy, Texas, and online classes that students can take from anywhere. UHV supports the American Association of State Colleges and Universities Opportunities for All initiative to increase awareness about state colleges and universities and the important role they have in providing a high-quality and accessible education to an increasingly diverse student population, as well as contributing to regional and state economic development.