Close
Making the first year a good experience: Akins directs freshman program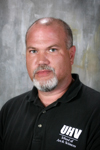 Keith Akins
Jaguars freshmen have someone new on their side to help them through the first year of college.
University of Houston-Victoria professor J. Keith Akins recently was named director of the First Year Academic Experience, a program aimed at increasing student success.
He began his new role April 1.
Researchers have studied the factors that contributed to students dropping out of college, taking six or seven years to graduate, or sailing through smoothly, Akins said. From there, they designed a program to improve graduation rates, and increase retention and student success.
The First Year Academic Experience at UHV includes two main programs, both of which are overseen by faculty, staff and student committees. Akins said that one reason these programs are successful is that they engage all university constituencies and faculty from each academic school.
The first program is Freshman Seminar, a required course that teaches students how to participate and succeed in the academic life of the university through connecting with faculty.
They also focus on learning skills such as how to take notes, study and find counseling or financial aid, if necessary. The second program is Community of Readers, a common reading program where students read the same book and attend related events during the year.
"All thousand-level courses should incorporate elements of that book," Akins said, noting that next year's selection is "The Hunger Games." "We looked for one that could apply in psychology, biology, criminal justice and more."
Akins said the program began on an experimental level last year. Now that it is established, organizers are working to restructure and reorganize to make it even more successful.
The Georgia native earned a bachelor's degree in history from Florida State University and went on to earn a master's degree and doctorate in anthropology and religion from the University of Florida.
Although Akins is an anthropologist by education, he studied violence and terrorism. After the Sept. 11 terrorist attacks, he moved into criminal justice.
"That was where most of the study on terrorism was happening, so it made sense," he said. "That's my specialty – terrorism and hate crimes."
Akins, 47, worked for New Mexico State University, the University of North Florida and the Anti-Defamation League before moving to UHV in the summer of 2008. Today, he is coordinator of criminal justice graduate studies and an assistant criminal justice professor.
The father of five called the move to Texas a good one and said he enjoys UHV.
"It's big enough to have some interesting programming, but still small enough to where you can get to know people," he said. "Students aren't just numbers, like at some other universities. I love it here."
Akins said he also looks forward to the fall semester, when he'll have a chance to work with freshmen through the First Year Academic Experience.
"I'm excited," he said. "I taught freshmen quite a bit at New Mexico State, and I'm looking forward to getting back to it. I think it will be good."
The Faculty Feature is an online feature highlighting faculty members from each of the University of Houston-Victoria's four schools. To nominate a faculty member, contact Paula Cobler, UHV interim director of marketing and communications, or call 361-570-4350.
The University of Houston-Victoria, located in the heart of the Coastal Bend region since 1973 in Victoria, Texas, offers courses leading to more than 80 academic programs in the schools of Arts & Sciences; Business Administration; and Education, Health Professions & Human Development. UHV provides face-to-face classes at its Victoria campus, as well as an instructional site in Katy, Texas, and online classes that students can take from anywhere. UHV supports the American Association of State Colleges and Universities Opportunities for All initiative to increase awareness about state colleges and universities and the important role they have in providing a high-quality and accessible education to an increasingly diverse student population, as well as contributing to regional and state economic development.