Close
Acclaimed poet to read from latest book at UHV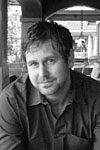 Wayne Miller
Wayne Miller's fascination with modern urban experiences inspired him to weave together a collection of poems that became his latest book.
On April 26, the award-winning poet will share his perspective on art, politics and other city observations to wrap up the University of Houston-Victoria/American Book Review Spring Reading Series.
Miller will read from his 2011 book, "The City, Our City," at noon in the Alcorn Auditorium of UHV University West, 3007 N. Ben Wilson St. The event is free and open to the public. Light refreshments will be served.
Miller teaches at the University of Central Missouri in Warrensburg, where he edits Pleiades: A Journal of New Writing. He is the author of three collections of poems: "The City, Our City," "The Book of Props" and "Only the Senses Sleep." Miller has been the recipient of the George Bogin Award, the Lucille Medwick Award and the Lyric Poetry Award from the Poetry Society of America, as well as a Ruth Lilly Fellowship and the Bess Hokin Prize from the Poetry Foundation.
"The City, Our City" is a poetic sequence that draws on various urban experiences, Miller said. From his time living in Cincinnati, New York, Houston and Kansas City, among other cities, Miller became interested in the paradoxes of urban areas.
"Cities often offer a path to freedom or self realization to many of those who are artsy, creative or weird, so they move to big urban centers such as Houston, Chicago or New York," he said. "Yet cities have also tended to be built on industrial and military scaffolds."
Miller said urban areas benefit financially in times of war, such as when the U.S. was fighting in Iraq.
"Do you think small-town Missouri was getting those military contracts?" he said. "It was the big cities that benefited economically."
The collection of poems delves into the city as a place of both art and violence.
"I think my point is that cities should be neither overly romanticized nor overly demonized," Miller said.
This will be Miller's first visit to Victoria, but he's no stranger to South Texas. Miller earned a Master of Fine Arts from the University of Houston in 2002.
ABR Managing Editor Jeffrey Sartain said Miller's poems fit the mood of the times.
"His words are not only elegant but also insightful," Sartain said. "His collections of poems have drawn a lot of well-deserved praise."
For "Book of Props," The Kansas City Star said Miller's lyrics are "steeped in longing, stoked by tender irony and luminous with heightened receptivity. Akin in spirit to the works of Wallace Stevens and Charles Simic, Miller's poems are profoundly human in their philosophical puzzles."
Miller said he doesn't mind being compared to other poets or writers. It surprised him when a reviewer made the comparison to George Oppen after "The City, Our City" was published.
"It never entered my consciousness to be compared with Oppen," he said. "It felt great to have the Star mention Stevens and Simic as I really admire their work."
Miller also translated Moikom Zeqo's "I Don't Believe in Ghosts." He and Kevin Prufer co-edited the book "New European Poets." He also co-edited "Tamura Ryuichi: On the Life & Work of a 20th Century Master" with Takako Lento.
Jeffrey Di Leo, ABR editor and publisher and dean of the UHV School of Arts & Sciences, said Miller is an accomplished poet, and his reading will be a great way to finish up the Spring Reading Series.
"We've been fortunate to have a number of tremendous authors on campus this semester," he said. "Professor Miller's poems are a joy to read, and we are delighted he will be joining us for a visit."
Authors who are part of the UHV/ABR Reading Series attend roundtable discussions with university faculty and students, make classroom visits to area schools, give lectures open to the community, and go to receptions hosted by Friends of ABR patrons while they are in Victoria.  
ABR, which started in 1977, is a nonprofit, internationally distributed literary journal that is published six times a year. The journal specializes in reviews of works published by small presses.
For more information about the UHV/ABR Reading Series, call Sartain at 361-570-4254, or go to www.americanbookreview.org.
The University of Houston-Victoria, located in the heart of the Coastal Bend region since 1973 in Victoria, Texas, offers courses leading to more than 80 academic programs in the schools of Arts & Sciences; Business Administration; and Education, Health Professions & Human Development. UHV provides face-to-face classes at its Victoria campus, as well as an instructional site in Katy, Texas, and online classes that students can take from anywhere. UHV supports the American Association of State Colleges and Universities Opportunities for All initiative to increase awareness about state colleges and universities and the important role they have in providing a high-quality and accessible education to an increasingly diverse student population, as well as contributing to regional and state economic development.