Close
'Nature boy' preparing to teach science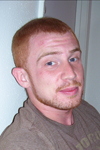 Kevin Moseley
It's no surprise that University of Houston-Victoria senior Kevin Moseley aspires to teach for a living.
After all, he's been preparing for it his entire life.
The Gonzales native and self-proclaimed "nature boy" said he remembered tromping through the brush when he was young, tracking down animals and catching what he could.
"I liked nature shows where guys would catch animals and explain them," he said with a laugh. "I've been bitten by a lot of nonvenomous snakes, turtles and lizards. The mammals were a little more difficult to catch."
Today, that love of the animal world has translated into a biology degree. His composite science sub plan means he might end up teaching anything science-related.
"It might take some extra studying," the 29-year-old said. "I have to be on top of things."
Moseley graduated from Gonzales High School in 2001 and went on to work a number of jobs. He said it was the type of work, combined with the lower pay, which led him to return to school.
After taking classes at Victoria College, he moved on to UHV, a decision that has made him happy.
"It's been a great experience," he said. "I like being at a smaller college where things are more personal. You're a person, as opposed to a number."
Although he said he's glad to be back in the classroom, he admitted it makes for a tight schedule. Moseley balances his full-time course load and three part-time jobs – tutoring at both UHV and Victoria College, and also working at Subway.
"I keep pretty busy," he said. "I'll get off the job and go home to study. It's work, but work I'm paying for."
He encouraged other students to learn early on how to organize their calendars.
"Learning is one of the biggest parts of college, but time management is important, too," he said. "Putting aside what you want to do isn't always fun, but you have to think about the long-term goals. It's worth it in the end."
Looking forward, Moseley plans to graduate in December and eventually return to grad school. In the meantime, his focus is on finishing UHV on a high note.
"I'm excited to wrap up my classes and to graduate, but I've enjoyed my time here," he said. "I've really loved it."
I am a Jaguar is an online feature highlighting the exceptional students who attend the University of Houston-Victoria. To nominate a student, contact Paula Cobler, UHV interim director of marketing and communications, or call 361-570-4350.
The University of Houston-Victoria, located in the heart of the Coastal Bend region since 1973 in Victoria, Texas, offers courses leading to more than 80 academic programs in the schools of Arts & Sciences; Business Administration; and Education, Health Professions & Human Development. UHV provides face-to-face classes at its Victoria campus, as well as an instructional site in Katy, Texas, and online classes that students can take from anywhere. UHV supports the American Association of State Colleges and Universities Opportunities for All initiative to increase awareness about state colleges and universities and the important role they have in providing a high-quality and accessible education to an increasingly diverse student population, as well as contributing to regional and state economic development.