Close
Arts & Sciences outstanding student winners balance school, raising family
Besides working and pursing a degree at the University of Houston-Victoria, the top spring graduates in the School of Arts & Sciences each have three other time commitments.
Thelissa Edwards of Fresno and La Shaundrea Harris of Victoria each are raising three children. The children will be in attendance during commencement May 12 to celebrate their mothers' accomplishments.
Edwards was chosen as the school's outstanding graduate student, while Harris was chosen as the outstanding undergraduate student. Each semester, professors from the four UHV schools select an outstanding student from both their graduate and undergraduate programs to be honored during commencement.
Edwards and Harris also will each receive a $250 prize from the UHV Arts & Sciences Excellence Fund, a fund established through donations from the school's faculty.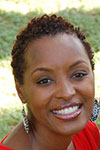 Thelissa Edwards
"I feel really fortunate to be chosen because there are a lot of strong students in the school," Edwards said. "This is very much an honor. I feel like it validates my work and shows I made the right career choice."
UHV will hold two graduation ceremonies at Faith Family Church, 2002 E. Mockingbird Lane. The 9 a.m. ceremony will be for graduates of the schools of Arts & Sciences and Education & Human Development. A 1 p.m. ceremony will be for graduates of the schools of Business Administration and Nursing.
Edwards will earn a master's degree in school psychology. She began graduate work in 2008 and said it's a little surreal commencement is nearly here.
"It's been a long process, and I'm glad I will get to share graduation with family members who have supported me during that time," she said. "My husband, Nakia Edwards, has been a great support during my educational pursuits."
With an 8-, 6- and 4-year-old at home, Edwards appreciated the flexibility of the psychology program and how faculty members went out of their way to help.
"I really valued the hands-on approach by my professors, who were always available, even if I had to text or call them in the evenings," Edwards said. "They were supportive and were interested in seeing each one of us succeed."
Edwards won an award for best oral performance during the 2012 UHV Psychology Student Conference. She also won an award in the poster competition during the conference in 2010.
She and classmate Janae Walker were invited in February to Philadelphia to make a presentation at the National Association of School Psychologists convention. Their research found the majority of people entering the field of school psychology have significantly more multicultural training than people already practicing in the field.
Edwards wasn't able to attend because of financial reasons, but she said it was an honor to be selected.
"It felt very validating," she said. "I hope to apply again in the future and be able to attend the convention."
Edwards was born in El Paso but has lived most of her life in the Houston area. She worked in the Katy Independent School District and currently has an internship with the Pasadena Independent School District. She will begin a full-time job this fall with the Pasadena school district as a Licensed Specialist in School Psychology.
While Edwards doesn't have a ton of free time, she does enjoy reading, writing and sleeping.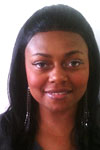 La Shaundrea Harris
Harris also doesn't have much time for extracurricular activities. Similar to Edwards, Harris really liked the online accessibility at UHV. With children ages 13, 6 and 4, and a part-time job working as a direct care provider for Devereux Texas Treatment Network in Victoria, she said the convenience of online classes was critical.
"I think what I'm most proud of is being able to keep up my grade-point average," Harris said. "It's much higher than I thought it would be while balancing school work with being a mom and having a job."
Harris will earn a bachelor's degree in criminal justice with a minor in psychology. With graduation approaching, she said it feels like a weight has been lifted.
"I'm so happy to be done and ready to start my career," she said. "I started out going to college part time and have been a full-time student the past two years. I'm elated to have reached my goal of graduation. I'm the first person in my family to earn a college degree. I really feel blessed right now."
While studying at UHV, Harris developed an interest in becoming a juvenile probation officer.
"In my extended family, some of the boys don't have dads as active as they could be," she said. "The boys have taken turns the wrong way. I want to be effective in solving problems in those areas."
Harris was born in Yoakum and moved to Victoria at age 7. A movie buff, Harris gets the most out of her Netflix subscription.
"My favorites are the epic movies, like 'Lord of the Rings' or 'The Matrix,'" she said. "I like the long, drawn-out stories."
Jeffrey Di Leo, dean of the UHV School of Arts & Sciences, said Edwards and Harris did a remarkable job with their studies, especially considering their many other responsibilities.
"This goes to show that students don't have to diminish their family life or outside work to flourish at UHV," he said. "While balancing everything certainly can be a challenge, these two students demonstrated how it can be done. They deserve this honor."
The University of Houston-Victoria, located in the heart of the Coastal Bend region since 1973 in Victoria, Texas, offers courses leading to more than 80 academic programs in the schools of Arts & Sciences; Business Administration; and Education, Health Professions & Human Development. UHV provides face-to-face classes at its Victoria campus, as well as an instructional site in Katy, Texas, and online classes that students can take from anywhere. UHV supports the American Association of State Colleges and Universities Opportunities for All initiative to increase awareness about state colleges and universities and the important role they have in providing a high-quality and accessible education to an increasingly diverse student population, as well as contributing to regional and state economic development.