Close
UHV students demonstrate how to get children excited about reading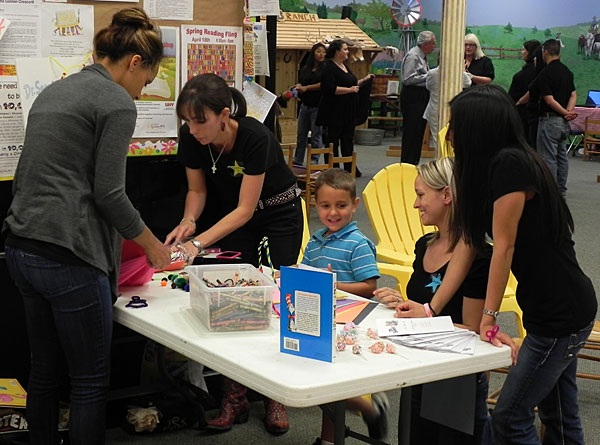 Charles Wagner, 5, works on a reading project during the Spring Reading Fling at the Children's Discovery Museum assisted by University of Houston-Victoria education students, left to right, Jessica Williams, Jessica Shanks, Christine Resendez and Gabby Macias.
Books came to life at the Children's Discovery Museum of the Golden Crescent when University of Houston-Victoria education students recently showed children and their parents how to get more out of reading.
A story about a bear was acted out with a puppet show. An oversized book about animals led to games and coloring. An iPad game taught the alphabet, and children became self-publishers by making their own books. All of the activities were geared toward demonstrating how shared reading experiences enrich story time.
"This project taught me that instead of just reading the book, you can make it fun and interesting to get the kids engaged," UHV education student Ashley Mikes said. "The end result is the kids want to read and learn."
Two UHV School of Education & Human Development literacy classes put on events aimed at bolstering reading and writing development for children. The idea behind the Spring Reading Fling and the Young Authors and Illustrators Workshop was community outreach and to prepare UHV teaching candidates to be effective future teachers, said Jane Devick Fry, a UHV associate professor of literacy studies and interim associate dean of the school.
"This helps socialize the students to the profession of teaching," Fry said. "They aren't just sitting in a classroom anymore. They are developing their professional identity."
Students said it was imperative to get a trial run working with children and parents as well as planning and executing a literacy project.
UHV senior Carin Drozd said she enjoyed the hands-on aspect of the event because it gave her a better idea of what to expect as a future teacher.
"It's easier for us to have some guinea pigs here before we get into the classroom and have 17 to 20 little kids," she said.
The Spring Reading Fling was put on by students in the UHV class "Literacy Development for 21st Century Elementary Students." Parents and children could visit several different activity stations. At one station, children made their own books with construction paper and stickers. Ashley Lawson said her 3-year-old daughter had a fun time making a book.
"My daughter got the scissors and cut out a funny face and then kept taking stickers to put on it," Lawson said. "She enjoyed it, especially the part involving stickers. Afterward she told me it was her book."
Another station was aimed at showing parents some of the children's literacy programs available on iPads, iPods and other electronic devices.
"We know kids love technology," UHV junior Jessica Shanks said. "This is a way for parents to give the kids something educational to do that they will enjoy. A lot of times, we fall guilty of thinking that technology is for music, games or apps. Using it for children's reading is not the first thing that comes to mind when you think of an iPad. Getting more publicity about this type of use is important."
The other stations promoted shared reading experiences. For example, UHV education student Lorene Wagner read a book while students Dawn Villegas and Milena Vorajakkmol acted out scenes with puppets.
"It's a different way than some of us grew up learning, but I think shared reading experiences are a better way of doing it," Vorajakkmol said.
Another group of students talked with parents about how to do a shared reading experience. "Some parents probably weren't exposed to a shared reading experience when they were kids," UHV education student Amy Reyna said. "I think a majority of them want to read to their kids, but they don't know the steps to get the most out of it."
Two days later at the Young Authors and Illustrators workshop, children ages 3 to 13 were given tips on how to write about personal experiences. The objective was to encourage children to write and illustrate books telling their own stories, said Carol Klages, a UHV associate professor of education.
Each group of students was in charge of different learning centers, such as a pet station where children wrote about pets they had or pets they wished they had. At another station, children went into a tent to write about camping or vacations.
Klages said it was good for the students in her "Components of Effective Literacy Instruction" class to get practice preparing and carrying out learning activities.
"They got firsthand experience with children's literacy and trying to explain what they wanted the kids to do," she said. "Giving directions to someone is kind of hard. They gained some familiarity with it in a smaller, more controlled setting."
Both faculty members said another lesson from this project was the importance in giving back to the community.
"In many ways, what they did was a service learning project," Fry said. "Those are important as they add value to the Children's Discovery Museum and strengthen the partnership with UHV."
Paige Gedvillas, interim museum director, said the events helped get the word out about the museum, were fun activities for children and provided valuable hands-on learning for the students.
"It's great UHV students get to come out and practice what they are going to school for," she said.
The University of Houston-Victoria, located in the heart of the Coastal Bend region since 1973 in Victoria, Texas, offers courses leading to more than 80 academic programs in the schools of Arts & Sciences; Business Administration; and Education, Health Professions & Human Development. UHV provides face-to-face classes at its Victoria campus, as well as an instructional site in Katy, Texas, and online classes that students can take from anywhere. UHV supports the American Association of State Colleges and Universities Opportunities for All initiative to increase awareness about state colleges and universities and the important role they have in providing a high-quality and accessible education to an increasingly diverse student population, as well as contributing to regional and state economic development.