Close
Top UHV nursing students realize value of education
As hospital nurses, Blanche de León and Maura Bennett thought they could do more to help their patients.
So when their shifts ended, de León and Bennett hit the books to earn additional nursing degrees at the University of Houston-Victoria. They said the time and effort put in was well worth it.
"Before this, I was concentrating solely on the patient," Bennett said. "Now I'm seeing the bigger picture. For the rest of my life, I will be a better nurse because of it."
For their outstanding academic efforts, de León, a Victoria resident, was chosen as the top graduate student, and Bennett, a Schulenberg resident, was picked as the top undergraduate student from the UHV School of Nursing. Each semester, professors from the four UHV schools select an outstanding student from both their graduate and undergraduate programs to be honored during commencement.
UHV will hold two graduation ceremonies on May 12 at Faith Family Church, 2002 E. Mockingbird Lane. A 9 a.m. ceremony will be for graduates of the schools of Arts & Sciences and Education & Human Development. A 1 p.m. ceremony will be for graduates of the schools of Business Administration and Nursing. The School of Nursing also will have a pinning ceremony for its graduates at 3 p.m.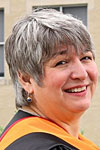 Blanche de León
De León, who will earn a Master of Science in Nursing, said being selected the outstanding graduate student caught her off guard.
"It was quite a surprise," she said. "It's a deep honor to be recognized by the faculty."
De León learned about nursing at an early age because of an illness. From that point on, she thought it would be a rewarding career.
She started taking nursing classes in 2008, signing up for one or two courses at a time while working as a Registered Nurse at Citizens Medical Center. While it has taken awhile to make it to commencement, de León said it has been the right balance between work and school.
What de León liked best about the UHV School of Nursing was the interactive learning and the way the nursing program was laid out.
"I like that I knew what was expected of me from the start," she said. "The courses were rigorous, but the instructors were very knowledgeable and willing to help. I can't recall having more fun learning."
De León is a sixth-generation descendant of Victoria founder Martín de León. After the graduation ceremony, her family and friends are planning a celebration. That is a role reversal since it was de León who planned a massive family reunion a year ago during the 25th Annual de León Symposium.
When she's not working, de León enjoys quilting and genealogy. She has traced her family tree back many generations. Her post-graduation project is to make three Wounded Warrior quilts.
De León will continue to work as an RN at Citizens Medical Center and will look for opportunities to apply her advanced practice knowledge.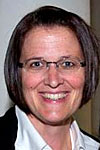 Maura Bennett
Bennett also has worked at Citizens Medical Center, but she now has a job in the emergency room of St. Marks Medical Center in La Grange. It can be a stressful job at times, but she enjoys the challenge.
"The ER is a little bit like a game because you have to use clues to figure out how to proceed," she said.
Bennett grew up in Chicago with 10 other siblings, several of whom went on to become nurses. At first, Bennett struck out in a different direction. She became a chef.
"I should have started out as a nurse, but I ended up on the right path eventually," she said. "My sister, Mary, is a nurse in Chicago. She kept telling me to try nursing. I give her credit because she was right. Cooking for people was all right, but this is a different way of helping people. I love helping people learn about how to take better care of themselves."
With a full-time job, a husband and four children, Bennett was a little uneasy about whether to return to school. Her co-workers and family urged her to enroll in the RN to Bachelor of Science in Nursing program at UHV. A year later, she's glad she did.
"I realized the value of additional education," Bennett said. "I'm hoping my children will follow my example and realize the importance."
Bennett has a 16-year-old daughter and three sons ages 15, 10 and 4. Besides spending time with her children, Bennett reads, swims and runs. She recently completed her first half-marathon.
Bennett is a Johnson Scholar. She received a full scholarship from the School of Nursing through the M.G. and Lillie A. Johnson Foundation.
Kathryn Tart, founding dean of the UHV School of Nursing, said there are many excellent students completing the school's programs.
"It wasn't easy picking the outstanding students, but we are proud to honor Blanche and Maura," Tart said. "They are the best of the future of nursing and nursing leadership. They practice nursing in the communities where they live and have shown great enthusiasm for learning more about this profession. We wish them well in their careers."
The University of Houston-Victoria, located in the heart of the Coastal Bend region since 1973 in Victoria, Texas, offers courses leading to more than 80 academic programs in the schools of Arts & Sciences; Business Administration; and Education, Health Professions & Human Development. UHV provides face-to-face classes at its Victoria campus, as well as an instructional site in Katy, Texas, and online classes that students can take from anywhere. UHV supports the American Association of State Colleges and Universities Opportunities for All initiative to increase awareness about state colleges and universities and the important role they have in providing a high-quality and accessible education to an increasingly diverse student population, as well as contributing to regional and state economic development.