Close
Career changes delight education outstanding student winners
After two decades in the same profession, Lisa Hand and Chris Henk were ready to try something different.
Although it had been awhile since they attended school, both decided to enroll in the University of Houston-Victoria School of Education & Human Development. That decision turned out to be the right one. Hand and Henk will graduate Saturday and soon will start their careers in counseling and teaching, respectively.
For their academic achievements, Sugar Land resident Hand was chosen as the school's outstanding graduate student. Henk, a Hallettsville resident, was named the outstanding undergraduate student. Each semester, professors from the four UHV schools select an outstanding student from both their graduate and undergraduate programs to be honored during commencement.
UHV will hold two graduation ceremonies Saturday at Faith Family Church, 2002 E. Mockingbird Lane. A 9 a.m. ceremony will be for graduates of the schools of Arts & Sciences and Education & Human Development. A 1 p.m. ceremony will be for graduates of the schools of Business Administration and Nursing.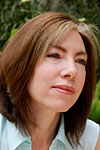 Lisa Hand
Hand said the award is a nice way to cap her educational experience.
"It was a pleasant surprise," she said. "It's a great honor. I appreciate being nominated and chosen by the faculty. I think it sets a good example for my kids. Two of them are already in college, and two will be going to college soon."
Though her past education and work experience was in commercial real estate financing, Hand spent the last 2 1/2 years working toward a Master of Education in counseling.
"I never really considered counseling while working in real estate," she said. "I left my job to home school my kids. Afterward, I wanted to go back to work, but I didn't feel the same excitement about that field."
When Hand told her children about her decision to pursuing a counseling career, they weren't the least bit surprised.
"My daughter said, 'Mom, that's what you do anyway. We're grocery shopping, and you start talking to people in the store for an hour. Meanwhile, the ice cream is melting,'" Hand said. "She was right, though. I was looking to help people with their children, marriage or other problems."
Hand's house is about seven minutes away from UH Sugar Land, where UHV offers many programs, but she didn't know a lot about the university before enrolling in graduate school.
"UHV surprised me because for a smaller college, it offered a quality of education competitive with a major university," she said. "The UHV professors in the counseling education program are extremely dedicated and committed to their students and to a high standard of teaching."
After graduation, Hand will take a counseling internship licensing exam. The next step will be performing 3,000 hours of work during a supervised internship.
When she's not studying or spending time with her family, Hand enjoys interior design.
"It's a hobby of mine, a creative outlet, really" she said. "In my spare time, I help friends and family decorate their homes."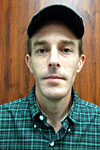 Chris Henk
Similar to Hand, Henk decided the timing was right for a career change. He had worked for 20 years at Schulenburg Sheet Metal in Schulenburg. Since his wife started out as a teacher and now is the district technology director for the Hallettsville Independent School District, Henk already had an idea of what working in schools was like.
He decided to pursue a bachelor's degree in early childhood through sixth-grade education because he wanted to work with young children.
"As teachers, we should never forget that even the smallest minds can give you the greatest insight into the world," he said. "We learn more than we ever teach because teaching is a product of learning."
Henk was a student teacher at a pre-kindergarten program in Hallettsville. He loved working with the children, but it was a humbling experience.
"There are highs and lows, and you just have to learn how to weave through it," he said.
Henk enjoyed taking classes at UHV. He liked the diverse faculty.
"They come from many different backgrounds," he said. "It allows us to have a more three-dimensional learning experience. The faculty took someone who knew little about education and turned him into a good teacher."
After graduation, Henk will be searching for a pre-kindergarten or elementary school job. He also may have some more time for another passion – alternative energy.
"I play with solar power and solar fans," he said. "But most of my off time is spent with the grandkids."
Diane Prince, interim dean of the UHV School of Education & Human Development, said Hand and Henk demonstrated a deep commitment to learning a new profession.
"It is difficult to stop one career and learn another," Prince said. "Nevertheless, they showed it can be done with sparkling results. Lisa and Chris were terrific students, and we are proud to honor them with these awards."
The University of Houston-Victoria, located in the heart of the Coastal Bend region since 1973 in Victoria, Texas, offers courses leading to more than 80 academic programs in the schools of Arts & Sciences; Business Administration; and Education, Health Professions & Human Development. UHV provides face-to-face classes at its Victoria campus, as well as an instructional site in Katy, Texas, and online classes that students can take from anywhere. UHV supports the American Association of State Colleges and Universities Opportunities for All initiative to increase awareness about state colleges and universities and the important role they have in providing a high-quality and accessible education to an increasingly diverse student population, as well as contributing to regional and state economic development.