Close
Top business graduates credit UHV faculty, accessibility for academic success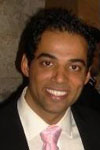 Nazim Ali
Nazim Ali has traveled the world, but when it came time to pursue a business degree, he found everything he needed close to home.
Ali, along with Jessica Estrada, were chosen as the top graduating students this spring in the University of Houston-Victoria School of Business Administration. Both said the support system, convenience and faculty interaction are among the reasons they were successful at UHV.
"As an undergrad, I had to drive to the UH main campus every day," said Ali, who lives in Sugar Land and has taken classes at UH Sugar Land, where UHV offers many programs. "With online classes, facilities nearby and library access, UHV couldn't have made it any easier."
Ali was named outstanding graduate student, while Estrada, an El Campo resident, was tabbed the outstanding undergraduate student. Each semester, professors from the four UHV schools select an outstanding student from both their graduate and undergraduate programs to be honored during commencement.
UHV will hold two graduation ceremonies Saturday at Faith Family Church, 2002 E. Mockingbird Lane. The 9 a.m. ceremony will be for graduates of the schools of Arts & Sciences and Education & Human Development. The 1 p.m. ceremony will be for graduates of the schools of Business Administration and Nursing.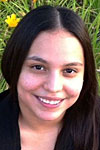 Jessica Estrada
Estrada will graduate with a Bachelor of Business Administration in accounting. It was during a Columbus High School career fair that she first considered studying accounting.
"One of the speakers had an accounting job," Estrada said. "It sounded like something I would like to do. I took some classes and decided that's the career I wanted to go into."
Estrada works in accounting at Walmart. She imports purchasing data into an accounting system to produce financial reports. Then she can tell if there were any shortages or overages.
"If so, I get to play detective and investigate before turning over the figures to our asset protection people," she said.
After earning an associate degree at Wharton County Junior College, Estrada arrived at UHV in fall 2010. She started out taking online courses but took more face-to-face classes her senior year when her work schedule allowed it.
"I like that both options are possible, and professors are available in both face-to-face and online settings," she said. "One of the things I liked most about UHV is the one-on-one interaction with professors. I took advantage of office hours, and the professors were happy to answer my questions."
Estrada said she's proud she maintained a 4.0 grade-point average while taking a full class load and working full time.
After graduation, Estrada plans to figure out what accounting avenue to pursue.
"There are many different opportunities, so it will be hard to decide," she said. "But it's a good problem to have."
Ali is aiming to use his Master of Business Administration with a concentration in management to move up to a management position at the University of Texas MD Anderson Cancer Center in Houston. He has juggled earning a 4.0 GPA in school with his job as a research coordinator at the cancer center.
"It was a handful at times, but I wouldn't have it any other way," Ali said. "I don't mind being involved in many things. It couldn't have worked out more perfectly."
There was one last test before graduation. Ali and his teammates competed Saturday in the MBA Case Competition.
"It was nerve wracking, but it is what we've been preparing for," he said.
Originally from Pakistan, Ali has lived in Sugar Land for the past 15 years. During his time off, Ali has traveled the world. Past trips have included New Zealand, Dubai and different parts of Europe.
Farhang Niroomand, dean of the UHV School of Business Administration, said Ali, Estrada and many other graduates are poised to have successful careers.
"Nazim and Jessica have a remarkable academic record, and we are proud to honor them," Niroomand said. "Based on their success at UHV and at their current jobs, it's clear they have a bright future ahead."
The University of Houston-Victoria, located in the heart of the Coastal Bend region since 1973 in Victoria, Texas, offers courses leading to more than 80 academic programs in the schools of Arts & Sciences; Business Administration; and Education, Health Professions & Human Development. UHV provides face-to-face classes at its Victoria campus, as well as an instructional site in Katy, Texas, and online classes that students can take from anywhere. UHV supports the American Association of State Colleges and Universities Opportunities for All initiative to increase awareness about state colleges and universities and the important role they have in providing a high-quality and accessible education to an increasingly diverse student population, as well as contributing to regional and state economic development.