Close
UHV to recognize faculty members for teaching, research, service
Four University of Houston-Victoria faculty members selected by their students and peers for excellence in teaching, research and service will be recognized at Saturday's commencement ceremonies.
The award recipients are:
Jie Yang, associate professor of operations management and quantitative methods and the Partnership Professor of Operations Management, won the Research and Scholarly Activity Excellence Award.


Richard Gunasekera, professor of biology and director of graduate biology programs, received the Distinguished Faculty Service Award.


Uche Nwabueze, assistant professor of management, and Jeffry Moe, assistant professor of counseling, won the Enron Teaching Excellence Award.
"We are privileged to have many exceptional professors at this university," said Jeffrey Cass, UHV provost and vice president for academic affairs. "This year's award recipients are dedicated to making a difference in the lives of students and have shown a deep commitment to teaching, research and service that enhances UHV's reputation for academic excellence."
The winners, who were chosen by university award committees, also will receive a plaque and a monetary award. They will be honored during UHV's two graduation ceremonies at Faith Family Church, 2002 E. Mockingbird Lane. A 9 a.m. ceremony will be for graduates of the schools of Arts & Sciences and Education & Human Development. A 1 p.m. ceremony will be for graduates of the schools of Business Administration and Nursing.
The Enron Teaching Excellence Award was established in 1993 through an endowment to the University of Houston System. UHV students nominate professors who exemplify innovative, high-quality instruction that is relevant to their lives and careers.
Gunasekera, who served as chair of the Enron Teaching Excellence Award Committee, said this was the first time two faculty members tied for first place in the voting.
"We have many excellent faculty members at UHV," Moe said. "It's an honor to be a co-award winner with one of the star teachers at this university."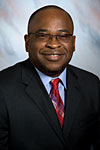 Uche Nwabueze
Nwabueze said he was thrilled his students nominated him for the award. When he was considering taking a job at UHV in 2008, Nwabueze said he will never forget what associate marketing professor Linda Hayes told him.
"She said UHV is trying to be the most student-friendly, student-focused university," he said. "That has stayed with me and has been part of my teaching philosophy."
Nwabueze taught a capstone strategic management class and a course about health care management this semester. Students told the award committee that Nwabueze's courses were some of the most difficult they've taken at UHV, Gunasekera said. Nwabueze takes that as a compliment.
"If you set higher goals, students will rise up to meet them," he said. "If the goals are low, there's nothing to ensure the students will be prepared."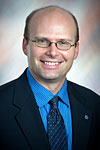 Jeffry Moe
Moe, who has taught in the School of Education & Human Development since 2007, said he appreciated students nominating him for the award.
"This is very meaningful," he said. "The appreciation of students is important to me, and to be selected by my peers for going above and beyond is touching."
Moe taught classes about group counseling, theories of counseling, and couple and family dynamics this semester. He said the most rewarding part of teaching is seeing students gain confidence and improve their communication skills.
"Many students come in at the start of the semester nervous and unsure of themselves," Moe said. "Through class engagement and presentation, they start to find their voice and develop professionally."
Students told the award committee that Moe was a role model in his career as a counselor, an excellent listener, and that he was considerate, conscientious and a complete professional, Gunasekera said. Moe said since those characteristics are important elements in counseling, those traits are often found in counseling faculty members.
"I think we are student-centered, which is how good teaching starts," he said.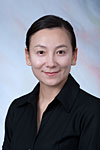 Jie Yang
Yang said she was honored and humbled to win the Research and Scholarly Activity Excellence Award.
"There are many excellent professors who are deserving of this award," she said. "I'd like to thank my colleagues in the School of Business Administration for their encouragement and support along the way and thank the committee for this recognition."
A UHV professor since 2009, Yang has published research about supply chain management in transition economies as well as knowledge management. Her primary research interests focus on relational infrastructure in a buyer-supplier relationship, supply chain performance in transition economies, and the knowledge management/supply chain management interface.
Yang has had a number of articles published, and her work is frequently cited by other scholars.
"This award will serve as additional inspiration to work hard to achieve excellence in every area," she said.
As UHV continues its transition to a destination university, Yang said research remains vital.
"It's finding the right balance between teaching and research," she said. "When we face reaccreditation, faculty member research is one of the items studied. Having quality research benefits the school, faculty members and the students."
Each year, UHV faculty members also recognize a peer who serves the university in various capacities with the Distinguished Faculty Service Award.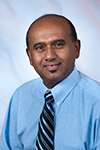 Richard Gunasekera
Gunasekera is the founder of the biology undergraduate program as well as the graduate programs of biomedical, bioinformatics and forensic science. He was the winner of the Research and Scholarly Activity Excellence Award in 2010 and the Enron Teaching Excellence Award in 2011.
Beyond his regular job duties, Gunasekera has performed a number of service projects during the past year, including serving on university committees and working with graduate students and prison inmates.
Gunasekera said he has mentored a number of gifted UHV graduate students. A couple of his students are working on a project about forensics in wildlife science, while another is studying cancer cells.
"This award is a result of being able to work with highly motivated, intelligent students; mature, expert faculty; and a very hard working administration at UHV, who collaborate exceptionally well with each other," Gunasekera said. "I appreciate them. This award is recognition of our whole institution's good fellowship and excellence."
Gunasekera, who has taught at UHV since 2000, spoke with inmates last year at a high security Texas prison. He talked with them about health and nutrition, and discussed menus with criminal justice officials.
"The message was about what to eat and what not to eat," Gunasekera said. "It was a challenge, but hopefully it did some good."
The University of Houston-Victoria, located in the heart of the Coastal Bend region since 1973 in Victoria, Texas, offers courses leading to more than 80 academic programs in the schools of Arts & Sciences; Business Administration; and Education, Health Professions & Human Development. UHV provides face-to-face classes at its Victoria campus, as well as an instructional site in Katy, Texas, and online classes that students can take from anywhere. UHV supports the American Association of State Colleges and Universities Opportunities for All initiative to increase awareness about state colleges and universities and the important role they have in providing a high-quality and accessible education to an increasingly diverse student population, as well as contributing to regional and state economic development.