Close
Grant helps pave way for transatlantic conference at UHV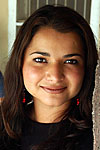 Macarena Hernández
During her travels to Germany, Macarena Hernández was struck by how the discussion of Muslims in Germany reminded her of the same conversations occurring back home with Mexican-Americans in the United States.
"Turkish kids in Berlin have a lot in common with Mexican-American kids in Houston," said Hernández, the Victoria Advocate Endowed Professor of the Humanities at the University of Houston-Victoria. "Both groups spur a lot of the same questions around education and identity."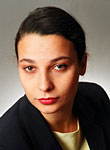 Riem Spielhaus
Those similarities sparked Hernández and her colleague, Riem Spielhaus, a research fellow at the Centre for European Islamic Thought in Copenhagen, Denmark, to hold a transatlantic conference Nov. 15-17 at UHV.
They recently were awarded a $6,500 grant from the German Marshall Fund and the Bosch Foundation. The money will be used to help plan the conference and cover some of the materials and travel expenses. The purpose of the conference is to explore issues such as education, identity and media coverage of those populations.
"Obviously there's a difference because we are talking about ethnicity with one group and religion with the other group, but there are plenty of similarities," Hernández said. "We talk about immigration and demographic shifts so much in this country that it sometimes feels like the conversation is isolated to the U.S. We are attempting to make this conversation more global."
A number of scholars from Germany and across the U.S. will be invited to Victoria for the conference.
"I am certain that this conference will be of interest to scholars around the country and will draw an outstanding group of participants," said Jeffrey Di Leo, dean of the UHV School of Arts & Sciences. "Work like this raises the quality of education for our students by allowing them to participate in timely discussions. It's also an important part of what a destination university should do."
UHV students will be heavily involved with documenting the conference.
"Students will produce videos, conduct interviews and help run the conference," Hernández said. "I think it's a wonderful opportunity for them to be part of this important conversation."
This is the first time UHV has received a grant from the German Marshall Fund or the Bosch Foundation. The German Marshall Fund is a nonpartisan American public policy and grant-making institution dedicated to promoting better understanding and cooperation between North America and Europe on transatlantic and global issues. The German-based Robert Bosch Foundation supports projects in science, health, international relations, education, society and culture. Hernández and Spielhaus are both members of the Transatlantic Forum on Migration and Integration, which is spearheaded by the German Marshall Fund and the Bosch Foundation.
In association with the conference, Hernández said she and Spielhaus plan to develop lesson plans and launch a multimedia website containing interviews from scholars attending the conference. The materials will be disseminated to nonprofit organizations and school districts so teachers can have a tool to explore the issues with their students.
In 2013, the lesson plans and website will be presented in Berlin during a conference for teachers put together by the American Embassy.
"The overall theme of the conference seeks to point out the commonalities in narratives of U.S. Mexicans and Muslims in Germany," Spielhaus said. "These two groups are perceived as perpetual immigrants in their respective countries even though many of them are born and raised there. They are also shoved into restrictive labels and called a singular community as if they were a monolithic group."
Additional funding will be required for travel and conference expenses.
"We definitely need local support to offset the cost of flying people here from Germany and other parts of the U.S.," Hernández said. "I think it's great that Victoria will be hosting a transatlantic conference. It's wonderful for our city and university, especially when you consider the German influence in Texas."
For more information or to assist with the conference, contact Hernández at hernandezm@uhv.edu or 361-570-4210.
The University of Houston-Victoria, located in the heart of the Coastal Bend region since 1973 in Victoria, Texas, offers courses leading to more than 80 academic programs in the schools of Arts & Sciences; Business Administration; and Education, Health Professions & Human Development. UHV provides face-to-face classes at its Victoria campus, as well as an instructional site in Katy, Texas, and online classes that students can take from anywhere. UHV supports the American Association of State Colleges and Universities Opportunities for All initiative to increase awareness about state colleges and universities and the important role they have in providing a high-quality and accessible education to an increasingly diverse student population, as well as contributing to regional and state economic development.