Close
UHV student wins Salute to Nurses scholarship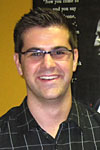 Bradley Borsboom
When a family member fell ill in his native South Africa, Bradley Borsboom was concerned the nurses weren't doing enough to help.
Shortly after that, Borsboom began his path to a career in nursing.
"I enjoy helping people, and who needs more help than people who are ill?" he asked. "In nursing, it's the little things that make a difference. If I can come in and do those things, I can make a difference."
Borsboom is well on his way. The University of Houston-Victoria undergraduate student won a $1,500 scholarship as part of the Houston Chronicle's Salute to Nurses recognition of outstanding nurses and nursing students. He was featured in a May 6 nursing special section in the Houston Chronicle and attended the May 8 Salute to Nurses Awards Luncheon.
Nursing schools in the Houston area are asked to nominate students for their achievements in the classroom, as well as their character, dedication and promise. Borsboom, a Tomball resident, was one of five scholarship winners.
"It's an honor and a privilege to be one of the students chosen," he said. "I was shocked because the Salute to Nurses wasn't something that was talked about at school. I was really honored the faculty chose to nominate me."
Borsboom is in UHV's Registered Nurse to Bachelor of Science in Nursing program at the UH System at Cinco Ranch, where UHV offers nursing programs. He has a 4.0 grade-point average. Nursing faculty nominated Borsboom because of his leadership skills, contributions to class discussion and professional approach.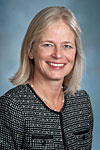 Kathryn Tart
"Bradley is an excellent team leader and organizer," said Kathryn Tart, founding dean of the UHV School of Nursing. "He communicates well with his classmates in the program. This is evident by his supportive and sincere attitude toward his classmates in group projects and in the skills lab. Bradley is generous in contributing insightful materials and evidence-based discussions toward class projects and assignments."
Borsboom said he's always tried to step up to leadership roles, in part because he likes the assurance that the work will get done.
"That's very much my personality," he said. "I enjoy collaborating with my classmates and working in groups. In those situations, I haven't minded moving into a leadership position."
Borsboom graduated in 2010 with an associate degree in nursing. His student visa allowed him to work for a year after graduation, so he took a job as an admissions nurse at Cypress Creek Hospital, a Houston medical center for individuals and families in need of psychiatric care and treatment for substance abuse.
In 2011, Borsboom knew he wanted to return to school, but he wasn't sure where. He did a Google search for RN to BSN programs in the Houston area and discovered UHV.
"I hadn't heard of UHV, but the reviews online said a lot of great things about the program," he said. "I looked more into it and went to an information session at UH Sugar Land. It sounded more and more perfect."
Borsboom will graduate in December. His first step after graduation will be to gain more medical experience. He's interested in working in an emergency room or intensive-care unit. He's also considering pursing a Master of Science in Nursing in administration.
"One thing I see a need for is additional clinical educators for students at hospitals," he said. "Another job I would consider is being a flight nurse. I think that would be a good experience."
This marks the fourth year in a row that a UHV student has received the Salute to Nurses award. In 2009, Lauren Watson won the award. In 2010, Antonio Garcia was honored, and last year, Linda Lim-Buckingham was the award recipient.
The award was created to recognize outstanding nurses and nursing students during National Nurses Week, which is celebrated annually from May 6 through 12.
For more information about the UHV School of Nursing programs, contact Tammy Whatley at 877-970-4848, ext. 4370 or whatleyt@uhv.edu.
The University of Houston-Victoria, located in the heart of the Coastal Bend region since 1973 in Victoria, Texas, offers courses leading to more than 80 academic programs in the schools of Arts & Sciences; Business Administration; and Education, Health Professions & Human Development. UHV provides face-to-face classes at its Victoria campus, as well as an instructional site in Katy, Texas, and online classes that students can take from anywhere. UHV supports the American Association of State Colleges and Universities Opportunities for All initiative to increase awareness about state colleges and universities and the important role they have in providing a high-quality and accessible education to an increasingly diverse student population, as well as contributing to regional and state economic development.