Close
UHV business undergraduates participate in conference, hear from gas company manager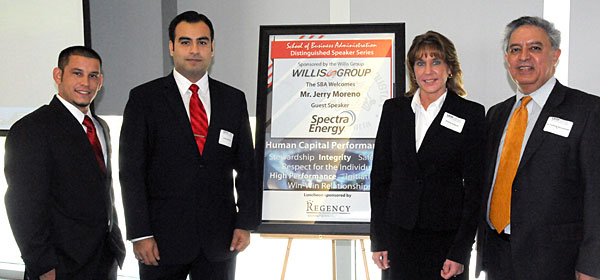 Julius Cano, left, Jimmy Badaoui and Michele Wilbeck are recognized by Farhang Niroomand, right, dean of the University of Houston-Victoria School of Business Administration, as the winners of the Spring 2012 Bachelor of Business Administration Conference.
SUGAR LAND – Students completing their Bachelor of Business Administration at the University of Houston-Victoria recently competed in the Spring 2012 BBA Conference and heard a keynote address from one of the leaders of a Fortune 500 company.
A team of three students took first place by presenting the top original business case analysis on Amazon.com during the conference at the University of Houston Sugar Land, where UHV offers many of the programs. The event included a luncheon for the more than 100 students who attended and a speech by Jerry Moreno, manager of human capital performance at Spectra Energy Corp., a natural gas infrastructure company headquartered in Houston.
The BBA Conference, which started in spring 2007, is attended by UHV students enrolled in "Strategic Management," the capstone course of the BBA program.
"The conference gives students the opportunity to apply what they have learned in the BBA program to real-world business situations," said Farhang Niroomand, dean of the UHV School of Business Administration.
Members of the first-place team were Michele Wilbeck of Richmond, Jimmy Badaoui of Houston and Julius Cano of Victoria.
Cano said he enjoyed participating in the conference.
"Our group was definitely dedicated," he said. "Winning was not on my mind when I went in, but we put a lot of hard work into it and a tremendous amount of time."
He will get his BBA in finance in December after taking three more class hours. This summer, he plans on looking for a job in his field and starting work on his Master of Business Administration at UHV.
"The professors I've had for classes want students to learn so that they can succeed," he said. "It's been a great learning experience."
Wilbeck said she learned a lot about successful presentations at the conference.
"I now have the ability to get up there and speak in front of people," she said. "I was happy winning first place because our team worked really hard."
Wilbeck graduated from UHV on Saturday with her second BBA from the university. She got her first BBA in management in 1999. Her most recent BBA is in accounting, and she now plans on searching for a job.
The winning team members each received a certificate recognizing their accomplishment, and their names will appear on a perpetual plaque in the UHV School of Business Administration office. They also will be invited to serve as panelists at future case competitions along with UHV business faculty.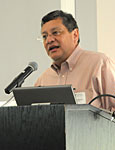 Jerry Moreno, manager of human capital performance at Spectra Energy Corp., speaks to UHV students and guests attending the conference.
Moreno was invited to speak at the conference as part of the UHV School of Business Administration Distinguished Speaker Series sponsored by the Willis Group, a local staffing and recruiting services firm. The luncheon was sponsored by Regency Nursing and Rehabilitation Centers Inc. Heber Lacerda, Donovan Dekowski and David Hagan represented Regency at the event.
Moreno has worked in his current position for the last four years dealing with performance metrics and the design of a human capital management system. He was a consultant and the director of business training and economic development for the Dallas and Houston community colleges. He started his career in Dallas as an IBM systems engineer and also worked as an account marketing manager for several Dallas hospitals. He is a graduate of Stanford Graduate School of Business and the Massachusetts Institute of Technology.
"We were pleased Mr. Moreno attended the conference because our students learned so much from his presentation," Niroomand said. "He showed them firsthand that what they learn in the classroom can help them with future employment."
Members of the other winning teams at the conference are:
Second Place - Chris Elmore of Waco, Rolando Perez of Bay City, Eric Teehan of Port Lavaca and Stephen Toddof Victoria.
Third Place - My Duong and Nicole Salinas, both of Houston; and Zack Lopez and Thomas Piech, both of Katy.
The University of Houston-Victoria, located in the heart of the Coastal Bend region since 1973 in Victoria, Texas, offers courses leading to more than 80 academic programs in the schools of Arts & Sciences; Business Administration; and Education, Health Professions & Human Development. UHV provides face-to-face classes at its Victoria campus, as well as an instructional site in Katy, Texas, and online classes that students can take from anywhere. UHV supports the American Association of State Colleges and Universities Opportunities for All initiative to increase awareness about state colleges and universities and the important role they have in providing a high-quality and accessible education to an increasingly diverse student population, as well as contributing to regional and state economic development.