Close
UHV students win awards in MBA Conference competitions
| | |
| --- | --- |
| | |
| The winning team in the case competition at the University of Houston-Victoria Spring Master of Business Administration Conference consisted of Nilang Gandhi, left, Ajmal Rahim, Anuradha Srivastava, Someshwar Voma and Riaz Ali. | Taking top prize in the simulation competition at the UHV Spring MBA Conference were Terry Register, left, Jeff Cassidy, Crystal Dorman, Mike Daniels, Hassan Cherradi and Rene R. Leal Daniel. |
SUGAR LAND – Eleven University of Houston-Victoria business students recently took home the top prizes at the Spring 2012 Master of Business Administration Conference.
First held in 2003, the conference is the culmination of the UHV School of Business Administration's MBA program.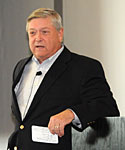 Michael T. Willis, chairman of The Willis Group, speaks to UHV students during the MBA Conference in Sugar Land.
Held at the University of Houston Sugar Land, where UHV offers many of the programs, the event also featured a keynote address by Michael T. Willis, chairman of The Willis Group. The group includes multiple companies that address a variety of business staffing needs and solutions.
Willis has launched several successful companies and has more than 40 years of staffing industry experience. He has participated in the acquisition and integration of more than 70 companies during his career.
"We were delighted to have Mr. Willis join us as the keynote speaker," said Farhang Niroomand, dean of the UHV School of Business Administration. "His speech provided a fascinating conclusion to the conference and hopefully inspired our students as they prepare to go out into the world."
There were 128 students from the MBA capstone course "Seminar in Strategic Management" who competed in the conference. The students, most of whom were spring MBA graduates, were divided up into 22 teams vying for first place in two competitions.
The case competition featured student teams applying what they learned in the program to real-world business situations. The simulation competition featured students attempting to turn struggling businesses into successful, profitable ventures.
"This conference is something we look forward to every year because it provides MBA students with the opportunity to apply what they have learned in a friendly competition setting," Niroomand said.
The winning case team was comprised of Nilang Gandhi of Houston; Anuradha Srivastava, Someshwar Voma and Riaz Ali, all of Katy; and Ajmal Rahim of Sugar Land. Team members were in a class taught by Rajan Selvarajan, a UHV associate professor of management.
Srivastava said she thought one of the keys to her team's win was the members coming up with specific and unique recommendations for Amazon.com. They recommended the company enter the online grocery business in China and develop cloud-based solutions for healthcare service providers.
"I think those recommendations stood out," she said. "The team analyzed the benefits and drawbacks, and suggested implementation processes for the proposed recommendations."
Members of the first-place simulation team were Jeff Cassidy of Houston; Terry Register, Mike Daniels and Hassan Cherradi, all of Katy; and Crystal Dorman and Rene R. Leal Daniel, both of Richmond. They were in a class taught by Ron Salazar, a UHV associate professor of management. The team analyzed a made-up company called Faris.
Winning team members received certificates, and their names will appear on a plaque in the School of Business Administration main office in Victoria. Members of all winning teams will be invited to serve as panelists at future case competitions.
The Willis Group sponsors the UHV School of Business Administration Distinguished Speaker Series. The series brings in local executives to discuss contemporary business issues. Willis was the fourth speaker in the series. Other speakers have been John Ragan, vice president of NRG Energy; Ron Ledbetter, vice president of Subsea Systems for INTECSEA; and Jerry Moreno, manager of human capital performance at Spectra Energy Corp.
Through its agreement with the UHV School of Business Administration, the Willis Group creates opportunities by providing business students with professional development and career placement assistance, supports faculty research and classroom instruction, and actively participates in events to promote the success of the business school and its students.
Willis formed Willis & Associates in 1971 to serve the executive recruiting needs of the local banking community. In 1976, he founded Talent Tree, which offered administrative and clerical staff on a contract basis and allowed clients to utilize these resources as they needed them. Within six years, the firm expanded operations nationally and by 1986 had experienced growth from $15 million to $70 million.
Willis later founded CoreStaff Inc., a leading staffing industry consolidator, and was elected president and CEO of Westaff Inc.
The conference was also sponsored by Bloomberg BusinessWeek and Mark Zafereo, a financial advisor for Wells Fargo Advisors.
Srivastava and Cassidy said the conference was a good way to finish the MBA program.
"While we've had other class presentations, the competition format added a different component," Srivastava said. "The capstone class covered everything that we had previously learned. We incorporated those lessons to make our case."
The University of Houston-Victoria, located in the heart of the Coastal Bend region since 1973 in Victoria, Texas, offers courses leading to more than 80 academic programs in the schools of Arts & Sciences; Business Administration; and Education, Health Professions & Human Development. UHV provides face-to-face classes at its Victoria campus, as well as an instructional site in Katy, Texas, and online classes that students can take from anywhere. UHV supports the American Association of State Colleges and Universities Opportunities for All initiative to increase awareness about state colleges and universities and the important role they have in providing a high-quality and accessible education to an increasingly diverse student population, as well as contributing to regional and state economic development.