Close
UHV assistant professors receive $10,000 summer research grants
Junior faculty summer grants awarded to two University of Houston-Victoria assistant professors will be used to study artificial intelligence and publishing.
Hongyu Guo, an assistant professor of computer science, and Kyle Schlesinger, co-director of the Master of Science in publishing program and an assistant professor of English and communication design, each received a $10,000 research award from the university.
Guo will continue his research in swarm intelligence, while Schlesinger will work on essays about the history and future of publishing. Both could have books out about the subjects in the near future.
The grants have been awarded each of the past four summers. A committee of tenured UHV professors evaluates and then recommends who receives the awards.
"These grants were created to encourage faculty research and give our junior faculty a jump-start in their research agendas," said Jeffrey Cass, UHV provost and vice president for academic affairs. "Dr. Guo and Dr. Schlesinger presented compelling research plans, and we are pleased to assist them with their efforts."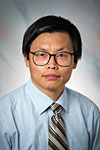 Hongyu Guo
Guo's research involves an emerging subfield of artificial intelligence inspired by the swarming behaviors of social animals.
"Ants, bees and gnats often swarm together," he said. "As individuals, they are simple. But as a group, the collective intelligence of the system of individual agents makes it possible to accomplish high-complexity tasks. It's the same principle here."
Guo said swarm intelligence is a fairly new field but has profound applications in nanotechnology, computer networks, digital gaming, space science, military and business operations.
"There's relatively little research done so far on the topic, and there are many open questions," he said.
Guo recently completed his first school year as a UHV faculty member. His other summer project is to make more progress on his book. He has a contract with a publisher to write a book titled "Modern Mathematics for Computer Graphics, Imaging and Vision." The book, which Guo hopes to publish in 2013, examines a number of different applications in computer science.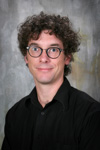 Kyle Schlesinger
Schlesinger also will use the grant money for expenses in preparing materials for his book. His research involves letterpress printing in the postmodern era. Schlesinger said he plans to revise chapters he's written to get them in publishable form.
"The grant will provide time to refine and engage with my materials," he said.
Schlesinger's research centers on post-World War II uses of obsolete printing technology. Much of the research is on what happened to American art forms from the 1910s and 1920s.
Schlesinger has published several books and is a book artist. Since 2000, he has been the proprietor of Cuneiform Press, a fine arts press specializing in poetry, artists' books, and typography. He moved operations of the press to UHV in 2009 when he became an assistant professor at the university.
Schlesinger said the junior faculty summer grant provides something more valuable than money.
"The monetary award is nice, but the most important aspect of the grant is knowing that my research is validated by my colleagues," he said. "It's a tremendously generous and encouraging form of acknowledgement."
Jeffrey Di Leo, dean of the UHV School of Arts & Sciences, said the school's faculty members are engaged in a wide array of interesting research and scholarship.
"I am pleased to see that two of our junior faculty now have the opportunity to carry through on their book projects this summer," he said.
The University of Houston-Victoria, located in the heart of the Coastal Bend region since 1973 in Victoria, Texas, offers courses leading to more than 80 academic programs in the schools of Arts & Sciences; Business Administration; and Education, Health Professions & Human Development. UHV provides face-to-face classes at its Victoria campus, as well as an instructional site in Katy, Texas, and online classes that students can take from anywhere. UHV supports the American Association of State Colleges and Universities Opportunities for All initiative to increase awareness about state colleges and universities and the important role they have in providing a high-quality and accessible education to an increasingly diverse student population, as well as contributing to regional and state economic development.