Close
UHV instructor's book chosen for award by Kansas schoolchildren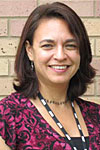 Diana López
While teaching writing to middle school students, University of Houston-Victoria English instructor Diana López noticed a shortage of books written for that age group.
She set out to change that with her 2009 book "Confetti Girl." Three years later, middle school students in Kansas are thanking her with an award named after a famous author and journalist. "Confetti Girl" recently was chosen as a recipient of the 2012 William Allen White Children's Book Awards.
López said she was excited to receive the honor because it came directly from the book's audience. "Confetti Girl" was one of 17 books that sixth- through eighth-graders could select.
"When writing for young people, I always wonder what their reaction to reading it will be," she said. "I'm really excited to hear that they enjoyed the book."
López said the book resonates with middle school students because the main character is dealing with several of the challenges they are experiencing, such as friendship and school issues.
"The book also contains a lot of humor young people can relate to," López said. "Additionally, there is some novelty in the book. Many readers probably haven't heard of cascarones – hollowed eggshells filled with colorful confetti. I think that is a hook as well as the crazy socks."
The book is the story of a young Latina girl navigating growing pains in Corpus Christi, López's hometown. Apolonia "Lina" Flores is a sock enthusiast, a volleyball player, a science lover and a girl who's just looking for answers.
Even though her house is crammed full of books, she's having trouble figuring out some big questions, like why her dad seems to care about books more than her, why her best friend's divorced mom is obsessed with making cascarones and, most of all, why her mom died last year. Like colors in cascarones, Lina's life is a rainbow of people, interests and unexpected changes.
López earned her bachelor's degree in English from St. Mary's University in San Antonio and a Master of Fine Arts in creative writing from Texas State University. She has taught for the San Antonio Independent School District, St. Philip's College, and nonprofit organizations such as Gemini Ink and the Writers' League of Texas.
A project to teach San Antonio middle school students creative writing ignited an interest in writing for that age group, López said. The book was written with her former students in mind.
"I think middle school is the most interesting time period in life," she said. "You are leaving behind childhood but not yet ready for adulthood. That leads to a lot of concerns and emotions that middle school students struggle to express. It can be difficult for them to articulate what's going on."
The book was published by Little, Brown Books for Young Readers. It was a featured title for Scholastic Book Fairs and was a Commended Title for the Américas Book Award, which is sponsored by the Consortium of Latin American Studies Programs.
López also has written an adult novella, "Sofia's Saints," published in 2002 by the Bilingual Review Press. She is one of the featured authors in "Hecho en Tejas: An Anthology of Texas Mexican Literature." Her short stories have appeared in the Chicago Quarterly Review, Sycamore Review and New Texas Journal.
López has written two more books for middle school audiences. "Choke" will be released in June, and "Ask My Mood Ring How I Feel" is scheduled to come out in 2013.
"At this point, I'm considering returning to writing an adult fiction novel, but the middle school age group is still ripe with stories," she said. "My nieces and nephews are entering that age, so I may get introduced to more stories through them."
López began teaching at UHV in 2010 after eight years at St. Philip's. She has taught creative writing and composition classes at UHV and will be the instructor for an online fiction writing class this fall. She also is a staff member of UHV's CentroVictoria, a literary arts center that promotes Mexican-American culture.
Jeffrey Di Leo
Jeffrey Di Leo, dean of the UHV School of Arts & Sciences, said middle school is the time when some students decide to stop reading for pleasure.
"That's why it's important to have books geared to that age group," he said. "We are thrilled Ms. López received this honor from her readers, and we are looking forward to the publication of her two new young adult books."
The William Allen White Children's Book Award program was founded in 1952 by Ruth Garver Gagliardo, a specialist in children's literature for Emporia State University in Emporia, Kan. Wendy Mass, author of "11 Birthdays," won the award for third- through fifth-graders.
Both authors have been invited to the Oct. 6 awards celebration in Emporia. During the celebration, schoolchildren are invited to special events including author readings and book signings, along with a parade and awards ceremony.
The University of Houston-Victoria, located in the heart of the Coastal Bend region since 1973 in Victoria, Texas, offers courses leading to more than 80 academic programs in the schools of Arts & Sciences; Business Administration; and Education, Health Professions & Human Development. UHV provides face-to-face classes at its Victoria campus, as well as an instructional site in Katy, Texas, and online classes that students can take from anywhere. UHV supports the American Association of State Colleges and Universities Opportunities for All initiative to increase awareness about state colleges and universities and the important role they have in providing a high-quality and accessible education to an increasingly diverse student population, as well as contributing to regional and state economic development.