Close
Business faculty member earns three honors for leadership development paper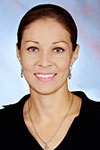 Stephanie Solansky
A University of Houston-Victoria faculty member's paper examining the role of self-determination in leadership development recently received multiple honors by the largest scholarly management association in the world.
Stephanie Solansky, an assistant professor of management and the Partnership Professor of Organizational Management in the UHV School of Business Administration, earned three related honors for her paper "A Self-Determination Perspective of Leadership Development."
The paper was accepted for presentation in August at the 2012 Academy of Management Conference in Boston. The AOM is a leading professional association for scholars dedicated to creating and disseminating knowledge about management and organizations.
The paper also will be included in the AOM 2012 Best Paper Proceedings.
"That was exciting news because AOM only accepts a small percentage of submissions for presentation, and then a significantly smaller number from the accepted presentations are chosen to be included in the proceedings," Solansky said.
Solansky also found out last week that her paper won a separate honor from the AOM Management Education and Development Division. The SAGE/Journal of Leadership and Organizational Studies Junior Faculty Best Paper Award is presented to the submission with the most significant contribution advancing leadership and organizational studies.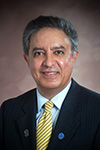 Farhang Niroomand
Farhang Niroomand, dean of the UHV School of Business Administration, said the award was wonderful news.
"We are proud of Dr. Solansky for this accomplishment and bringing recognition to UHV and the School of Business Administration," Niroomand said. "We are delighted she will get to share her work with a number of scholars at this important conference."
Last summer, Solansky and four other School of Business Administration professors each were awarded $10,000 grants. Solansky spent the summer finishing her research.
She examined 445 organizational administrators in leadership training and 7,791 observer assessments to determine how autonomy and motivational forces impact leadership development. The basic research question is do differences in the degree of self-determination of training and methods impact leadership development. In other words, does the power to choose matter?
Based on evaluations conducted before and after leadership training activities, Solansky found that leadership development differs depending on the amount of choice a person has, though the significance is not as she expected in all cases.
Solansky said corporations spend a lot of time and money developing leaders, and individuals attend training or take classes to learn leadership skills.
"Despite that, there has been significantly less leadership development literature compared with other leadership topics," she said. "There hasn't been a lot of systematic investigation about whether it works or about factors that make it work."
The size and scope of Solansky's study made it unique.
"It's a big study, and it goes beyond self-assessment," Solansky said. "Other studies have been based solely on self-evaluations. In this one, I had on average eight observer assessments per subject for both the pre- and the post-evaluations. That produced a lot of data."
Solansky earned her doctorate in organization and management studies from the University of Texas at San Antonio. At UHV, she teaches leadership, change management, communication and critical thinking, contemporary issues in management, and organizational theory and development. She previously won the 2007 Best Paper Award from the Academy of Management Journal.
Solansky said that while the awards are nice, her eventual goal is to have her paper published.
"The best is yet to come," she said. "The end result of this effort will be publication in an elite-level journal."
The University of Houston-Victoria, located in the heart of the Coastal Bend region since 1973 in Victoria, Texas, offers courses leading to more than 80 academic programs in the schools of Arts & Sciences; Business Administration; and Education, Health Professions & Human Development. UHV provides face-to-face classes at its Victoria campus, as well as an instructional site in Katy, Texas, and online classes that students can take from anywhere. UHV supports the American Association of State Colleges and Universities Opportunities for All initiative to increase awareness about state colleges and universities and the important role they have in providing a high-quality and accessible education to an increasingly diverse student population, as well as contributing to regional and state economic development.