Close
UHV business students excel on simulation exam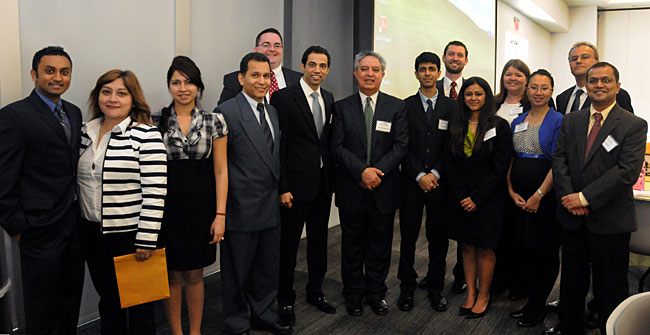 University of Houston-Victoria business graduate students scoring in the top 10 percent of a national simulation exam pose for a photo with Farhang Niroomand, center, dean of the UHV School of Business Administration. The students are, from left, Bhauin Divecha, Christina Gonzales, Naseem Qureshi, Arun Sharma, Mike Daniels, Nazim Ali, Ankit Thakkar, Ryan Norman, Manushi Trivedi, Brenda Wilson, Meiling Huang, Hassan Cherradi and Bipin Zachariah. Trivedi scored in the 99th percentile of all the students who took the Capsim Management Simulation exam.
When faced with turning around a struggling virtual company, several University of Houston-Victoria business students recently came up with profitable ideas.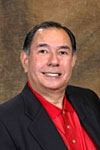 Ron Salazar
UHV School of Business Administration graduate students in the spring semester class "Seminar in Strategic Management" taught by Ron Salazar, an associate professor of management, participated in the Capsim Management Simulation exam along with students from other colleges across the country.
Thirteen UHV students had scores in the top 10 percent of all participants. Manushi Trivedi scored 945 out of 1,000, which put her in the 99th percentile of all exam takers.
"Anyone who does better than 99 percent of the other students on a challenging exam deserves special recognition," Salazar said. "Ms. Trivedi is a terrific analytic athlete, and she should be commended for her outstanding performance."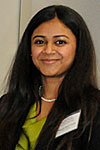 Manushi Trivedi
Trivedi said she was surprised when Salazar told her she had the best score in the class.
"I really didn't have an idea of where I stood after taking the exam," she said. "I just thought it was an enjoyable experience and something that helped us apply all of what we have learned in the Master of Business Administration program. The simulation is one of the best activities I have participated in at UHV."
Trivedi is a native of India. She lived in Pearland and moved to San Francisco after graduating earlier this month with a Master of Business Administration and a concentration in finance. She is searching for a job as a financial analyst.
She said that going into the simulation, she had some idea of the type of scenarios that might be presented. Nevertheless, she was nervous.
"I was tense about it and had a lower score than I wanted after the first round," she said. "But I became more comfortable in subsequent rounds."
Salazar said the simulation has gotten more difficult during the last few years because of a greater emphasis on accounting analysis and finance. By doing so well, students have demonstrated they are learning a lot from the MBA program.
"Of the thousands of students nationally who took this simulation, many came from big-name schools," Salazar said. "I'm gratified and proud UHV scored so well as a group."
Other colleges with students who achieved high scores were Michigan State University, Baylor University, Villanova University, Rotterdam School of Management and The Hong Kong University of Science & Technology.
The simulation is designed to teach strategy, as well as advanced business finance, cross-functional alignment, competitive analysis and the selection of tactics to build a successful, focused organization.
The challenge is to turn around a poor-performing, $100 million company with five average products in very different market segments, while satisfying customer demands for better, faster and cheaper products. Each round is a year in the company's life, and decisions are made in research and development, production, marketing and finance. Students have up to eight years to build success.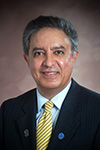 Farhang Niroomand
"We would like to extend our congratulations to all students who excelled in this management simulation exercise," said Farhang Niroomand, dean of the UHV School of Business Administration. "To have so many of our students finish so highly is a testament to the quality of students, faculty and programs we have at UHV."
Salazar said the students enjoyed participating in the simulation and found it challenging. He said most student prefer hands-on approaches to learning.
"The simulation has encouraged me and the school to include more hands-on experience learning throughout the program," he said.
Nine UHV students scored 900 or above on the exam, and four others scored in the 800s. The students in the top 10 percent and their hometowns were:
Bipin Zachariah, Houston
Mike Daniels, Katy
Brenda Wilson, Katy
Hassan Cherradi, Katy
Christina Gonzales, Missouri City
Manushi Trivedi, Pearland
Ryan Norman, Richmond
Bhauin Divecha, Sugar Land
Arun Sharma, Sugar Land
Nazim Ali, Sugar Land
Meiling Huang, Sugar Land
Ankit Thakkar, West Columbia
Naseem Qureshi, Tacoma, Wash.
The University of Houston-Victoria, located in the heart of the Coastal Bend region since 1973 in Victoria, Texas, offers courses leading to more than 80 academic programs in the schools of Arts & Sciences; Business Administration; and Education, Health Professions & Human Development. UHV provides face-to-face classes at its Victoria campus, as well as an instructional site in Katy, Texas, and online classes that students can take from anywhere. UHV supports the American Association of State Colleges and Universities Opportunities for All initiative to increase awareness about state colleges and universities and the important role they have in providing a high-quality and accessible education to an increasingly diverse student population, as well as contributing to regional and state economic development.