Close
UHV, Twin Fountains to provide low-cost vaccines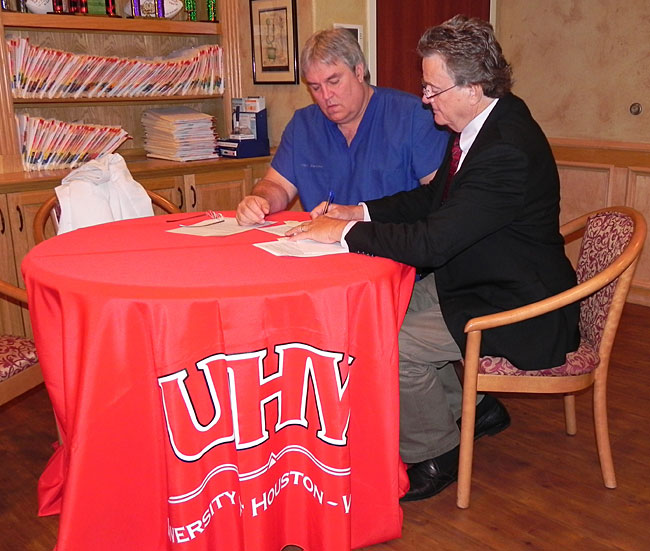 Phil Castille, right, president of the University of Houston-Victoria, signs an agreement with Dr. John McNeill of Twin Fountains Urgent Care Center to provide discounted bacterial meningitis vaccines to students.
The University of Houston-Victoria and Twin Fountains Urgent Care Center entered into an agreement this week to provide discounted bacterial meningitis vaccines to students.
"We appreciate Dr. John McNeill and Twin Fountains working with us to help ensure that students can meet the state's new vaccination requirement without it becoming a financial hardship that keeps them from obtaining a higher education," UHV President Phil Castille said.
The university began searching for a partner at the end of last year to help provide low-cost bacterial meningitis vaccines for UHV students. In January, a new Texas law went into effect that requires all students under age 30 enrolling in public or private colleges or universities to provide proof of having the vaccine.
Under the agreement with Twin Fountains, UHV will subsidize the cost for each of the $118 shots administered to UHV students. The student will pay the balance of the cost of the shot to Twin Fountains, about $78. To keep the cost of the shot low, Twin Fountains has agreed to waive its normal service fee.
"The shots can cost up to $200 and are not always readily available," Castille said. "Dr. McNeill and Twin Fountains have assured UHV students that the vaccine is available on a walk-in basis and offered at a low cost for the Victoria area."
Students who need to get the vaccine before UHV's fall classes begin Aug. 27 will be referred to the Twin Fountains medical clinic off of North Main Street in Victoria at 108 Twin Fountains Drive. The university is planning on scheduling a vaccination clinic on campus in the fall.
Bacterial meningitis is a potentially deadly disease that is an inflammation of the membranes around the brain and spinal cord. It strikes more than 100 students on U.S. college campuses every year, leading to between five and 15 deaths. For more information about the vaccine requirements, go to www.uhv.edu/studentaffairs/meningitisinfo.aspx.
The University of Houston-Victoria, located in the heart of the Coastal Bend region since 1973 in Victoria, Texas, offers courses leading to more than 80 academic programs in the schools of Arts & Sciences; Business Administration; and Education, Health Professions & Human Development. UHV provides face-to-face classes at its Victoria campus, as well as an instructional site in Katy, Texas, and online classes that students can take from anywhere. UHV supports the American Association of State Colleges and Universities Opportunities for All initiative to increase awareness about state colleges and universities and the important role they have in providing a high-quality and accessible education to an increasingly diverse student population, as well as contributing to regional and state economic development.