Close
World culture, immigration issues lifelong passions for UHV humanities professor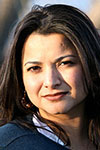 Macarena Hernández
Shifting demographics and changing communities are common topics nationwide, but the issues don't end at the U.S. borders. Other countries experience much the same thing, said Macarena Hernández, a University of Houston-Victoria educator.
In Texas, the Latino population soon will be the majority, she explained. Meanwhile, in Germany, the Muslim population sees accelerated growth.
"So many other countries are having similar transformations," said Hernández, UHV's Victoria Advocate Endowed Professor of the Humanities. "And we really don't think about it that way."
That's something she hopes to remedy in the near future.
Hernández, along with overseas colleague Riem Spielhaus, developed a transatlantic conference aimed at expanding that multicultural conversation. The November event at UHV will feature German and U.S. scholars, and open discussion about what such change means to individual communities and countries as a whole.
World cultures and immigration issues are lifelong passions for Hernández, who grew up in Texas's Rio Grande Valley, which borders Mexico. The daughter of immigrant parents who performed migrant work throughout her childhood, she found herself traveling often.
"I saw a lot of different regions in this country and how different people interacted," she said. "Even as a little kid, I always wanted to travel to different parts of the world."
Hernández began traveling abroad as soon as she had the means, exploring cultural issues through her journalistic work. Hernández, who earned her bachelor's degree in journalism from Baylor University and her master's degree in journalism from the University of California, Berkeley, said there are several projects that make her especially proud.
"The Ballad of Juan Quezada" was a PBS short documentary about a Mexican community whose residents revitalized the town through pottery, while "One Family, Two Homelands" was a personal narrative for the San Antonio Express-News about Hernández's own family's journey from Northern Mexico to the U.S.
A series for The Dallas Morning News documented the challenges immigrant teens in North Texas faced as they adapted to a system and culture.
Although she left newspapers in 2009 for her role with UHV, Hernández's work still continues. She said she now has time to focus on longer-term projects, and can discuss world issues in an academic setting.
"One of my favorite classes to teach is intercultural communication," she said. "The reality is we all live in a very segregated world. You see the people you work with and live with, but a lot of times that small world does not mirror the larger one."
That discussion is more important now than ever, Hernández said, as technology brings people closer together. Even children playing online video games can find themselves interacting with people on different continents.
"In this Internet-driven society, students need to see themselves beyond their community, beyond their state, beyond their country," she said. "They need to understand how they fit into the conversations happening all over the world."
Hernández said she looks forward to the months ahead, not only because of the upcoming conference, but also because of her work with the UHV students.
"I know how lonely and challenging it can be to navigate the college experience when you are the first in your family to do so. I lived it," she said. "Teaching at UHV is part of what I'm meant to do. I know I am where I'm supposed to be."
The Faculty Feature is an online feature highlighting faculty members from each of the University of Houston-Victoria's four schools. To nominate a faculty member, contact Paula Cobler, UHV interim director of marketing and communications, or call 361-570-4350.
The University of Houston-Victoria, located in the heart of the Coastal Bend region since 1973 in Victoria, Texas, offers courses leading to more than 80 academic programs in the schools of Arts & Sciences; Business Administration; and Education, Health Professions & Human Development. UHV provides face-to-face classes at its Victoria campus, as well as an instructional site in Katy, Texas, and online classes that students can take from anywhere. UHV supports the American Association of State Colleges and Universities Opportunities for All initiative to increase awareness about state colleges and universities and the important role they have in providing a high-quality and accessible education to an increasingly diverse student population, as well as contributing to regional and state economic development.