Close
Expanded UHV nursing program gets underway at The Woodlands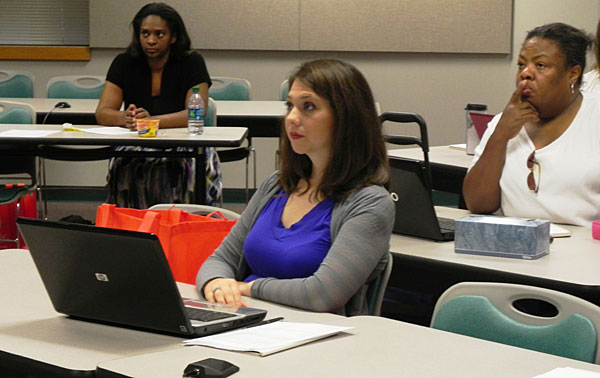 University of Houston-Victoria nursing students, from left, Lameko Saldana, Sarah Dexter and Titiana Brown listens to a presentation during the first day of class in The Woodlands.
THE WOODLANDS – Febe Jimenez knew she wanted to earn her Bachelor of Science in Nursing degree, but she didn't know how to go about doing so until a flyer from the University of Houston-Victoria arrived in the mail.
A postpartum nurse at Memorial Hermann in The Woodlands and a resident of Spring, Jimenez didn't want to take online courses. The problem was there wasn't a place to pursue a bachelor's degree nearby. That changed this month when the UHV School of Nursing expanded its Registered Nurse to BSN program to The Woodlands.
"I have wanted to get my BSN for awhile, and this is very convenient because it's 15 minutes away from my house," she said. "I was a little scared of online-only classes, so this program is a good fit."
Jimenez and 21 other students began the yearlong program Tuesday by attending classes at the Lone Star College University Center at Montgomery in The Woodlands. The first day of class was filled with the usual routine of going through the syllabus and getting to know professors. But everyone involved knew this was more than an average run-of-the-mill first day of school.
"It's a historical day for the School of Nursing," said Kathryn Tart, founding dean and professor of the UHV School of Nursing. "We are thrilled to now have the ability to provide nursing students and practitioners in the north Houston area the opportunity to expand their knowledge in a face-to-face learning environment. It was wonderful to see the first students begin this journey. We look forward to a long and successful partnership with Lone Star College."
Denise Neill, assistant professor and RN to BSN program director, said this is the first time the School of Nursing has branched out beyond the traditional delivery sites. The school has been interested in expanding to new areas for awhile, and she's elated the idea became a reality. "We started talking about it last fall," she said.
"We really started working on it in December, and today is the culmination of all the hard work." Despite the quick timetable to launch the program and the late start in recruiting, interest in the program is high.
"We didn't start recruiting until March," Neill said. "To have 22 students ready to start is phenomenal. It tells you what the need was in the area and shows there is a desire to have something other than an online program."
Kurt Czupryn, executive director of Lone Star College University Center at Montgomery, said center staff had been searching for a way to bring more options like a bachelor's nursing program to the center.
"Lone Star College System knew the RN to BSN was eventually going to be a need," Czupryn said. "LSCS is proud to partner with UHV to offer this next step to our students. Dr. Tart and Dr. Neill have been fantastic to work with."
Czupryn said it was a good decision to have Neill relocate to The Woodlands to give UHV a greater presence at the University Center.
"It helps so much to have UHV faculty on the ground here at the University Center," he said. "The number one factor in program success is having dedicated staff here. Students will walk in and want to talk to someone. We can give them general answers about the UHV program, but it quickly gets to the point where they need something specific they want answered."
UHV and the Lone Star College System signed an agreement in January 2011 that allows any Lone Star student achieving an Associate Degree in Nursing to automatically be admitted to UHV's RN to BSN program. A nursing student who satisfies the Lone Star general education core also will satisfy all UHV core requirements.
Prior to the new program in The Woodlands, the closest place for Lone Star students to take the UHV program was at the UH System at Cinco Ranch in Katy. A drive to Katy or other parts of Houston was not an option for some of the students because of work and other commitments.
Titiana Brown said it's about a half hour drive to the University Center from her house in Tuscany.
"A couple of my friends went to UHV and really liked the program," Brown said. "It was close to my house, so I decided to enroll."
Trinity resident Lameko Saldana was leaving a nursing class at Lone Star College about a month ago when she bumped into Nicole Foster, an advising specialist for the UHV School of Nursing. They began talking, and Saldana found out she was only two prerequisites short of being eligible for the RN to BSN program. She took care of those between the spring and summer semesters.
"I'm excited to go straight from my associate degree to the BSN program," she said. "I didn't want a delay because I was afraid I would put it off."
The RN to BSN program also is available to students in Victoria, Sugar Land and Katy. For more information about the program, call toll free at 877-970-4848, ext. 4370. A complete list of program requirements and degree plans can be found at www.uhv.edu/nursing/bsn.
The University of Houston-Victoria, located in the heart of the Coastal Bend region since 1973 in Victoria, Texas, offers courses leading to more than 80 academic programs in the schools of Arts & Sciences; Business Administration; and Education, Health Professions & Human Development. UHV provides face-to-face classes at its Victoria campus, as well as an instructional site in Katy, Texas, and online classes that students can take from anywhere. UHV supports the American Association of State Colleges and Universities Opportunities for All initiative to increase awareness about state colleges and universities and the important role they have in providing a high-quality and accessible education to an increasingly diverse student population, as well as contributing to regional and state economic development.