Close
UHV professor's Singapore trip promotes importance of childhood creativity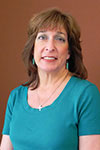 Jill Fox
While speaking with the Singapore Minister of Education and at a recent conference for kindergarten teachers in that country, Jill Fox was asked how educators there could go about changing attitudes and emphasizing the importance of creativity and art.
Fox, a professor of early childhood education in the University of Houston-Victoria School of Education & Human Development and director of assessment in the Office of Institutional Effectiveness, told the teachers and education officials that creativity is not something that can be controlled.
"An issue they struggle with in Singapore is that control and predictability are important in the Asian culture," Fox said. "I encourage teachers to open their classrooms to unexpected outcomes. When you are planning an art activity with children, if you want them to express themselves, you have to give them space. You can't control the outcome of the activity. If you know what it's going to look like before the children get started, it's not art."
Fox was invited to Singapore in May to be the keynote speaker at the Ministry of Education Kindergarten Conference 2012. The focus of the conference was on creativity and the arts. More than 900 teachers attended.
Kindergarten in Singapore is not part of public schools, Fox said. It's considered pre-school. Students attend for two years, usually when they are 4 and 5 years old.
Fox's message was that all children are born with creativity.
"Unfortunately, many of the experiences that we expose children to in school undermine creativity rather than support it," she said. "Children at ages 4 and 5 are at the peak of their creativity. Then those levels of creativity go down. The challenge for teachers is to keep those levels of creativity high."
Fox advised the teachers to give up some of their control of the outcomes of a lesson or activity.
"Creativity requires that children be able to make decisions about the materials they use, the steps in the process and the theme of their project," she said. "Children need to have the freedom to make mistakes, start again, revise and redo. That takes time in the school day and patience from the teacher."
A kindergarten teacher for eight years in the Austin and Coppell school districts earlier in her career, Fox has taught at UHV since 2010. She is the author of "Art and Creative Development for Young Children" and has written more than 40 book chapters and papers.
The Singapore Minister of Education was familiar with Fox's book and asked her to spend three hours the day after the conference meeting with education officials. She answered questions about how to go about attempting to change attitudes toward art in early childhood education.
Not unlike some situations in the U.S., an emphasis has been placed on academic testing in Singapore. The arts are being sacrificed for test preparation.
"Early childhood educators worry about children being stressed because of extracurricular activities," Fox said. "In the U.S., those activities are primarily enrichment, such as sports and music. In Singapore, the out-of-school activities are academic. Every child is supposed to learn two languages. There's a concern children aren't out getting exercise. There is no recess."
Fox made four presentations during the conference. The two keynote speeches were about nurturing creativity and kindergarteners as developing artists. She also gave lectures about how to talk with children about their artwork and the components of art programs for young children.
"Rather than giving reinforcements like 'that's beautiful,' teachers should give students a chance to explain their artwork," she said. Teacher comments should prompt children to think more deeply about what they've done."
Fox's recent research efforts at UHV have focused on kindergarteners' use of drawing as a recording tool in their science observations. She shared some of the research with Singapore teachers and expects to publish two papers this fall about her findings.
In discussing the subject with teachers in Singapore, Fox said she came away with some related questions to the research, such as how digital cameras can be integrated into an art program for young children, and how and when do children begin to distinguish between creative, imaginative drawing like an artist and drawing factual representations like a scientist.
Before and after the conference Fox and her husband had the opportunity to spend some time visiting different parts of Singapore. They enjoyed learning about local culture and food. A relatively young country gaining independence in 1965, the native language is English, and commerce is westernized with plenty of fast food chains and 7-Eleven convenience stores.
"I'm glad we got to spend some vacation time there to get a better feel of the country and culture," Fox said.
The University of Houston-Victoria, located in the heart of the Coastal Bend region since 1973 in Victoria, Texas, offers courses leading to more than 80 academic programs in the schools of Arts & Sciences; Business Administration; and Education, Health Professions & Human Development. UHV provides face-to-face classes at its Victoria campus, as well as an instructional site in Katy, Texas, and online classes that students can take from anywhere. UHV supports the American Association of State Colleges and Universities Opportunities for All initiative to increase awareness about state colleges and universities and the important role they have in providing a high-quality and accessible education to an increasingly diverse student population, as well as contributing to regional and state economic development.