Close
Students elect softball player as Student Government Association president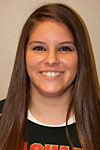 Jena West
Jena West already was going to have a busy senior year at the University of Houston-Victoria juggling softball with completing her undergraduate degree in criminal justice. But that didn't deter the Missouri City native from seeking a bigger role in the UHV Student Government Association.
UHV students recently elected West as SGA president for 2012-2013. Moses Olukoya will serve as vice president.
West is excited to begin serving in a leadership capacity, which will include being the student representative on the UHV President's Cabinet.
"I like being in a position where I can be involved and help people," she said. "UHV is on its way to becoming a great destination university, and I'm eager to help with any improvements in the schools, majors or classes."
The association serves as the liaison between students and the university's administration. It also enhances student life by sponsoring and promoting participation in student activities. Previously known as the Student Senate, the organization's name recently was changed to the Student Government Association.
West said she enjoyed serving on the Senate this past school year.
"I like being the voice of the students," she said. "We take pride in being representatives of the student body and talking with administration about ways to make the school even better."
West graduated in 2009 from Elkins High School in suburban Houston. She went to Galveston College where she was named team captain and was an all-conference selection during her sophomore season. She transferred in fall 2011 to attend school and play softball at UHV.
This spring, she helped the Jaguars win 40 games, qualify for the National Association of Intercollegiate Athletics tournament and finish No. 13 in the nation in the NAIA Softball Coaches' Postseason Top 25 poll. West was one of the Jaguars' main weapons off the bench. She hit .290 with nine hits and three walks in 23 games.
West's teammate Emily Bergstrom served as the 2011-2012 president. The two are close and have talked about what West can expect.
"Emily has explained how it's a prestigious position and how students will look to me for answers," West said.
West served in 2011-2012 on the Senate's budget committee. One of her objectives as president is to raise awareness about how tuition money is being spent.
"I realized students and parents are disappointed that it costs more to attend school," she said. "If you look closely at spending, you'll find there are good reasons for the increases. Those reasons shouldn't be swept under the rug. We need to inform students about them."
West envisions a future career as a corporate lawyer. She has been fascinated with the legal world since childhood.
"I've always loved the whole process," she said. "I like to take the time to look at both sides of an issue and really get a feel for the other person's opinion. It makes a difference."
Other students serving on the 2012-2013 SGA are:
Benito Salazar, treasurer
Victoria Brieske, secretary
Jasleen Talwar, speaker
Cindy Ngoc Pham, director of public relations
Andy Llanes, director of external affairs
Destiny Houp and Gilbert Servin, sophomore representatives
Brett Kelly and LeAnne Kelley, senators at large, Victoria
Stahr Martinez-Vadrar, senator at large, Cinco Ranch
An at-large member representing UH Sugar Land and nonvoting freshman members will be added to the SGA later on. The SGA does not have an adviser at this time, but also will discuss that position at a future meeting.
The University of Houston-Victoria, located in the heart of the Coastal Bend region since 1973 in Victoria, Texas, offers courses leading to more than 80 academic programs in the schools of Arts & Sciences; Business Administration; and Education, Health Professions & Human Development. UHV provides face-to-face classes at its Victoria campus, as well as an instructional site in Katy, Texas, and online classes that students can take from anywhere. UHV supports the American Association of State Colleges and Universities Opportunities for All initiative to increase awareness about state colleges and universities and the important role they have in providing a high-quality and accessible education to an increasingly diverse student population, as well as contributing to regional and state economic development.